Program alumni are the best resources for students interested in studying away, and they are available to answer your questions. If you would like to talk to a recent student about their experience in Puerto Rico, get in touch with the advisor, Alessandra Capossela.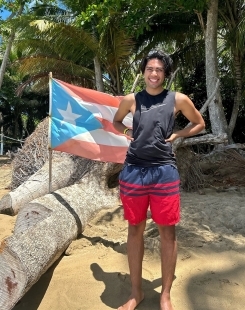 Nick Paneto, Middlebury College, San Juan
Enamored, captivated, and charmed – my glance studies the Santurce streets of "la isla del encanto" like it's the first time on the walk we managed to make almost every day from La Universidad del Sagrado Corazón to the beach. Only a hop, skip, and several kioskos (home to various frituras) away, Playa Ocean Park became our carefree haven as we were remembered by our discernible footprints in the sand and our glistening sun kissed skin. From January until May, sunrise until sunset, the beach coached us through our "professional" volleyball tournaments, supported my running career, kept hush about the countless times we cheated in Uno or Scala Quaranta, and witnessed us study hard and relax harder absorbing all that Puerto Rico had to offer. Although the serendipity and multiplicity of its beaches are inviting it would be wrong to typecast Puerto Rico as exclusively a "Caribbean island beach resort." 
Turquoise waters and Viejo San Juan, yet the evergreen mountain ranges rise and fall like a scatterplot from coast to coast; sugar cane and reggaeton, yet the dulce cariño of the boricuas amables is sweeter than sugar – Puerto Rico is a land where its beaches are as precious and valued as its people and culture. Where the Puerto Rican flag is a marvel whether it is waving in the sand or hanging from your car, there is no such thing as being too patriotic because Puerto Rican pride is at another level. My memories glimmer with experiences only my first-year persona dreamt about; these dreams were realized courtesy of the Middlebury School in Puerto Rico. This is the land where we drove from Cabo Rojo to Humacao, and Yabacoa to Aguadilla, just shy of the 78 municipalities that I was able to reach with my very own hands behind the wheel. I was able to climb the trees to retrieve coconuts from Carolina, collect mangos from Mayagüez, shell tamarindo from Toa Alta, and jump from the cliffs of Charco Azul. This is the land where I discovered the Puerto Rico advertised on the laminated hallmark postcard, the Puerto Rico where my aunties and uncles grew up, and the jewel of the Caribbean treasured with historic artifacts of a rich history. Where happiness can exist as fritura and a Medalla in hand, la familia en el balcon, or a simple side of mayoketchup, and where any given day of the week had a jangueo that needed patrons: this is Puerto Rico.