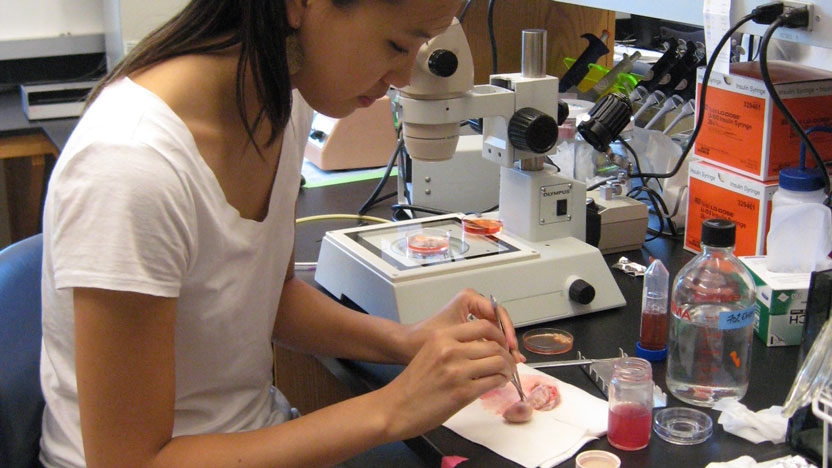 Middlebury College students and faculty have access to many state-of-the-art facilities located in McCardell Bicentennial Hall or a short drive from campus.
Middlebury researchers also have access to a wide variety of off-campus facilities and field sites.
Imaging Facility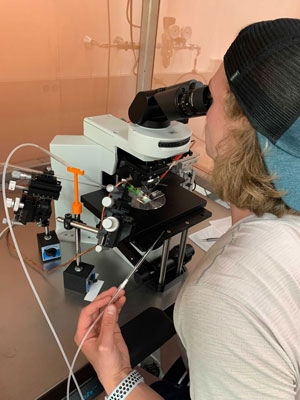 Our state-of-the-art cell imaging facility houses six Zeiss Axioskop Plus microscopes (three inverted and three upright) for fluorescence and differential interference contrast (DIC) microscopy.
Each microscope is equipped for digital imaging with AxioCam cameras interfaced to six computer stations with the most recent versions of Zeiss AxioVision Imaging softwares. This facility is available for use for courses and by student and faculty researchers.
Learn more about our Imaging Facility.
Invertebrate Collection
The Duncan J. McDonald Insect Collection is named for Duncan J. McDonald, a professor of biology at Middlebury College from 1967 to 1985. He started the collection to show his students the diversity of insects in and around Vermont. The collection now resides in McCardell Bicentennial Hall. Part of the collection was digitized in 2020 and can be found on iNaturalist.
For more information about the collection, read Middlebury Magazine's 2019 article Natural Collection.
Battell Research Forest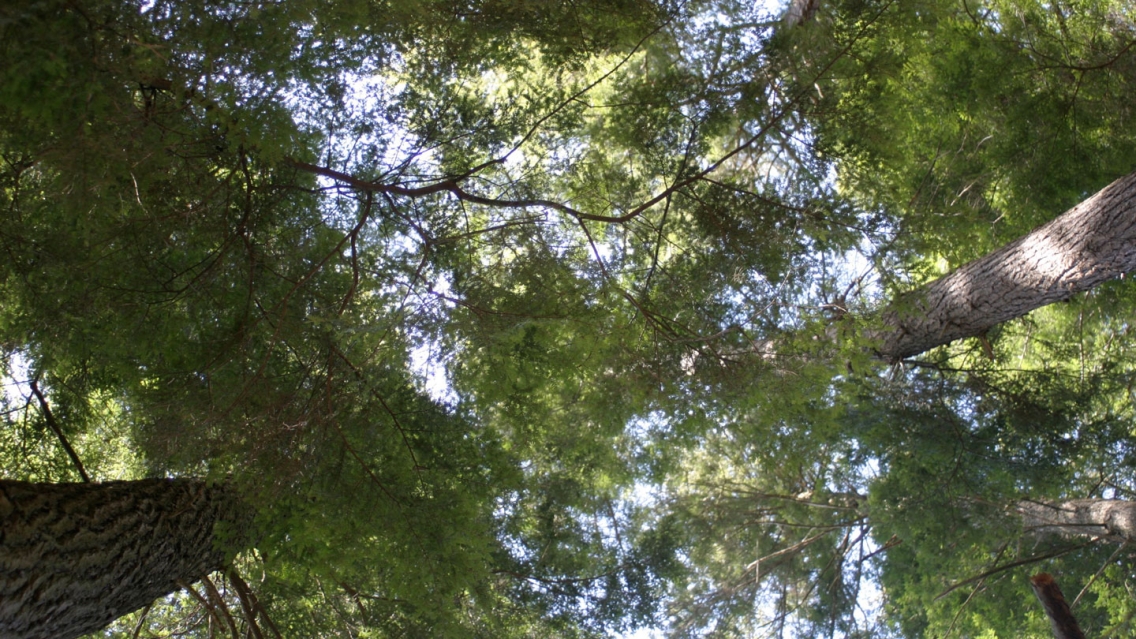 The Battell Research Forest is a 42-hectare patch of uncut hemlock-pine forest that was given to the College by Joseph Battell in 1911. Battell's deed stipulated that the trees on the lot "….are not to be cut…but shall be preserved in a primitive state." The forest is primarily hemlock and red pine, but patches of maple, beech, and birch forest occur in areas that were affected by a windstorm in 1950. The oldest pines and hemlocks in the forest are over 300 years old, and many seem to have established following fires in the 1700s and 1800s. The forest is important habitat for wildlife. Hemlock forests are an important winter habitat for deer, which rely on the shelter and relatively shallow snow that they provide, and numerous small mammals.
Greenhouse
On the sixth floor of McCardell Bicentennial Hall, we have a greenhouse with a bay filled with plants for teaching purposes and a bay for plants used in student and faculty research. For instance, the research bay this semester has understory spring ephemerals for a plant ecology course, soybeans for an environmental studies course, and young oak saplings for senior thesis research. A table for reading and studying in the teaching bay is surrounded by greenery 12 months a year—this site has proven to be a haven for students in winter, when the world outside is gray and cold.
Off-Site Laboratory Facilities
There are several specialized facilities located near Middlebury College that offer their services to Middlebury students.
The University of Vermont Microarray Core Facility allows researchers to do microarray analysis in order to determine gene expression patterns in a wide variety of tissues, cells, and organisms.
The University of Vermont Proteomics Facility allows researchers to identify, quantify and characterize proteins present in different biological and biomedical specimens.
The DNA Core Facility located at the Vermont Cancer Center at the University of Vermont and Fletcher Allen Health Center helps researchers who are sequencing DNA to troubleshoot that process.
The Microscopy Imaging Center at the University of Vermont is a resource for the collection and analysis of biological images.