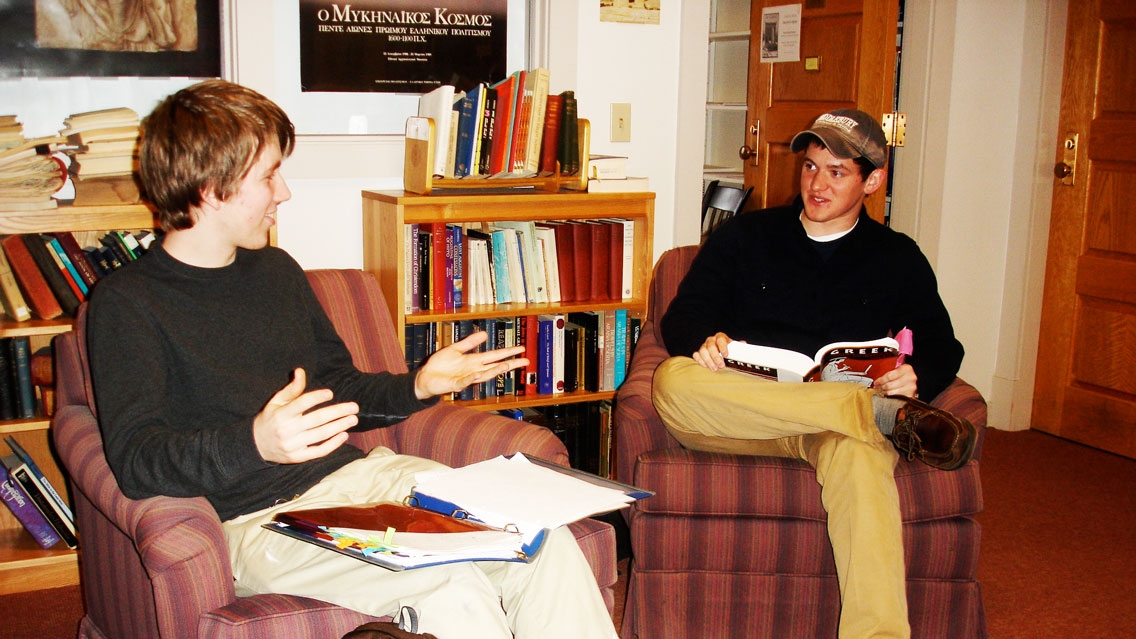 The Reading Room
The Classics Department is located on the second floor of Twilight Hall. Faculty offices are situated around a reading room that offers tables and comfy chairs where you can work and read as you prepare for classes. The reading room is named after Eve Adler, who was a professor in the department from 1977 to 2004 and donated the majority of books in the collection. It contains a broad collection of classical texts, translations, literary criticism, and reference volumes, which you are welcome and encouraged to consult.
The reading room also proudly displays classically inspired works of art that past students have made and donated to the department.
Reading Room Catalogs
Below you can consult the online catalog of texts housed in the reading room.
Eve Adler Memorial Fund for Summer Study
The fund is intended primarily to support students who wish, during the summer, to study Greek and Latin language, literature, and art, or to participate in archaeological fieldwork at a classical site. Priority will be given to classics/classical studies majors and minors, but the fund is open to any student with a demonstrated purpose related to the field of classics/classical studies.
The request for support should be accompanied by proof of application to specific program(s), or in the case of archaeological fieldwork, by a signed statement from the supervising faculty member. Final decisions about funding are dependent on proof of acceptance to the program(s) to which you are applying; the latter should be forwarded to the chair of the Classics Department as soon as it becomes available.
Please complete the application form and submit it, along with supporting materials, to Pavlos Sfyroeras, chair, Department of Classics, by March 27.
Apply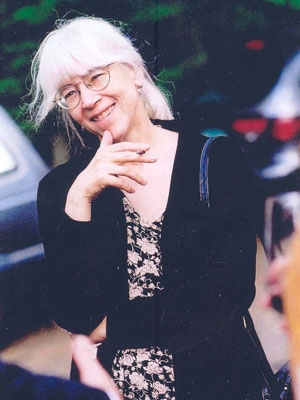 Eve Adler and the Eve Adler Department of Classics
Middlebury College Professor of Classics, 1977–2003
Eve Adler taught classics and classical Hebrew at Middlebury College for more than 25 years until shortly before her death in 2004. The eldest of three children, she was born in 1945 and educated in public schools on Long Island. After receiving a BA in Hebrew from Queens College in 1966, and an MA in Mediterranean Studies from Brandeis University in 1967, Eve earned a PhD in Classics from Cornell University in 1971. She was assistant professor of classics at Cornell in 1972–73, then assistant professor of classics and Jewish studies at the University of Florida at Gainesville from 1973 to 1975. She was a member of the Middlebury College faculty from 1977 to 2004, advancing from assistant to full professor and chairing the Classics Department for 16 of those years. Eve developed new programs in Greek, Latin, and classical Hebrew, often teaching four and five courses at a time while persuading successive Teaching Resources Committees to allow her to staff these programs adequately. She also developed Foundations courses designed to introduce central texts of Greek and Roman literature, philosophy, and history in translation to all interested students at the College, whom she thereby enticed into the language courses. Eve's courses Ancient Epic and The Classical Tradition of the Liberal Arts and Sciences—the latter tracing the classical tradition from Plato through Augustine to Francis Bacon and other early modern thinkers—were among the most important formative intellectual experiences for hundreds of Middlebury undergraduates from the late 1970s to the early 2000s. 
Eve's publications in classics include her book Catullan Self-Revelation (1981) and her masterwork, Vergil's Empire: Political Thought in the Aeneid (2003). In the latter book, following a few hints in the early commentator Servius, Eve developed the original thesis that Vergil never abandoned the materialist Epicurean philosophy he had studied in his youth but rather came to appreciate the danger it posed to Rome's polity, a danger he dramatized in the famously disastrous love story of Dido and Aeneas. Eve argued that by portraying Dido as an Epicurean-humanist founder of Carthage, whom Aeneas briefly joined in that project instead of founding Rome, Vergil made the core of Dido's tragedy her attempt to reform herself and her city along the lines of an atheistic philosophy for which neither were suited. The book was published in 2003, thanks to the good offices of Professor Harvey C. Mansfield Jr.
After completing the Vergil project in the late 1980s, Eve translated Leo Strauss's Philosophy and Law (1995) from German to English. In the early 1990s, she became interested in Russian language, literature, and culture, and spent numerous summers and two sabbatical years in Moscow. She coauthored (with Vladimir Shlyakov) a Dictionary of Russian Slang and Colloquial Expressions (1995, rev. ed. 2000, 3rd ed. 2006) and translated from Russian to English Mikhail Epstein's Cries in the New Wilderness: From the Files of the Moscow Institute of Atheism, a satiric novel about the Soviet Union (2002). On a deeper level, what animated Eve's interest in Russian thought was the question whether the differences between Russia and the rest of Europe could be explained in part by the late reception in Russia of the classics and the Bible in their original languages. This thesis was the basis for a successful proposal for a Fulbright-Hayes Fellowship to Russia for the year 1999–2000, and it impelled her translation into Russian of Leo Strauss's Natural Right and History. Following Eve's death in 2004, the translation was revised by her collaborators Boris Poutko and Vladimir Shlyakov; it was published in 2007 and made available on the Internet.