Margolin Environmental Affairs Lecture
The Scott A. Margolin '99 Lecture in Environmental Affairs takes an interdisciplinary approach to the natural environment and human interaction with it.
In 1998, the Environmental Affairs Lecture was named in honor of Scott A. Margolin, of the Middlebury College Class of 1999. In his one year here, Scott established himself as a dedicated student of Environmental Studies, a leader in Environmental Quality and other student affairs, and an outstanding writer. He lives in our memory.
Past Speakers
2022-2023 AY - author of The Quickening: Creation and Community at the Ends of the Earth and Rising: Dispatches from the New American Shore, a finalist for the Pulitzer Prize (video).
2020-2021 AY - Liliana M. Dávalos, Professor, Department of Ecology and Evolution, Stony Brook University (video)
2019-2020 AY - Naomi Klein, award-winning journalist and New York Times bestselling author (video)
2018-2019 AY - Rochelle L. Johnson, Professor of English and Environmental Studies and Director of the Gibson Honors Program at the College of Idaho and Daegan Miller '02, writer, critic, and historian (video)
2017-2018 AY - Robin Bell, Palisades Geophysical Institute/Lamont Research Professor, Columbia University (video)
2016-2017 AY - Carolyn Finney, Professor of Geography at University of Kentucky (video)
2015-2016 AY - Traci Brynne Voyles, assistant professor of women's and gender studies at Loyola Marymount University (video)
2015- Tyrone B. Hayes, Professor of Intergrative Biology, University of California, Berkeley
2014 - Kierán Suckling, Founder and Executive Director of the Center for Biological Diversity (video)
2013 - Rob Nixon, Rachel Carson & Elizabeth Ritzmann Professor of English, University of Wisconsin - Madison (video)
2012 - Jerome Nriagu, professor of Environmental Health Sciences, University of Michigan School of Public Health (video)
2011 - Antwi Akom, professor of Urban Sociology and Africana Studies, San Francisco State University
2010 - John Elder, professor of Environmental Studies and English and American Literature, Middlebury College (video)
2009 - Dr. P. Dee Boersma, Professor of Biology, University of Washington (video)
2008 - Gus Speth, Dean, Yale School of Forestry & Environmental Studies (video)
2007 - Barry Lopez, essayist and nature writer
2006 - Michael E. Mann, Director, Penn State Earth System Science Center (video)
2005 - Eileen Claussen, President, Pew Center on Global Climate Change
2004 - J. Baird Callicott, professor of philosophy, University of North Texas
2003 - Paul Ehrlich, Bing Professor of Population Studies, Stanford University
2002 - Michael Dombeck, Former Chief of the United States Forest Service
2001 - Lawrence Buell, English Professor, Harvard University
2000 - Reed Noss, conservation biologist
1999 - Michael MacCracken, US Global Change Research Program
1998 - Rick Bass, writer and activist
1997 - Joseph Bruchac, Abenaki storyteller
1996 - Steven Schneider, environmental scientist
1995 - David Orr, environmental educator
1994 - Terry Tempest Williams, writer
1993 - Walter Reid, environmental scientist
1992 - William Cronon, environmental historian
1991 - Scott Russell Sanders, writer
1990 - Norman Myers, environmental scientist
1989 - Madeleine Kunin, Governor of Vermont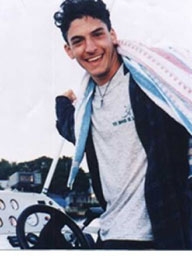 About Scott A. Margolin '99
Beacons of Light is a collection of essays written by Scott Adam Margolin '99 during his freshman year at Middlebury. Tragically, Scott was killed in a car accident at the end of the year. Scott was a gifted young writer and we are fortunate that he has left behind the legacy of these stories … albeit too few. Scott's flair for story-telling shows us that he was a young man who had an insightful way of looking at the world and a real passion for living life to the fullest. We will miss Scott, but are brought closer to him through the view into his life these stories provide. To paraphrase Scott's mother, Maureen, in a quote taken from the story Loretta, we hope these stories will inspire you to "become beacons of light, and they will have an effect on you and that you will spread the word to others and that they will pass it on. In doing so, I feel that I have done some sort of good for the world … and it makes me feel good too." Susan Mindell Blum, October 1996
Special thanks to Estelle Siegel and Deborah Williamson for their help in preparing this collection.
Journal: My Freshman Year In College is a collection of journal entries written by Scott Margolin while he was at Middlebury College. They were published in Coming of Age: Literature About Youth and Adolescence Vol. II, in 1999.
See Scott's writings.