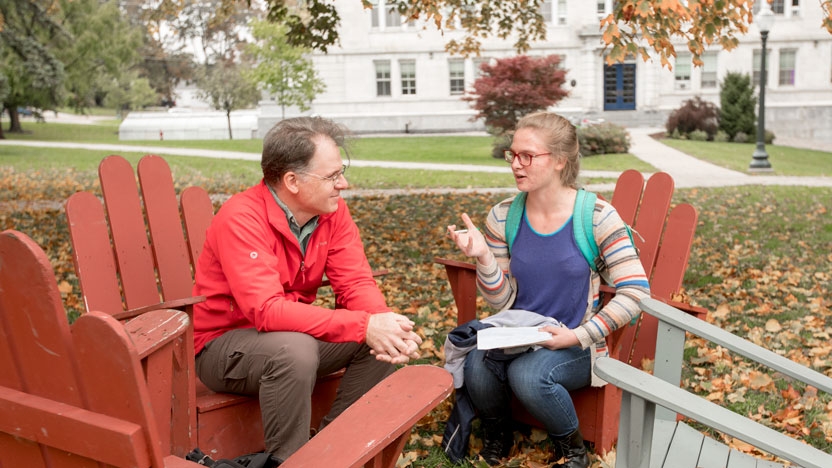 Welcome to the academic advising pages of the first-year seminar website.
This information pertains to first-semester course selection and pre-major advising, and can be beneficial in subsequent semesters as well, until you have selected a major and a major advisor.
Preparing for Your First Advisor Meeting
Your first one-on-one meeting with your advisor takes place during orientation, shortly after you arrive on campus. During this meeting, you can expect to begin discussing questions such as the following:
Why are you in college? Why did you choose Middlebury? What are your particular hopes and expectations? What are the expectations you will encounter in college?
What do you know about a Liberal Arts education and what it can mean for you?
What are the courses you would be happy to take in your first semester? Are they appropriate for your level? Are they diverse?
Are there areas of study, classes, or activities you have NOT considered that might be worth exploring?
The more you know about practical matters when you meet with your advisor, the more time you will have for such important topics. Before you meet with your advisor, you can prepare by reviewing ALL the information in Section II of the FYS Registration Booklet. There you will learn the following:
What kinds of classes you can and can't take in your first semester and first year; You should explore many courses from this list in the Booklet, not just a few. You will ultimately register for three courses beyond your FYS, but you are not likely to find a seat available in the three courses you think are your favorite. Have twelve favorites to talk about instead of three, and pull them from the courses recommended in the Booklet.
The degree requirements for Middlebury College.
The expectations for taking placement exams and the possibilities for using pre-college testing credits (AP, IB, et.) towards your course choices.
The basic guidelines for pursuing a Health Professions track or studying abroad.
 Before you meet with your advisor, it will also help to doing the following:
Learn the rules regarding course selection and registration.
Learn what a balanced first-semester course load looks like. 
Create several possible class schedules (you need several when your first choices fill). 
You will review this information and work on class schedules during orientation, but we encourage you to begin preparing before you arrive on campus.