The J. Rowland Illick Prize was established in 1986 by friends, colleagues, and former students in honor of Middlebury's geography professor for 40 years.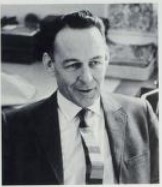 It is awarded to a graduating geography senior whose achievements best exemplify Professor Illick's standards of excellence and humanitarian concern. The department welcomes nominations of graduating seniors in geography from students, staff, and faculty, including self-nominations.
Please submit your nominations to the department chair with a brief rationale by May 1.
2022 Award Recipient
Brooke Laird '22
Brooke Laird has been committed to social and environmental justice throughout her geography and environmental studies major at Middlebury College. Brooke has excelled in finding connections between academic courses in human geography, political ecology, and geospatial analysis and visualization, exemplifying the strength of geography in the liberal arts tradition. Through her internships and research assistantships, Brooke has applied critical human geography and technical geospatial analysis to problems of environmental conservation in Middlebury, financial justice in the Beneficial State Institution's administration of the Clean Vehicle Assistance Program, and growth of smallholder farmer woodlots in Tanzania. Brooke also designed a senior thesis project to promote the stories and interests of the Ma'dan Marsh Arabs of Iraq as international environmental organizations work to restore the Mesopotamian Marshes from the ecological destruction designed by Saddam Hussein's regime in the 1990s. Brooke's research integrates political ecology with critical cartography to reframe the ecological disaster as a humanitarian disaster through narrative cartography. Brooke has honored Professor Illick's standards of excellence and humanitarian concern by integrating diverse subfields of geography in pursuing solutions to social and environmental problems.
2021 Award Recipient
Rebecca Strull  '20.5
From her very first semester at Middlebury, Rebecca used geographic frameworks to examine questions of equity, justice, and improving the lives of socially and spatially marginalized populations both within the United States and across the globe. Her intellectual curiosity drew her to wide ranging topics including the maintenance of Mayan identity among Guatemalan immigrants in the US to the precarious living conditions within Colonia settlements along the US – Mexican Border. Her work in Uganda is perhaps most emblematic of the spirit of Professor Illick. During a semester abroad, she examined refugee mobility within resettlement areas to determine the extent to which these microscale relocations enabled a greater degree of refugee self-sufficiency. She continued conducting research in Uganda in a project focused on understanding how increasing land competition is affecting mothers' strategies for investing in children's future livelihood opportunities in rural areas. It is clear that Rebecca's engagement with Geography over her four years at Middlebury truly embodies Professor Illick's geographic curiosity, standards of excellence, and humanitarian concern.