Our Faculty Talks Series
---
FOOD IS FORCE
Japanese expressions of shun no aji 'tastes in season'
Sayaka Abe, Japanese Studies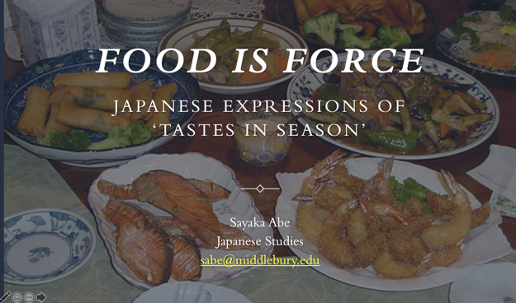 Expressions of taste have drawn much attention from linguists and cognitive scientists in recent years. Wine critics frequently use motion verbs to describe tastes (e.g., 'wine that creeps up sideways'), and sensual metaphors are often found in upscale restaurants' menus (e.g., 'seductively seared foie gras'). These depictions show how food/tastes can be spatially and psychologically dynamic, as construed by writers. In this light, I examine Japanese texts that describe food or tastes in season (or shun no aji), to see if this type of dynamism is present, and if so, what it looks like as manifested in language. My data from online columns about foods in season reveals multiple patterns in which a certain taste and another taste/taster interact, by (figuratively or psychologically) imposing or giving in to one another (e.g., 'source pushing the meat's flavor forward'; salt pulling out unami from the meat). This research is built upon a theory of language that uses the concept of "force," which is understudied, especially in non-Indo-European languages.
---
Life of the Mind talk by Assistant Professor Otilia Milutin
"Silent All These Years:" The Tale of Genji, Sexual Violence, and Contemporary Japanese Popular Culture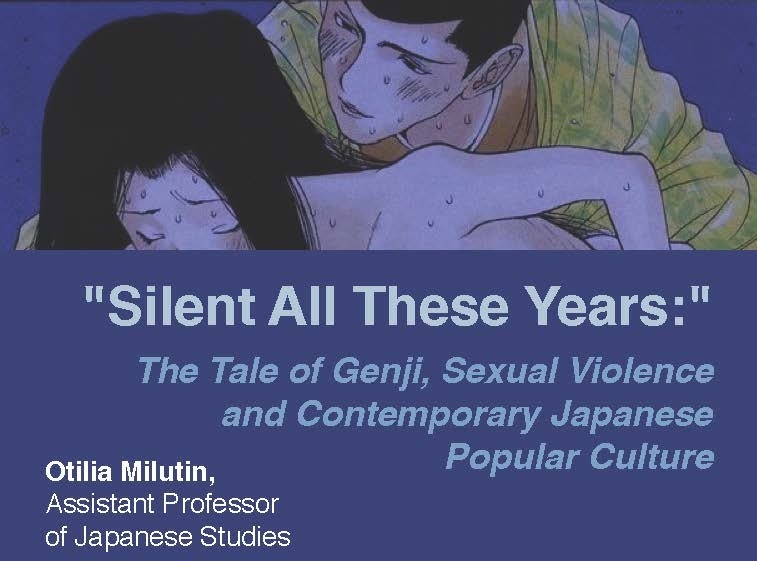 The Tale of Genji (1008), arguably the world's first novel and one of the masterpieces of Japanese literature recounts the numerous consensual and non-consensual sexual encounters between its hero, the eponymous prince Genji, and long series of women. One thousand years of Genji scholarship, adaptation and reception have barely touched on the tale's representations of sexual violence, preferring the unmarred image of Genji as a romantic hero. Surprisingly, even contemporary renditions of the tale, in film, anime and manga are problematic in their rendition of rape and sexual abuse, keeping its female characters if not outright silent, then forever unheard. This talk will examine a few significant episodes in Genji manga, anime and the most recent Genji movie, highlighting the strategies artists, animators and directors employ in order to minimize, domesticate, or erase the representations of sexual violence found in the original text.
---

Rendaku in Yamagata Japanese
Dr. Mizuki Miyashita
University of Montana
You may remember the bright safflower in Takahata Isao's animated film Omoide Poroporo (Only Yesterday, Studio Ghibli). The Japanese word for the flower comes from beni 'red' and hana 'flower,' but the combined form is benibana, not benihana. The alteration of h to b is quite important linguistically, as it involves a set of systematic sound rules, called rendaku, or sequential voicing. Moreover, this concerns language use in social contexts. Featuring the Kahoku dialect in Yamagata Prefecture in Japan, Dr. Miyashita will present her collaborative research on some ongoing phonetic changes associated with rendaku. Her team examined multiple social variables, including age, gender and socioeconomic group.
---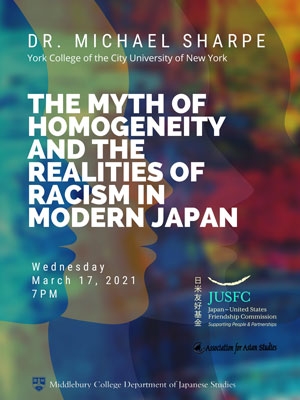 The Myth of Homogeneity and the Realities of Racism in Japan
The Department of Japanese Studies (with the support of the Association of Asian Studies NEAC Distinguished Speakers Bureau) hosted the lecture The Myth of Homogeneity and the Realities of Racism in Japan by Dr. Michael Orlando Sharpe, Associate Professor of Political Science in the Department of Behavioral Sciences at York College of the City University of New York and an Adjunct Research Scholar at Columbia University's Weatherhead East Asian Institute.
---
Alumni Talks in Japanese Studies Series
---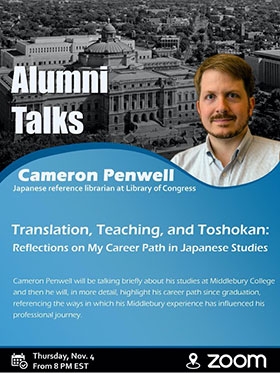 Translation, Teaching, and Toshokan: Reflections on My Career Path in Japanese Studies
Cameron Penwell currently serves as a Japanese reference librarian in the Asian Division at the Library of Congress.
A member of the Middlebury College class of 2004, he completed a double major in History and Japanese Studies, which included a summer at Japanese school and a year of study abroad  at Keio University. After working in Japan for a few years as a translator and editor, he returned to the  US to undertake graduate studies in modern Japanese history at the University of Chicago. He taught  briefly as a visiting instructor of history at Knox College before taking up his current position.
Cameron Penwell will be talking briefly about his studies at Middlebury College and then he will, in more detail, highlight his career path since graduation, referencing the ways in which his Middlebury experience has influenced his professional journey. He will address his experience doing an internship in Tokyo right after graduation and looking for a full time job there, working in translation and editing in Japan, going to graduate school at the University of Chicago, and then his current position at the Library of Congress, where he is the Japanese reference librarian working with the digital collections (part of the collection includes a small but growing "Japanese Rare Book Digital Collection" in addition to the "Japanese Censorship Collection" and "Ainu and Ezochi Rare Collection."
---
Laurel Taylor, class of 2011, majored in Japanese Studies and minored in Music
Laurel also holds an MFA in literary translation from the University of Iowa and is currently a Ph.D. candidate Japanese and Comparative Literature in the Department of East Asian Languages and Cultures at Washington University in St. Louis. Her research focuses on affective loops between readers and writers in the digital age and the nature of digital materiality. In her free time, she practices creative writing and literary translation and indulges in cheesy dramas from East Asia.
In 2018, Laurel won the Percy Buchanan Prize for the Best Graduate Student Paper in Northeast Asia for her paper "I'm Telling the Truth I Swear: Metafictional Steps in Tanizaki," and in 2020-2021, she became a Fulbright recipient.
Laurel's dissertation is tentatively titled "Moved: Affective Bonds in Online Literary Media" and will investigate the influence of affect on readers and writers in digital spaces from the early 2000s to the mid-2010s.