Program alumni are the best resources for students interested in going abroad, and they are available to answer your questions. If you would like to talk to a recent student about their experience in Argentina, get in touch with the advisor, Alessandra Capossela.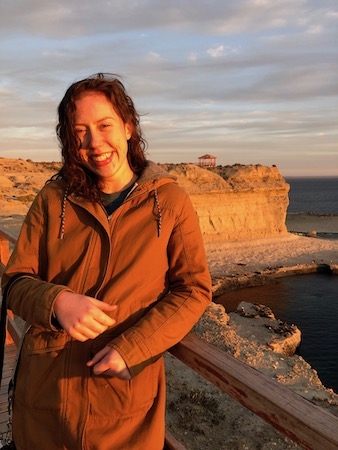 Bridget Stauss, Amherst College, Buenos Aires
When friends and family ask me how my time in Buenos Aires was, I am always at a loss for words. I usually respond with a superlative like "amazing" or "fantastic," but truly no words can accurately convey the entirety of my experience. From the amazing hiking trips in Patagonia and the political marches in the city to the calm moments sipping mate in the Palermo parks and everything in between, my experience in Buenos Aires was enthralling, challenging, and ultimately indescribable. Buenos Aires is a city with an incredible history, political energy, and culture – there is always something to do or an event to attend. Art museums, concerts, feminist meetings, Orgullo, drum circles, boliches – you name it. The people I met in Buenos Aires were kind-hearted, welcoming, and passionate. I learned so much about Argentine history and culture just during the dinners I had with my host mom and the conversations I had with my Argentinian friends. It was not easy – I frequently made mistakes in the language, occasionally hopped on the wrong subte, and had to work hard in my classes – but my experience was all the more rewarding for these challenges. Buenos Aires is a dynamic, living city – it cannot be described accurately in a short paragraph. I am so grateful that I was able to experience it.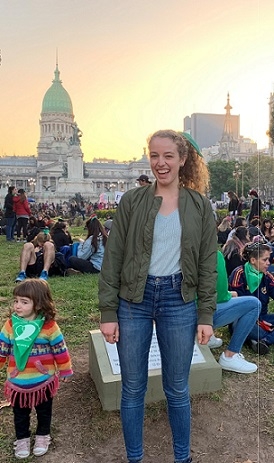 Maren Walsh, Middlebury College, Buenos Aires
The semester I spent in Buenos Aires felt simultaneously like the shortest semester of my life and also the longest. Between studying, attending political marches, forcing my Argentinian friends to teach me how to cook, seeking out the best views in every corner of the country, and drinking an absurd amount of café con leche, the time somehow just slipped away. However, when I think back on all the things I did, I can't figure out how I possibly fit that much into a five-month period. When they say there's always something to do in Buenos Aires, they aren't kidding. There is a truly infinite number of music events, art exhibits, ice cream shops, and unique neighborhoods to explore. More importantly, there's always someone interesting to meet. By far the best part of my semester were the friends I made in surprising places— convenience stores, taxis, the leftist newspaper stand in front of my university, tango venues, boliches (nightclubs), feminist art fairs, non-profit fundraising events… One of the special things about arriving in a city where you don't know anyone is that it makes you more open to get to know everyone, and I'm grateful that Buenos Aires welcomed me with arms wide.  
Leah Metzger, Middlebury College, Córdoba
When I tell people that I studied abroad in Córdoba, Argentina, they usually ask if I got a chance to visit Patagonia or travel up to Brazil or go to some other cool place in South America while I was away. While I'm sure that would have been great, the best parts of my semester happened right in Córdoba. 
My host family was kind, welcoming, and hilarious. My favorite memories include playing with their puppy, Perla, trying my host-dad's renowned asado (Argentine barbecue), and rolling dice to decide who had to the dishes after dinner (and invariably arguing over the result).
I was also astonished by how welcoming and warm the other Argentine students were. I met a few students who took me and some other exchange students under their wings, helping us with everything from finding a good place to get a haircut to navigating the inconsistencies and challenges of the Argentine university system. This group of Argentine and exchange students soon became my friends. We explored the city together, cooked together, marched for el aborto legal, argued relentlessly about whether or not pineapple on pizza is acceptable, desperately tracked down a suitcase I accidentally left on a bus, and so much more. 
So, while travel is a great way to get to know a new country, there is a lot to be said for investing your time in getting to know the people and places right around you. Studying in an unfamiliar country is by no means easy, but being surrounded by kind, welcoming, and wonderful people makes all the difference.