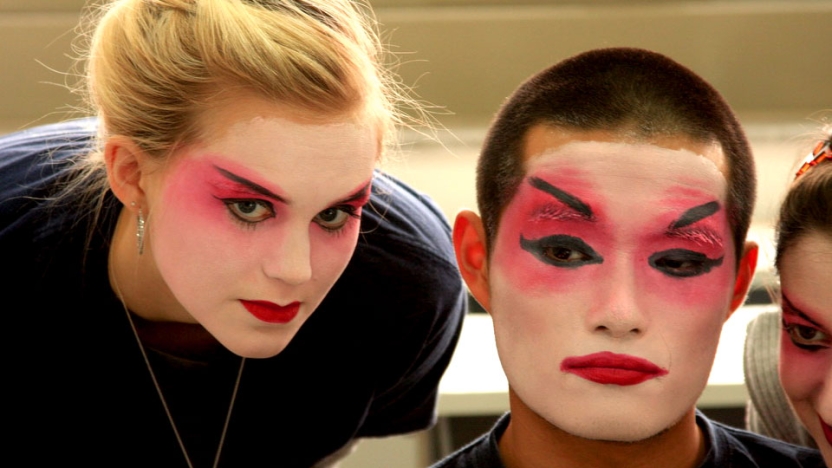 Though academics are highly stressed at the Middlebury School in China, the program's philosophy is based on finding balance between scholastic achievement and cultural immersion.
We foster a vibrant student life by encouraging interaction between students, roommates, faculty, and the community at large. Opportunities at all locations include the following, with some location-specific examples below:
Long Weekend Trip
Every semester, the School in China will organize one long weekend trip, taking students and roommates to a destination of interest outside of their host city. These trips are included in the program cost.
Roommate-Led Activities
At the Middlebury Schools in China, Chinese roommates are not only an integral part of a student's everyday life, but an integral part of the program as a whole. Roommate-led activities in the past:
Making dumplings
Learning "Chinese poker"
Majiang
Learning to play the Erhu
Carving stone seals
Chinese Table
The School in China organizes a weekly Chinese Table where students have the opportunity to casually converse with teachers and learn important food culture and vocabulary, all while enjoying a delicious local meal provided by the program.
Cultural Reimbursements
The Cultural Reimbursement Program is designed to encourage students to get out and explore the city independently or with their Chinese roommates. Every student is granted a limited amount of weekly funding to use towards culturally-focused activities.
Beijing
Local Excursions
The School in China: Beijing program organizes weekly activities which are designed to showcase the gems of Beijing and different facets of Chinese culture. Activities outside of the classroom push students' understanding of contemporary China and complement their coursework. Some previous excursions:
Local art gallery visit
Walking tours of Beijing
Meeting with a local journalist
A badminton tournament on campus
Chinese cooking class
Extracurricular Classes
Extracurricular classes are offered each semester depending on student interest and availability. These classes typically meet once a week and are designed to offer students cultural knowledge in a more relaxed, casual setting. Previous extracurricular classes:
Chinese tea ceremony
Calligraphy
Traditional Chinese painting
Chinese Opera face painting
Capital Normal University Student Clubs and Campus Life
Students are encouraged to participate in campus life and foster relationships with Chinese classmates. Below is a list of active clubs at Beijing's Capital Normal University which students are eligible to join:
Name
Chinese
Category
Description

Classroom of Society

社会大课堂

Career Dev.

Aims to prepare undergraduate students to enter society as adults.

Taekwondo Club

跆拳道社

Health & Exercise

Gathers together to practice Taekwondo with guidance from a professional instructor.

XingYi Club

星翼社

Health & Exercise, Career Dev.

A fusing of formerly separate clubs, this group conducts breakdancing, yoga, and career development training.

Feiyan Dance Club

非言舞剧团

Performance Arts

 

Teaches dance and puts on performances. Main focus is belly dancing, with other genres thrown in occasionally.

Silent Sea Manga Club

静海动漫社

Hobbies & Interests

A network of students which announces when new manga exhibitions are going on in the area.

Ping-pong Club

乒乓球社

Health & Exercise

Plays ping-pong together. Free instruction is available for beginners from other Chinese students.

Orienteering Club  

定向越野俱乐部

Hobbies & Interests

Organizes and carries out exploration activities throughout Beijing and the surrounding area.

Breakers Flag Football Team

Breakers 腰旗橄榄球队

Health & Exercise

Organizes flag football and cheerleading activities.

Snowskiing Club

滑雪俱乐部

Health & Exercise

Teaches skiing, and engages in ski and snowboard activities and competitions in Beijing. Ticket includes admission, equipment, and lesson.

Yitang Chess and Checker Club

弈堂棋社

Hobbies & Interests

Plays and teaches Chinese and international versions of Chess, Checkers, and other related games.

Chun Yingxiang Movie Club

纯映像电影社

Hobbies & Interests

Discusses and views films, and might even make movies together.

Litian Jushe

唳天剧社

Performance Arts

Acting/theater group which rehearses together and puts on performances.

Niguang Photography Society

逆光摄影协会

Hobbies & Interests

Hosts opportunities for volunteering, e.g. storytelling to the blind, and conducts photography expeditions.

Xingtan Academic Club

杏坛学社

Academic

Publishes its own newspaper, hosts a movie salon and academic salon, and focuses on history.

Blues Guitar Club

蓝调吉他社

Performance Arts

Offers guitar lessons for a reduced lesson price. Beginners to advanced are all welcome.

Ballroom Dance Society  

体育舞蹈协会

Performance Arts

Teaches social dances and ballroom dances. Welcomes members to attend formal competitions.

Board Game Club

桌游社

Hobbies & Interests

Gets together to play board games.
Kunming
The Kunming program offers students the opportunity to participate in a field-based traveling seminar, outside of the host city of Kunming.  In the past, students have stayed in the historic Bai village of Xizhou and resided in a traditional merchant mansion that was historically linked to the Ancient Tea Horse Road.  Students spend several days studying the local and how life is and has been conducted there, conducting interviews and attending workshops, and preparing presentations. Each semester's destination for the excursion will be announced during the program orientation.
Local Excursions
Excursions at the School in China: Kunming are typically arranged on Friday afternoons and the occasional Saturday, and can have academic, cultural and recreational components. We often take advantage of Kunming's climate, human diversity and natural heritage to organize outdoor activities. Previous excursions:
A day trip to Stone Forest, a UNESCO world heritage site
Hiking in Kunming's Western Hills
Kungfu at the Buddhist Bamboo Temple
A badminton tournament on campus
Visiting a teahouse to sample Yunnan Pu'Er Tea
Shopping for florals at Dounan Flower Market, the largest in southeast Asia
Cooking classes where students learn to make Chinese dumplings
Extracurricular Classes
Extracurricular classes are offered each semester depending on student interest and availability. These classes typically meet once a week and are designed to offer students cultural knowledge in a more relaxed, casual setting. Previous extracurricular classes:
Jeetkwondo Martial Arts
Tai Chi
Calligraphy & Traditional Chinese Crafts