Program alumni are the best resources for students interested in going abroad, and they are available to answer your questions. If you would like to talk to a recent student about their experience in Germany, get in touch with the advisor, Nicole Chance.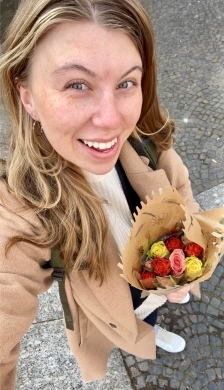 Sophia Waters, St. Olaf College, Mainz
My semester in Germany, though only five months in total, somehow seemed to compromise an entire lifetime of learning and precious experiences. In getting lost on cobblestone streets and in the middle of tangly, intricate German sentences, I found myself. As a Chemistry and German double major at St. Olaf College, the School in Germany was my first experience with Middlebury and I was blown away by the program's attention to detail in language acquisition and balance of student support and room for independence. 
I was initially a bit intimidated by the program language pledge, but readily accepted the challenge and quickly found that I was not only comfortable speaking German, but loved doing so. One of my main goals for my semester in Mainz was to bolster my German language ability and through this journey, I made some amazing friends, developed new perspectives, and unlocked the intimate parts of culture and people hidden behind the doors of language.
I spent most of my time enjoying the beautiful city of Mainz, but I also had the opportunity to travel on the weekends or school holidays. My travels included Austria, Switzerland, and other regions of Germany, and found that those were the trips I most cherished because I was still able to communicate with locals and therefore interact more extensively with the culture.
I loved the gemütlich Rhineland and will forever treasure my evenings journaling on the banks of the Rhein, getting ice cream with friends, and feeling myself become more confident in German and in Germany. My semester abroad was certainly not without its challenges, but it is thanks to every single experience, struggle, and breakthrough that I am the person I am today: a more mature and developed student, German speaker, and individual than I was five months ago.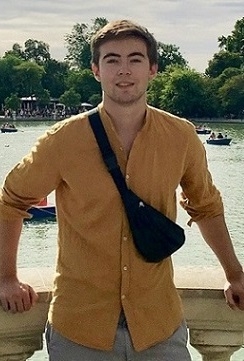 Lucas Kreuzer, Kenyon College, Berlin
The past few months in Berlin have been incredibly rewarding both personally and academically. Coming from a rural liberal arts college, I wasn't sure what to expect living in a major city and studying at a large public university. Within the first two weeks I got the hang of the public transit system and found myself crisscrossing the city to discover new neighborhoods. Berlin's diversity and size, both in terms of the architecture and people, amazed me. The wars and political regimes of the past created a varied urban canvas. I came across broad communist boulevards lined by block architecture in the east of the city; churches, museums, and palaces built by Prussian Kaisers in the middle; and ordinary apartments and public institutions, like the Freie Universität, erected through the support of the Marshall Plan in the west. The Berliners I met came from different backgrounds, spoke a number of languages, had a range of personal stories, and gave the city a multicultural feel.
My academic experience has been both challenging and rewarding. There was a period of adjustment at the beginning to the different teaching styles, expectations, and workings of the Freie Universität. Though after a few weeks, I found courses that interested me and I enjoyed attending. The Middlebury staff assisted me with administrative matters, personal concerns, and the editing of my terms papers, which facilitated my experience. My German has improved by leaps and bounds by completing the weekly readings, giving class presentations, writing the term papers, and socializing with Germans. I now feel confident knowing I could come back to Germany to study or work at any point in the future.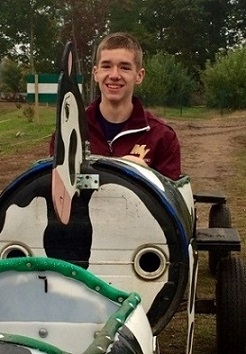 Sean Flanagan, Middlebury College, Potsdam
My semester in Potsdam with the Middlebury School in Germany, through the challenges and opportunities that it has offered me, has been one of the most academically and personally rewarding experiences of my time as a Middlebury student. I owe this in large part to the offerings at the Universität Potsdam and in Potsdam and support from the Middlebury program that allowed me to take advantage of them.
As a German major at Middlebury, I was excited by the breadth of course offerings in German history, literature, and culture (and beyond) at the Universität Potsdam. This allowed me to take and visit courses ranging from the relationship between Rome and Germanic groups before the Middle Ages to German literature from 1989, the year during which the Berlin Wall was taken down. Through conversations with other students, whether in class, over a coffee, or on a run through Park Sanssouci, and with professors, I have also found the university to be a very welcoming place.
The city and location of Potsdam have also facilitated many great experiences during my time in Germany. With the comfortable atmosphere of a smaller city, and with historical sites like the site of the Potsdam Conference at the end of WWII and palaces built by Frederick the Great, Potsdam is a great place to explore and learn about German history and culture. Potsdam is also only about an hour outside of Berlin, offering a great connection to a large city with its own history and character.
The Middlebury School in Germany has been instrumental in facilitating all of these experiences and connecting me to many more. As I look back on my time in Potsdam, I'm proud of how I've become less an observer and more a part of the community I'm in, and I'm excited by the language skills, incredible experiences, and public transportation literacy that I'll take away.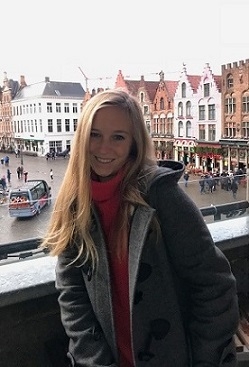 Catherine Blizzard, Middlebury College, Mainz and Berlin
Studying German at Middlebury College and during the summer Middlebury School of German, I strived to immerse myself in the language but struggled with the grammar and felt more fear than excitement for my planned spring semester abroad in Mainz. I had a sudden realization that I needed to spend a year in Germany, both in Mainz and Berlin, because it would help me fully integrate and reach fluency, a skill I know will aid me tremendously throughout my career. I arrived with an open mind, determined to excel academically and, even more importantly, culturally. Being in Mainz, the picturesque old town along the Rhein, drastically helped me improve my language skills. Although I was very nervous as classes started, I jumped in headfirst and trusted that Middlebury's formula for immersion and language development would work; it did, tenfold. As a smaller city, Mainz offered me the chance to use my German at every store, even when I still messed up phrases or spoke too slowly. Experiencing an authentic German Christmas market and the wine-filled countryside gave me an experience of Germany that is unattached to the touristic image of Berlin or München.
I moved to Berlin in February and immediately started an internship at the House of Democracy and Human Rights. I soon became a pro at the U-bahn and S-bahn. By this point, I felt very confident with my language skills, which helped me seamlessly transition into the German work culture and with my new roommate. Berlin is where I truly began to feel fully integrated culturally into German society. My roommate and I became best friends and she opened my eyes to the exciting local alcoves as well as her German friends.  At this point I began to feel like a true Berliner. I had diverse, innumerable cultural outlets at my fingertips, and my German had improved enough during my time in Mainz that no one spoke English to me at restaurants, even near the Brandenburger Tor or the Berliner Mauer. Experiencing both Mainz and Berlin gave me the opportunity to see Germany in its many forms – the hospitality of the Rhineland and Berlin through a local's eye.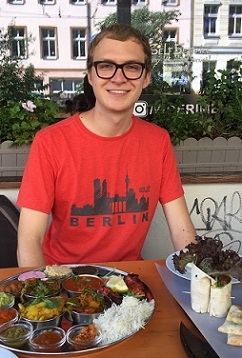 Seth Colbert-Pollack, Kenyon College, Berlin
I had an incredible ten months in Berlin with the Middlebury School in Germany. Berlin is a city with everything, and the Middlebury program gave me the freedom to explore the city (and beyond) any way I chose. My major is math, and because Middlebury-Berlin allows students such flexibility when it comes to classes, it was the perfect way to study in a foreign city while simultaneously immersing myself in the German language and culture. 
It's hard to pick the top highlights of my experience, but here are a few: I took three math classes, including one math seminar for which I gave two hour-long presentations on spectral theory, all in German. Outside of math I took a seminar on globalization and an introduction to ancient Greece and Rome with an emphasis on the food of the era. I never expected that I would end up doing an internship at a mathematical reviewing and indexing service, speaking German with fellow math nerds, but thankfully I did! My most immersive cultural experience was joining the "Big Choir" at the university. I made friends over beer after rehearsals, travelled to Dresden for our pre-concert practice weekend, and sang on the stage of the Berliner Philharmonie. My German has correspondingly improved, especially as regards math and music. 
I had a great year abroad, and as I go back to the States, there are a lot of little pieces of Berlin life I'm going to miss. Jogging through the Tiergarten, celebrating at the Carnival of Cultures, cheering for Germany with tons of screaming fans at a World Cup viewing, eating at the Thai market on Sundays at the park around the corner from my apartment, hiking up Teufelsberg to see the sunset—I'm so glad to have been able to do all of these and more. 
Robin Vincent, Middlebury College, Mainz
My experience in Mainz, Germany, was the most challenging thing I've ever done. When someone prepares you for an "immersive" language experience, they can't really provide you with much preparation at all, any more than someone can give you a comprehensive list of words you'll encounter during an afternoon. I originally only planned to go for the spring semester, but I ended up returning for my senior fall in order to really solidify the language skills I was acquiring. I stayed mostly in the small area in and around Mainz—I didn't choose to travel outside of the country while I was there, which has its trade-offs, but I'm so glad I got to spend so much time on the Rhein and be around often enough to form real friendships with the people I met. I did an internship in a biochemistry lab, which provided an incredibly focused view of a specific part of the Johannes Gutenberg Universität in Mainz, as well as took a fair number of literature classes, which were sometimes enlightening, sometimes horribly difficult, but ultimately priceless. Studying abroad for me was first and foremost about the people I met while I was here—they enabled me to speak German the way I do today and have become a second circle of friends that I never expected to have. It's difficult to put yourself out there and make conversation in a foreign language, whether it's with the person sitting next to you at a café or one of your classmates, but continuously striving to overcome that fear makes you fluent, simply because the feeling of understanding the formerly incomprehensible language around you becomes intoxicating. I might be a slight outlier on the spectrum of language enjoyment, but Mainz lit that fire in me without a doubt.
More Voices from Abroad