Program alumni are the best resources for students interested in going abroad, and they are available to answer your questions. If you would like to talk to a recent student about their experience in Italy, get in touch with the advisor, Alessandra Capossela. 
Stella Magni, New York University, Rome
Choosing to study with Middlebury in Rome must've been one of the most radical choices I've ever made in my life. I could've chosen to study with NYU at their practical, all-inclusive campus in Florence with 300 other students: the easy choice. Instead, I chose a two-person program in the middle of Italy's biggest city, requiring an ultra independent persona that I was forced to find within me. Despite fluently speaking Italian, living not far from family members based in and around Rome, and having already spent quite some time prior to this experience in the country traveling and studying, my time in Rome challenged me in every way possible. But if I could do those four and a half months all again, I would. 
I realized early-on that there was no guarantee of a physical support system being in a program as small and independent as this one, so I was always pushing myself to get out into the city to enjoy its timeless beauty and energy, sometimes alone, daring myself daily to talk to someone new. In fact, I found no better way to improve my Italian speaking skills than putting myself out there and navigating my way through conversations about anything from cultural differences to our dreams and aspirations. I learned to express things I never thought possible for a non-native speaker. It was through this newly found confidence paired with the excellent instruction and guidance of my professors and internship director that took my Italian skills to the next level.
I was so lucky to have Igiaba Scego as my professor, an inspiration of mine since I translated some of her book, Adua, for class in freshman year, who led us through numerous texts exploring migration themes in Italy. She even toured us through 'Colonial Rome' with her historian friend, and on numerous occasions we drank espresso and laughed while discussing her crazy book tour schedule and our favorite tv shows. I created meaningful connections with Romans, Europeans, and people from all over the world, and I know a few will last my entire lifetime. Most of the strongest bonds were created out of luck, such as that with my roommates, Solène and Lucia. If you're considering Rome with Midd, come with an open mind, and prepare yourself for something unforgettable. 
Naja Irvin-Conyers, Middlebury College, Florence
I wish I could better explain in words how transformative and incredible my time was in Florence. When I first traveled, my Italian was okay. I wasn't confident in my speaking or writing skills and the idea of a full immersion was daunting. The great thing about my experience was that everyone around me was feeling the same thing and each student within the program was very encouraging and welcoming. 
As a black girl who has had little to no experience with learning another language as well as traveling by herself, going abroad was scary. I can't count how many times I cried in the airport wishing I went back home, but the minute I landed in Florence, everything changed. My host mother and her family welcomed me with open arms and treated me like I was one of their own. I also was able to see another side of Florence - one available to students on the Middlebury program because of the Language Pledge. Due to me speaking the language as much as possible, I befriended store owners, Florence locals, university students, and so many other people. I felt at home in Florence, a feeling that I sincerely miss now that I have returned to the States. 
The academics in Florence were tough at first, but with time and with the constant presence of Italian, the workload and your understanding of the language gets significantly better. Now, I am not fluent, but I have a better grasp on my Italian and the bonds I made with the community of Florence has helped me want to continue my education of Italian as well as explore job opportunities within Florence in the future. 
I can't promise that you or anybody else will have the same experience as me, but I will say that it is 1000% worth going abroad, especially to Florence. There is a unique beauty that, in my opinion, other programs and other places fail to capture. A suggestion I wish I took while I was in Florence is this: don't take your time there for granted. Travel as much as possible (in Florence, in Italy, and across Europe) and soak up the cultural experience that lie in the cities, countryside, and even in your little neighborhood. Going to Florence has helped me discover a new side to myself and has shown me that I can do so much more than I could ever imagine.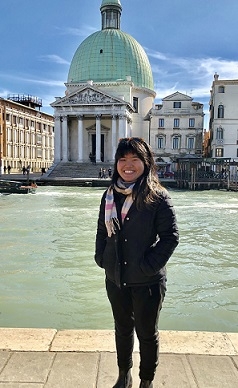 Ava Rigelhaupt, Sarah Lawrence College, Florence
Returning from studying in Florence for a semester, I can proudly say I can carry a conversation in Italian! It's a huge accomplishment, seeing as I nervously flew to Italy knowing not a word. Upon arriving, many of my worries – including those about the Middlebury Language Pledge – were alleviated with the warmest welcome by staff and professors.
As a student on the beginner track, my Italian language class was the majority of my schedule, meeting four times a week. I always looked forward to Italian. I love learning languages, and I like to talk. I knew I couldn't be silent for four months, so I thought, "guess I'm learning Italian!" My other classes were Art History and Contemporary Italian Society. From walking tours of the city, class trips to famous museums, and memorable gestures like having conferences at favorite local cafés, the interactions with my professors were integral parts of my time abroad. I felt very supported by my professors who really cared about my experience.
Exploring Italy was another integral part of my time abroad. I love that Middlebury offered educational excursions to places such as Ravenna to learn about Dante Alighieri and mosaics, Siena for Renaissance art history, and even Matera in the south for a unique weekend of exploring le grotte (grottos in English). These trips were some of my most exciting experiences abroad. For me, they were a chance to explore places and monuments that I might not easily see, or that are not as well known. Most trips were conducted completely in Italian. As a beginner, I slowly began challenging myself to participate in discussions. Middlebury does an amazing job creating an atmosphere where students are encouraged to speak with peers and natives, even if you make tons of mistakes – which I know I did!
I am so glad I chose to study in Florence through the unique Middlebury College program. During my four months abroad, I made new friends with international and American students, learned all about Renaissance art history through seeing the original artworks, experienced local culture while learning about how it was formed, and ho imparato una lingua nuova (I learned a new language). Which was one of my main goals for studying in Italy, along with eating tons of pasta!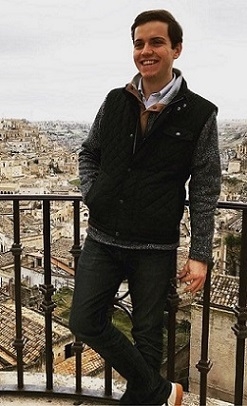 Nick Wilbur, Wheaton College, Florence
The year I spent living in Florence was one of the best years of my life.
In addition to the obvious architectural and natural beauty of the city, the Middlebury Program in Florence also allowed me to experience countless aspects of life in Italy otherwise unavailable to American students. For instance, the program's immersive approach of enrolling students directly at the University of Florence (where they take classes taught in Italian alongside Florentine peers) gave me the opportunity to experience an academic setting, style and structure completely different from that of my home institution, and thus allowed me to grow greatly as a student. Additionally, because students of the Middlebury Program have access to a wide variety of courses at the Italian university of their city, I was able to take classes in subjects as wide-ranging as literature, contemporary history, and advanced statistics. The courses at the Middlebury Center were also fantastic; the class sizes were small, the material highly engaging, and the professors kind and enthusiastic to the point that I look forward greatly to a continued correspondence with some far into the future.
Finally, the Middlebury Program also gave me the opportunity to improve both my resume and the strength of application for graduate programs. Unlike most students, I chose to study abroad for the entirety of my senior year while actively applying to law schools; during this process, not only was the staff of the Middlebury Center very helpful with any credit-related questions I might have had, but both the development of my complete fluency in the Italian language and the hands-on internship experience I gained in the office of an Italian criminal defense attorney I believe helped me stand out greatly as a law school candidate, and contributed to my acceptance at Southern Methodist University's Law School for this fall.
For all of these reasons, and for countless others, I would recommend the Middlebury study abroad program to anybody with a desire to fully immerse themselves in a foreign culture, and to thus grow personally in innumerable ways.
Kelsa Danforth, Sarah Lawrence College, Florence
Florence was a life changing experience which left me with the skills needed to not only live in, but to flourish in a foreign country. It was intimidating to arrive in a city where everything from the language to the process of ordering a coffee was new for me. However, with the one-on-one attention from professors and meeting like minded college students, learning Italian and acclimating to the culture became an exciting adventure.
My studies in art history and the Italian language were greatly expanded by living in a city with such a rich cultural foundation, architecture, and way of life. I found that I appreciated Botticelli's Primavera, for instance, much more when I could take a short walk over to the Uffizi Gallery after class and see, first- hand, one of the most remarkable pieces to come out of the Italian Renaissance.
The Middlebury academic system was designed to be very supportive in learning to speak Italian. At first, I didn't think I was capable of taking on the Language Pledge, a written agreement saying that I would have to speak and write in Italian during my time in Florence. However, it challenged me to interact and converse with more locals in their native language, consequently giving me greater insight into Italian culture. Florence was a fascinating city to study abroad in because it is a living testament to Italy's golden age while also entertaining the political discourse of today's social and economic issues. By the end of the semester, I would walk through the streets of Florence with the feeling that I had found a new home.