The Film and Media Culture Department is located at the Axinn Center at Starr Library.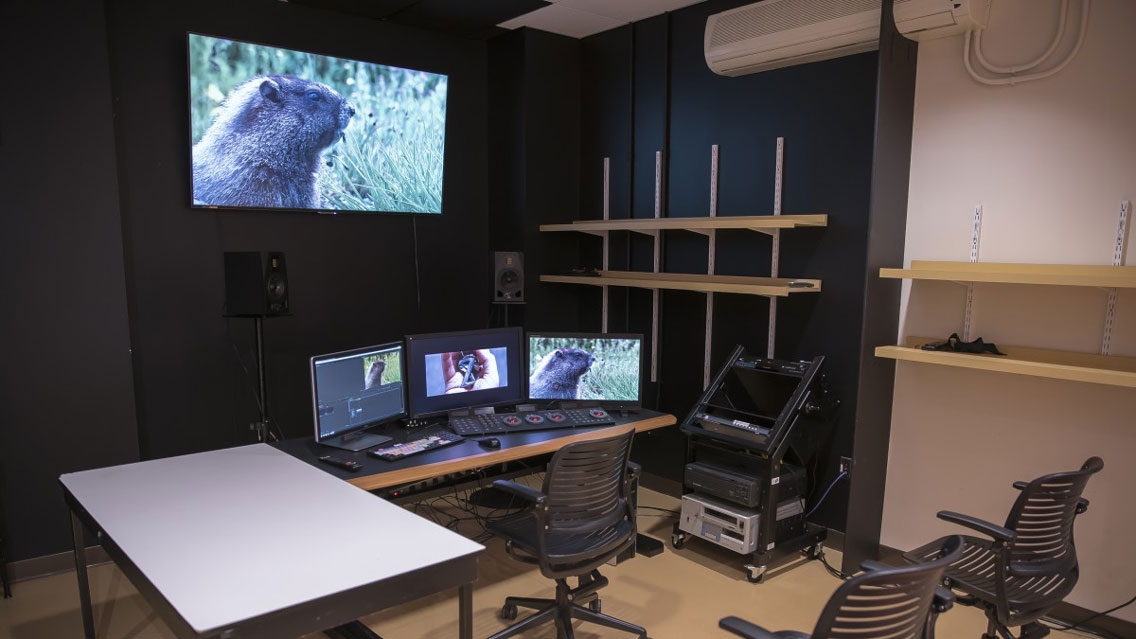 Axinn has seven standard classrooms with full multimedia projection, as well as a number of specialized facilities:
Screening room with digital cinema projection capabilities.
Video gallery to showcase student work.
Macintosh computer lab for teaching video, animation, and multimedia.
The basement of Axinn contains the specialized production labs for the department, including 15 PC video editing stations, an audio editing suite, a videogame lab, a color correction suite, and a soundproof teaching studio complete with lighting grid and greenscreen curtain.
Our equipment room offers a wide range of hardware for students to check out, including dozens of HD video cameras, microphones, lighting kits, audio recorders, digital still cameras, dollies and cranes, and other accessories to support a wide range of media production activities.
Explore our production hub for a virtual tour of our facilities, and discover the specifications of our equipment inventory that is available to students.
Specialized Classrooms
Axinn has nine classrooms with a wide range of sizes and layouts—two rooms are specially designed to support FMMC courses.
Axinn 232 Screening Room
Axinn 232 is a state-of-the-art screening room accommodating an audience of 65 on tiered seating. it features professional-quality projection (for 35mm, 16mm, and HD video), surround sound, a screen with adjustable masking, and a lectern fully equipped with touchscreen controls for multimedia teaching. The large screening room serves as a classroom for film and media culture courses such as Aesthetics of the Moving Image and TV and American Culture and is also a great space for student screenings.
Axinn 105 Computer Lab
Axinn 105 is a dual-purpose seminar room and computer lab. It is equipped with 21 iMac computers, a scanner, and a print release station just outside the door. The iMacs are loaded with Adobe Creative Cloud, Final Cut X, and additional creative software that supports film and media culture courses such as Aesthetics of the Moving Image and Remix Culture.
Equipment Room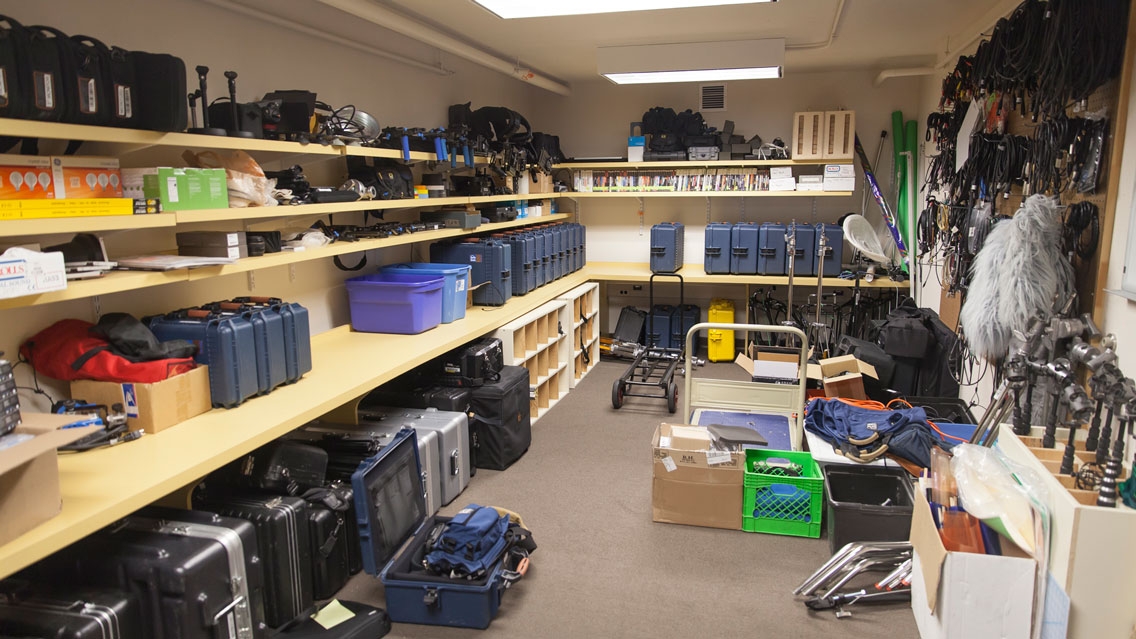 The film and media culture equipment room is located on the bottom floor of the Axinn building in Axinn 015. The equipment room lends equipment and materials to students to support film and media culture courses with a production component. It also serves as the office for Fayza Shammin (assistant in instruction), and is where equipment is maintained, repaired, and stored.
Our equipment inventory includes a large assortment of audio, video, lighting, grip, and computer equipment. For a full listing, please visit our production hub.
Production Facilities
Audio Suite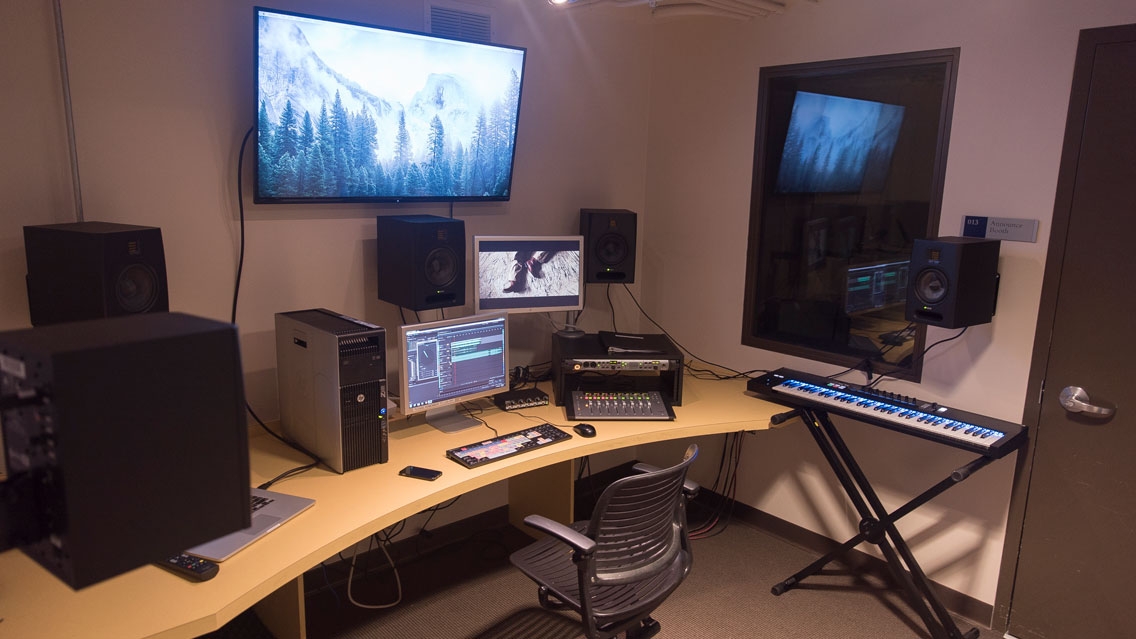 The FMMC audio suite includes a single-seat audio control room and a recording booth. The control room is equipped with Adobe Creative Cloud and Pro Tools HD. The sound booth is centered around a high-end large-diaphragm cardioid microphone and is surrounded by sound-dampening acoustic wall treatments. The audio suite is used for a variety of purposes including audio editing, mixing, scoring, ADR, and interviews.
Multimedia Labs
The film and media culture multimedia labs consist of an eight-seat computer lab, a two-seat advanced editing suite, and a two-seat viewing room. These spaces are equipped with Adobe Creative Cloud software and specialty hardware to meet the needs of film and media culture production courses.
Production Studio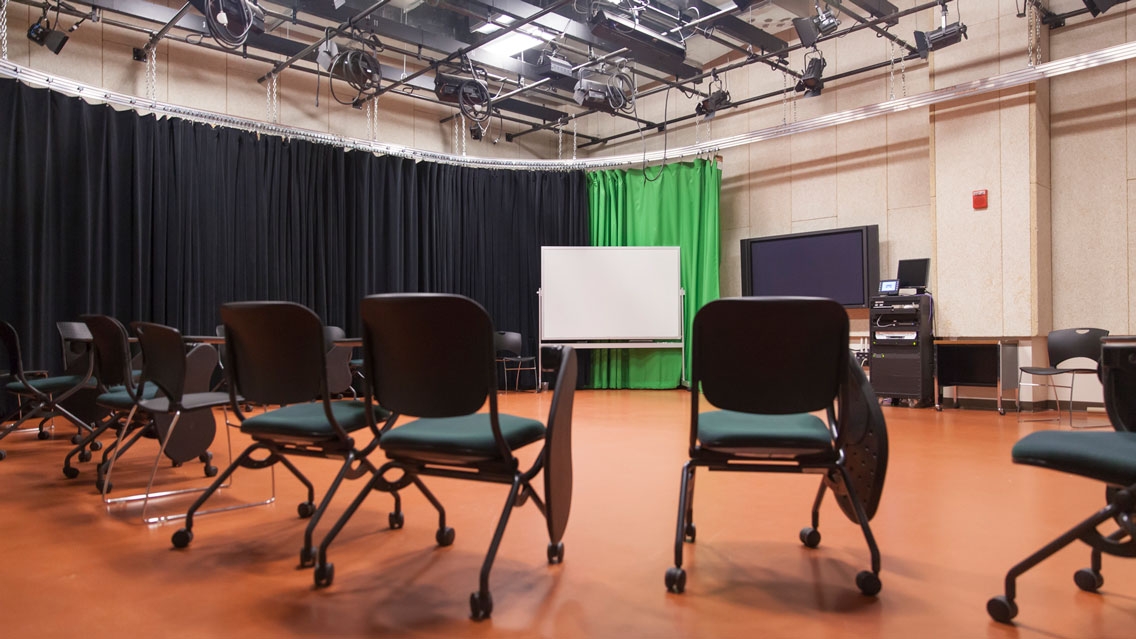 The film and media culture production studio is used in support of production courses such as Filmmaking, Advanced Filmmaking, and other film and media culture courses. It is equipped with a full lighting grid, greenscreen, black and gray backdrops, and a large television display for viewing student work and other media.