Catherine Blizzard: Ene Empower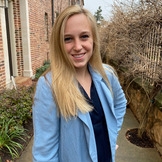 Catherine Blizzard, an International and Global Studies major, developed a keen interest in development and global health while studying at Middlebury. After graduating in 2020, she and fellow alumna, Natalie Meyer, cofounded Ene Empower together with Kofi Nyalimba, Natalie's long-term Ghanian friend and community health expert.
Ene Empower is a registered 501(c)3 with the mission to promote the development of women leaders by increasing access to education, furnishing menstrual products, and reducing the violence and stigma around female reproductive health. To ensure that Ene remains centered in the community in which it serves, Blizzard and Meyer provide only background assistance to Kofi, who, as a respected champion of healthcare in the Volta Region, is the face of Ene Empower.
Outside of Ene, Blizzard has traversed public health and international development through a number of initiatives. While working with the Boston-based healthcare startup, Empathetics, she explored the importance of providing nurses, physicians and front-line staff with the tools to succeed with patient-centered empathy training. Currently, she is a Princeton in Africa grants and fundraising fellow for the Mount Elgon Ecosystem Trust, an environmental NGO located in western Kenya. As she explores the intersection of development and health, Blizzard aims to continue working in fundraising and development in the global health sector.