Math Placement
Below is a list of the courses in the Calculus/Linear Algebra Sequence.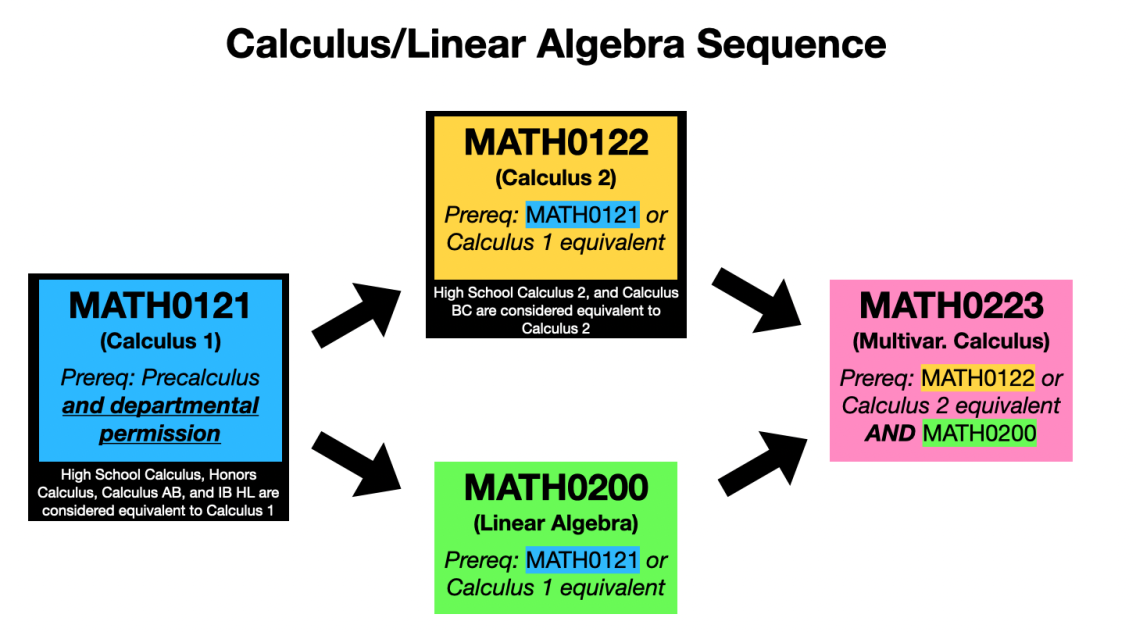 Your math background will inform which course is the right one for you to start in at Middlebury. To use the placement chart below, identify the best match for the highest math course you completed in the left-hand column. Then move right to the column that reflects your grade.
Use your results from the above table to look up your next steps below:

For those that place into Calculus I (MATH 0121): 
Students need pre-approval to enroll in Calculus I (MATH 0121). Use this Google Form to initiate the pre-approval process for MATH 0121 (Calculus 1). You must be logged into your Middlebury G Suite account (not a personal Google account).
Students who fill out the above form will be notified of your approval status by email. Once a student has pre-approval, they can enroll in any open seats in MATH 121 during the registration window.

For those who place into Calculus I (MATH 0121) or Calculus II (MATH 0122):

For those who place into Calculus II (MATH 0122):
Students can register for any open seats in Calculus II (MATH 0122) during their registration window
Classes vary and everyone's math experience is unique. If you have placed into Calculus II (MATH 0122) but still think Calculus I (MATH 0121) is the right course for you, please complete the Calculus Placement Survey and contact mathplacement@middlebury.edu if you have any further questions or concerns

For those who place into Calculus II (MATH 0122) or Linear Algebra (MATH 0200):
Students can register for any open seats in Calculus II (MATH 0122) or Linear Algebra (MATH 0200) during their registration window
The right choice for you will depend on your math background, your goals, and your interests. Further descriptions of both courses and the differences are listed below in the FAQ.
If you are still unsure, please come to an advising event or contact mathplacement@middlebury.edu

For those who place into  Linear Algebra (MATH 200):
You can register for any open seats in Linear Algebra (MATH 200) during your registration window
Frequently Asked Questions