Traveling isn't always possible, and that's OK!
Wherever you are in the world, you can make a virtual visit to Middlebury.
Live Online Information Sessions
You're invited to join the admissions team live on Zoom Tuesdays and Thursdays for an online 45-minute Middlebury Information Session. Each session will be hosted by a member of the admissions staff, as well as a current Middlebury College student.
Tuesdays at 7 p.m. ET
Thursdays at 9 a.m. ET
Register Now
---
Virtual Tour and Campus Map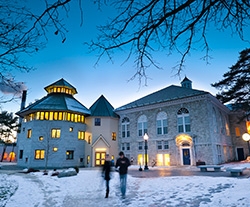 You can take a tour of Middlebury's scenic 350-acre campus with our interactive map. Explore our academic buildings, dorms, athletic facilities, and more, plus see street view images of places around campus.
Virtual Tour
Campus Map
---
Video Tour with Emily Ballou '21
Take a virtual video tour with Senior Admissions Fellow Emily Ballou '21. First broadcast on Instagram Live on April 3, 2021, this video shows Emily visiting some of her favorite places on campus and gives you the insider's take on what life is like at Middlebury.
Watch Emily's Tour on YouTube
A 360-Degree Look at Art and Athletics
Middlebury Students Answer Your Questions
We asked our students to answer to some of the most common questions we hear from students like you. Here's what they had to say.
If you've got other questions not answered here, let us know and we'll get back to you!