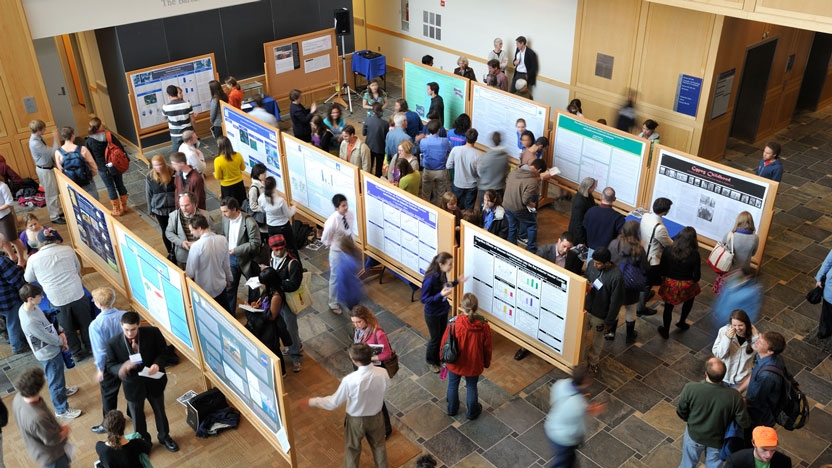 Leadership, creative thought, and intellectual risk taking: these are skills that many Middlebury students are eager to develop as they look ahead to four years of college and life beyond.
And there are a multitude of experiential learning opportunities for you, on and off campus. Through career exploration, classes, funding competitions, symposiums, service learning, and volunteer opportunities, as well as workspaces for ideation and collaboration, Middlebury helps students try new things and take their creative ideas forward.
Center for Careers and Internships
The Center for Careers and Internships (CCI) connects students to a range of resources, guiding them through the career-exploration process throughout all four years and providing summer and winter term internship opportunities. CCI prepares students to translate their Middlebury experiences into successful pursuit of their postgraduate goals.
Professional and Career Development: Advisors help students explore their aspirations and career options through individual counseling, workshops, and internship planning that includes our robust network of Middlebury alumni, who provide advice and opportunities. More than 10,000 job opportunities are posted each year in our Handshake database.
Internships: Students can apply their liberal arts learning and gain real-world experience through internships. More than 12,000 internship opportunities in every field are posted in Handshake. CCI also supports 300 students every summer with funding for unpaid internships.  
Health Professions: CCI's Health Professions and STEM team advises on curricular planning and experiential opportunities and helps students and alumni explore health professional careers and navigate the postgraduate admissions process.
Innovation Hub
Our creativity and innovation programs help make intellectual risk taking and creative problem solving second nature to Middlebury students. They offer financial support through grants and competitions, and provide designated workspaces around campus for individual and group projects. These programs include Midd Entrepreneurs, TEDxMiddlebury, MiddChallenge, the Hunt, Midd Ventures Club, MiddSTART, Projects for Peace, Tree House Fund, and New Millennium Fund. There are incubator spaces around campus for students to use.
The Fellowship in Social Entrepreneurship creates opportunities for students to learn how to be effective agents of social change. Through a series of workshops, a network of mentors, funding, and access to conference and shadowing opportunities, the fellowship program aims to support students in their individual learning journeys while also encouraging them to participate and collaborate with their cohort.
Oratory Now trains and hires students to coach other students in effective public speaking. These student coaches work both in and out of the classroom to help students develop speaking skills for interviews, presentations, pitches, debates, performances, and everyday dialogue. Oratory Now also produces the Spencer Prize in Oratory for First-Year Students and runs a popular physical education course, OratoryX.
MiddCORE
MiddCORE is a leadership and innovation program designed to help students develop the skills, confidence, and experience to be successful in life and work. Through mentor-driven, experiential learning workshops and courses, students engage in highly collaborative and hands-on activities to address real-world challenges. MiddCORE is a credit-bearing course that happens two times a year, during winter term and in the summer. The summer program is open to any university or college student or recent graduate.
Center for Community Engagement
Locally and around the world, the Center for Community Engagement (CCE) helps students explore civic identity and pursue projects in collaboration with communities—all while striving to contribute to the public good. Through orientation trips, volunteerism, alternative-break trips, service-related initiatives, and community-connected research, Middlebury students become active participants in the world and can often receive funding to pursue rewarding opportunities locally and abroad.
CCE's core programs include its partnership with the Privilege & Poverty Academic Cluster, national and local poverty-related internships, Language in Motion, youth and mentoring programs, and Middlebury Alternative Break trips (MAlt). 
Student Art and Music
There are many opportunities for student-generated creativity outside the classroom, and these are just a few:
The Center Gallery, located in McCullough Student Center, is dedicated to a series of student-curated changing exhibitions, often featuring student artwork.
The Student Darkroom, in the basement of Forest Hall, is operated by the Darkroom Club, which offers introductory tutorials, open hours, and workshops throughout the year.
M Gallery is a student-run art gallery fostering the arts for Middlebury students. M Gallery offers frequently changing exhibitions of student artwork, performing arts events, and lectures and discussions.
Middlebury Music United cultivates the music scene at the College by providing students with performance opportunities, practice and recording space, and multiple ways to network with other musicians.