Residential Life (moving)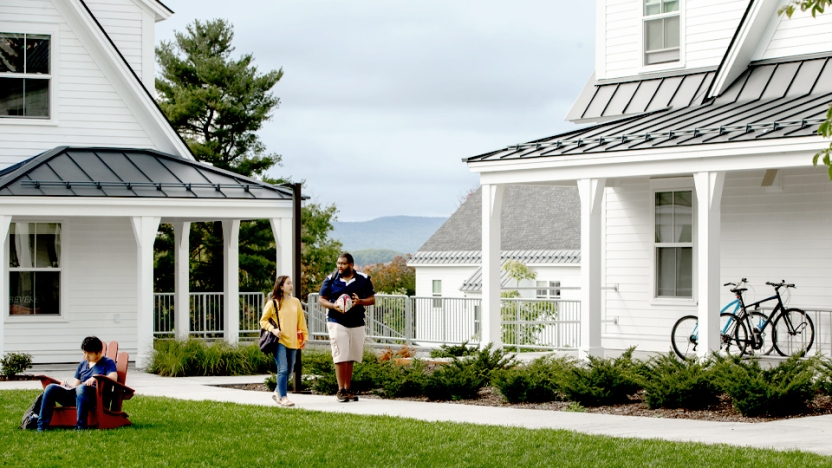 Middlebury's residential system embodies the College's conviction that an excellent liberal arts education takes place around the clock—as easily over dinner as in the classroom.
There are 60 buildings for student housing on campus, and all first-year students are assigned to first-year communities. Sophomores live together in sophomore buildings, and juniors and seniors can choose from other housing options across campus. First-year students are placed into their first-year communities based on their first-year seminar assignments. This is the start of a student's experience in our living-learning environment.
Professional Staff
There are a number of professionals on campus to help students with the transition to Middlebury. 
The Residence Directors (RD) live on campus and oversee residential areas on campus. They work to build community, support the student residential life staff, and provide after-hours support for students. 
The Residential Life Staff includes first-year counselors (FYC), resident assistants (RA), and community assistants (CA). These are students who serve as community leaders. They uphold residential policies, facilitate a sense of community, and collaborate closely with deans, the Office of Health and Wellness Education, the Office of Community Standards, and other staff.
Residential Programming 
Residential Life integrates academic experiences with life in our residence halls to encourage the free exchange of ideas and a robust intellectual community. This begins with the first-year seminar—students who are in class together also live in the same first-year community, allowing them to bring classroom experiences into the residence halls.
Residential Life staff offer activities and programs inspired by academic events taking place on campus. There are also an abundance of social and cocurricular programs provided to build a strong and lively community.
Student Support
Students have numerous avenues for support.
Deans
The deans oversee the educational experience and provide academic and personal support, assist in resolving conflict, and help enforce College policy. The deans help bridge academic and residential experiences, playing a crucial role in supporting Middlebury's goal of a seamless educational environment. All students are connected to a dean upon arrival on campus and remain connected to them throughout their time at Middlebury.
Student Life Coordinators
Each first-year community has a coordinator who oversees daily operations, advises students on the logistics of daily life, and creates a welcoming atmosphere in the cluster office. These key staff members also support the deans administratively and remain valuable resources throughout students' time at Middlebury.
Assistant Director of Student Success
It's normal and expected that some students will encounter challenging circumstances during their college experience. When this occurs, additional support systems are in place to supplement the efforts of the deans and other student life colleagues. The assistant director of student success helps coordinate care and support efforts for students in these challenging moments. 
Restorative Practices
Students are introduced to restorative practices (RP) in our residence halls, during orientation. RP is a community-building tool chosen by Middlebury that includes a broad range of informal and formal practices to help us deepen our sense of community. Through RP, all of our experiences—students, faculty, and staff—are richer and more meaningful. New students can look forward to learning more about RP, and building community within that framework, during orientation and into their time at Middlebury.
Campus Access and Keys
Middlebury uses an electronic access system to ensure students, faculty, and staff have safe access to College facilities. The MiddCard allows students entry to all residence halls and appropriate access to other campus facilities. Students are also issued a touchpad code for their bedrooms. We urge all students to protect their property and ensure their personal safety by locking their rooms when they are away or are sleeping. The sharing of touchpad codes is strongly discouraged. Middlebury does not accept responsibility for the loss of money or personal property or for damage to belongings in the residence halls or anywhere else on campus. Check with your insurance carrier to confirm if your belongings are adequately covered. Students will receive their MiddCards and touchpad codes on the day they move in.
Cleaning
Cleaning equipment is readily available, and students are responsible for keeping their rooms in order. The custodial staff cleans and maintains common areas, such as kitchens, bathrooms, and lounges, but students are collectively responsible for ensuring that these common areas are kept tidy. In the event that common areas in the residence halls are damaged and those responsible cannot be identified, all students living in the residence are billed a prorated share of the expenses. Charges are imposed for damage to rooms or furniture, for removal of furniture, and for rooms not left in neat condition at the end of the occupancy period.
Dorm Damage
We call upon every member of the community to respect our buildings, landscaping, and educational resources. They are shared among students, faculty, and staff, today and tomorrow, this year and next. Theft of or damage to College property is considered a serious offense, which may lead to disciplinary proceedings with penalties up to and including suspension or expulsion. Students will also be charged for any costs associated with replacing or fixing stolen or damaged property.
Bikes and Cars
Parking on campus is limited and often far from residence halls. Most businesses in town are within a short walk. If students bring bicycles to campus, they must register them with Public Safety. We encourage bringing a sturdy bike lock. There is ample outdoor bike-rack space and indoor storage is available during the winter.
If students bring cars, all vehicles must be registered with Public Safety, display a valid permit, and be parked in designated parking areas in accordance with the parking rules, which are in effect all year.
Laundry Facilities
Laundry facilities are conveniently located around campus (see a list online). Rechargeable cards can also be purchased at the College Store.
Storage
Some residential facilities offer storage spaces for empty boxes, trunks, and suitcases. All personal belongings must be removed from residential storage spaces at the end of the academic year, or when a student withdraws from the College or leaves to participate in an off-campus study program. Items not claimed at the end of the storage period are disposed of. Middlebury is not responsible for items placed within storage spaces. Students who have questions about storage should contact their RD.
Sustainability on Campus
Waste reduction, recycling, and reduced energy consumption are important aspects of living sustainably on campus and reaching our Energy2028 goal. You can do your part by reducing the amount of waste you generate—carrying a reusable water bottle and mug, purchasing goods with minimal packaging, and reading articles electronically—and by recycling what you can. All students receive personal-size blue recycling bins for recyclable materials. Compost bins can be found in most dormitory kitchens or trash areas. Please take the time to sort properly. You can also reduce your energy consumption by purchasing Energy Star appliances, using LED light bulbs, and unplugging items when not in use.