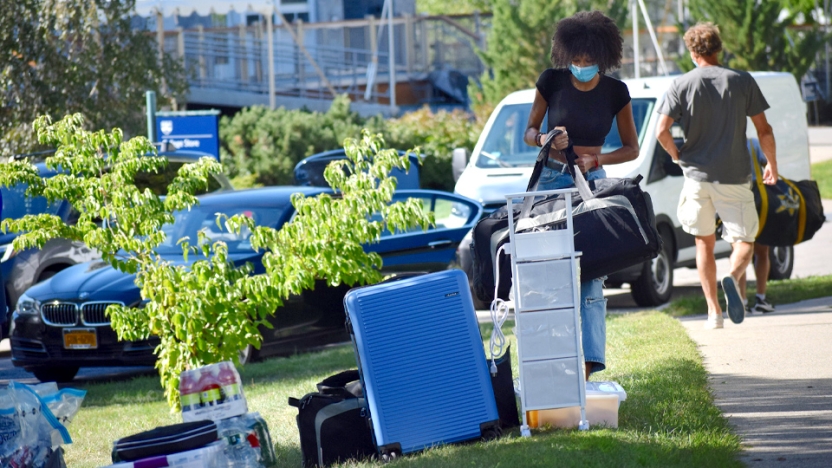 Each year, we welcome new students and families from around the world.
Whether you arrive in September or February, this guide will help you better understand and acclimate to all things Middlebury.
As a new student, please complete the following action items immediately:
Set Up Your Email
If you haven't already activated your email account, do it now. It's our primary source of communication during these prearrival months, and you don't want to miss anything important. You should have received emailed instructions needed for this process. Once you've activated your account, check your email regularly.
Start Your Prearrival Checklist
BannerWeb is Middlebury's online database for academic and personal information. It also serves as the main place to complete all the tasks you need to do before you arrive on campus.
Our orientation pages include detailed prearrival checklists for new first-year, transfer, and exchange students joining us in the fall, as well as checklists for new first-year Febs, transfer, and exchange students coming to Middlebury in February.
Many checklist items are due immediately, and some over the next few months, so please review your specific prearrival checklist to make sure you don't miss any important deadlines! All can be completed easily and electronically on BannerWeb. Log in with your Middlebury email address and password.
Monitor Orientation Plans 
Please review the orientation information. If you have questions that can't be answered by consulting the website, email orientation@middlebury.edu or call us at 802-443-3006.
Set Up Your Health Portal
Activate your Health Portal and do the following:
Obtain your immunization records and compare them to the Vermont requirements. Do not wait until you have a doctor's appointment to do this. Call your doctor's office and ask for a copy of the records, then follow the portal instructions for uploading the forms.
Complete online forms and upload health forms. All are due June 15. Students who do not meet the Vermont state immunization requirements will be excluded from campus. Visit the Health Center for details.
For international students only: If required immunizations are not available in your home country, complete a request for provisional admittance with a plan to receive vaccines at the College Health Center upon arrival. 
Enroll in or Waive Student Health Insurance 
All students are required to have health insurance. Students will receive email notifications beginning in July from Gallagher, our student health insurance partner, to either enroll in or waive (with proof of other coverage) the Student Health Insurance Plan. Students arriving in February will be able to enroll or waive coverage starting in November.
Submit Your ID Photo
Your MiddCard is your main form of ID while you're at Middlebury. You'll need it for a range of things, including access to buildings. Visit the MiddCard page for more information about how to submit your ID photo.