Program alumni are the best resources for students interested in going abroad, and they are available to answer your questions. If you would like to talk to a recent student about their experience in Spain, get in touch with the advisor, Nicole Chance.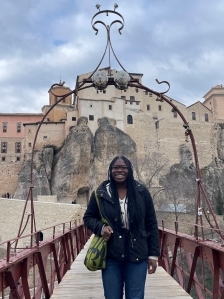 Morin Tinubu, Williams College, Madrid
After attending college remotely and navigating the pandemic, I was eager to leave the close quarters of my home and live in Madrid for a semester. That being said, I did not expect to create roots and lasting relationships along the way. As a non-Middlebury student, I was nervous to form new relationships but the students and teachers in my program were very kind. The friends that I made at the Sede Prim had the common goal of improving their Spanish and learning more about Spanish culture, which made our interactions meaningful. Together we took day trips to Segovia, Cuenca, and El Escorial. While we were there, we visited century-old cathedrals, roamed museums, and ate traditional cuisine.
My roots in Spain did not end at the Sede Prim. I lived in a student residence where I got to know other Spaniards studying at nearby universities. Everyone at my residence supported me as I worked hard to improve my Spanish. In fact, I think that my residence was where I learned the most. Being around Spaniards my age and navigating life with them exposed me to new ways of speaking and expressing myself. Just after a month, I found myself using slang and being well-versed in Spanish pop culture.
Some of my most impactful experiences came from my time volunteering with T-Oigo, an organization that connects Spanish children who have hearing impairments with Americans. I was paired with a 5-year-old boy named Álvaro and his 8-year-old brother, Jaime and every week we would play games and read books together. I loved working with Álvaro because I felt like a part of his family and it was amazing seeing him come out of his shell and speak more English.
Leaving the US and being away from home came with new challenges but also with so many great experiences. My semester abroad in Spain helped me grow as a person and develop new aspirations I never had before. Although I do not know what the future will hold, I hope to return to Spain and teach there so that I can give back to the community that has given me so much.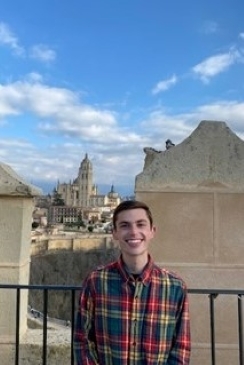 Ryan Kovarovics, Bowdoin College, Getafe
The energy of Madrid and the warmth of the Spanish people are what made my study abroad experience as great as it was. Madrid is a 24/7 city, very different than quiet, closed at 9pm Brunswick, Maine where Bowdoin is located. I enjoyed living in a city for a semester, especially one that is as easy to get around and as full of things to do as Madrid. I think that you could do a different day trip from the city every weekend for a year and not run out of places to go, not to mention all the awesome things to see (and eat) in the city itself.
Madrid is a cosmopolitan city that is full of people from all over Spain and the world, and my student residence was no different. I got to live alongside Spanish speakers from every region of the country as well as students from Mexico, the Dominican Republic, Argentina, and more. Eating dinner with them in the dining hall every night provided me with an opportunity to greatly improve my Spanish in a non-academic context, as well as get to know a variety of accents and slang terms. While I sometimes wished I had a host family, I was very glad to live in a residence for the freedom that it provided as well as the diversity of friends it introduced me to.
The Spanish education system took some getting used to, but my professors at Universidad Carlos III de Madrid were extremely willing to help me work through challenges and cultural differences. My Spanish Politics professor even set up special tutoring sessions so that the international students could catch up to the native students in our understanding of the Spanish political system (which also took some getting used to). I was even able to do some very interesting research into the controversial decolonization of the Spanish Sahara alongside Spanish classmates in my Contemporary History of Spain class.
One of my favorite parts of my time in Madrid was the church community I found at the Parroquia Nuestra Señora del Buen Suceso, or BuenSu. The people (also from all over Spain and the world) that I met there were incredible, and the energy exuded by hundreds of young Catholics belting out songs at the top of their lungs after mass was really special. Given the cultural importance of the Catholic Church in Spain's history, it was cool to experience that aspect of Spain in such a warm atmosphere.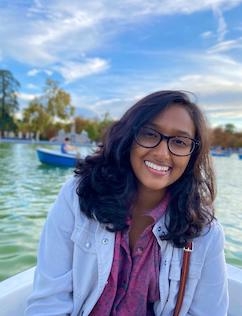 Maha Khan, Barnard College, Getafe and Madrid 
Before embarking on my study abroad journey, I was set on spending the entire year in Spain, split between two cities. Little did I know that the Spanish capital would enchant me and be my home for two semesters. It's hard not to fall in love with Madrid. There is something for everyone in the colorful metropolis and being right in the center of Spain, you're in the best position to travel and explore other parts of the country.
During my time in Madrid, I took Zumba classes, taught English to a playful little 4 year old, attended language exchanges and met new people, went to a gym located inside one of the biggest subway stations in Madrid (which was really cool), took advantage of the amazing student fare for unlimited transit, and of course ate and photographed my way around the city and the country with the wonderful friends I made through the program.
While the Spanish university system is rather different from the American liberal arts model, my classmates and professors at the Carlos III made sure that the international students were well-transitioned into the system. In my class Journalism and Social Change in Spain, we met a well-known Spanish journalist who talked to us about reporting on the frontlines of crisis.  I also learned so much about Spanish culture and current events from my classes and professors at the Sede Prim. Not to mention that the Sede Prim is so perfectly located in the center of Madrid, which made it easy to explore the city's restaurants, museums, and cultural sights by foot. 
Living and interacting in Spanish allowed my language skills to improve tremendously. I am so grateful to have been able to have this experience and as a result, I have become a more independent, adventurous, and confident person.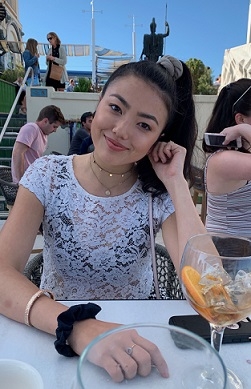 Kate Sabo, University of Connecticut, Madrid
Before leaving my home in Connecticut, I expected my study abroad to be like picking up my life and moving it overseas for a semester.  What I ended up doing was more like leaving my life in the US behind and stepping into a whole new one, in the bright and bustling city of Madrid.  Upon my arrival, I was enamored with the sights and sounds of the city and immediately felt welcomed by my host family and the friendly faces who greeted me at the Sede Prim.  I quickly learned to drop all expectations and open myself to the innumerable opportunities at my disposal– and that was all it took to prepare myself for a semester of new friends, new foods, eye-opening travels, and profound cultural learning.  During my time abroad, I made myself at home in Madrid, eagerly practicing and improving my Spanish communication skills, mastering the Madrid metro, becoming a regular at my favorite cafetería, and making friends that I was heartbroken to leave, but have enjoyed keeping in touch with over Whatsapp.  One of the highlights of my experience was volunteering with T-Oigo, an organization that pairs children with hearing disabilities with English native-speaking "buddies" to support their English language acquisition.  My buddy was a bubbly and energetic 7-year old girl and we were instant best friends. Every Wednesday, I looked forward to chatting with her mother, who would give me an ice cream bar and muse over her daughter's impressive progress in English class, before spending the hour with my buddy, drawing, playing games, and singing our favorite songs from Frozen or Moana.  The time I spent living in Madrid was transformative for my Spanish language skills, cultural perspective, and career goals.  I look forward to carrying what I've learned and experienced during my semester in Spain close to the heart, wherever life takes me!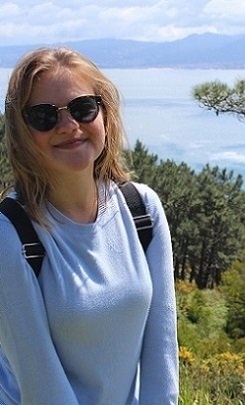 Abbey Minondo, Williams College, Logroño 
Who would have thought that my decision to study abroad in the semi-remote town of Logroño would not only be an exquisite memory of delectable Spanish pinchos and potes, but would also allow me to road trip across Northern Spain with students like myself from across the globe?! From savory, paper-thin cuts of jamón ibérico to thick triangles of tortilla Española, I truly ate my way through the Spanish coastline and countryside. Every morning I would begin my day by waking up and running along the Camino de Santiago, criss-crossing vineyards and wineries which characterize La Rioja's patchwork-esque landscapes. On weekends when I was not traveling far, I would take a short ride up to Bilbao to soak up some art and culture in the small fishing town which rakes the sky with Frank Gehry's architectural masterpiece: the Guggenheim. This semester was full of indulgences: I feasted on learning the technical terms of my economics classes in Spanish, I completely devoured the French grammar and vocabulary which I craved to learn and even served up some of my French skills at a couple different tourist attractions in Biarritz! If you're hungry for an extraordinary experience in a not-your-typical-European-study-abroad setting, Logroño might treat you as right as it did me!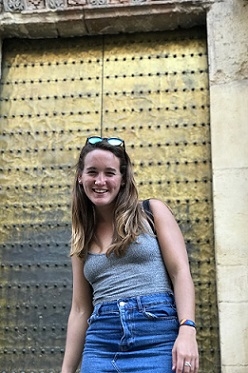 Bryn Miller, Claremont McKenna College, Córdoba 
When people ask me what studying in Córdoba was like, I often say I felt like I was in the Claremont McKenna College of Spanish study abroad – and I mean that in the best way. The orange trees, sunshine, and hiking trails made me feel right at home. More importantly, Córdoba's small size and the friendly atmosphere felt similar to my college campus. On my ten-minute walk to school through the gates of Córdoba's ancient city walls, or in the main plaza at night, I usually ran into Spanish students I knew from my classes or European students I had met through Erasmus events. I had prepared myself to have far less of a community in Spain, so I was pleasantly surprised that my experience in Córdoba was full of friendly and familiar faces. Obviously, studying in Córdoba was very different than studying in Claremont, California. The transition from a small liberal arts college to a large Spanish university was a challenge, but I really enjoyed my classes after I figured out how to navigate the new system. The dean of the university taught my favorite course, Historia de La España Medieval. I learned how to conduct archival research in Spanish and absorbed knowledge that was very helpful in some of my classes in Claremont this spring. After school, I went to spin classes, ran along the river at sunset, wandered the streets of the old city, or studied on the Patio de las Naranjas looking up at the bell-tower of the spectacular mezquita-catedral. Every weekday, I ate lunch and dinner with my four Spanish roommates and hung out with them after we ate, chatting and watching TV. For students that want independence and love the community feel of smaller colleges, I could not recommend Córdoba enough for study abroad.