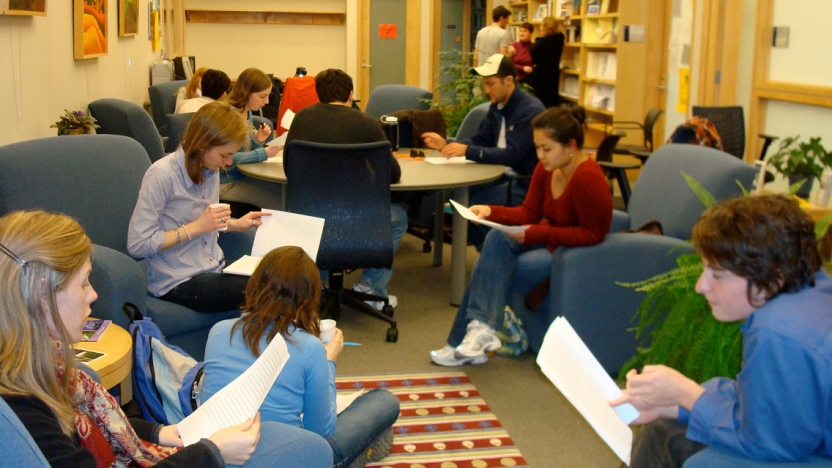 The Writing Center
The Writing Center offers free writing support by trained student and professional tutors. We care about your ideas and your development as writers and invite you to check out our resources even before you have a paper due for a class (or for your personal writing needs). Students are also welcome to bring in creative projects and other noncourse-based writing.
Center for Teaching, Learning, and Research (CTLR)
In addition to the Writing Center, the CTLR has numerous student resources to help you with all aspects of your education experience—from peer and professional tutoring to research support and funding. 
Appointments with writing tutors—in person or remote—can be reserved online or by contacting CTLR.
Directed Self-Placement for First-Year Writers
Following registration for the first-year seminar (FYS), incoming students can expect a placement recommendation from WRPR's Writing Center director to help inform their course enrollment decisions. This writing placement and advisement model asks students to reflect upon their experiences with academic reading, writing, and research and to report their confidence levels. The placement recommendation will be used in conjunction with FYS advisement to determine if a student is a good candidate for WRPR100/101. First-year seminar faculty will share information with their students.
Handouts
For more information about these handouts, or about supporting multilingual/ESL writers, please contact Associate Professor of Writing and Linguistics Shawna Shapiro at sshapiro@middlebury.edu.
For individual support for multilingual or international students, please contact Professor Shapiro or Associate Professor of Writing Hector Vila at hvila@middlebury.edu.
Gender-Inclusive Language
The Writing and Rhetoric Program supports gender-inclusive language, which avoids stereotypes and resists making assumptions. In our teaching and writing we commit to using people-centric language and to advocating for inclusive language practices among our students and colleagues. For specific information and examples about all sorts of inclusive language practices, including gender-inclusive language, visit these pages about inclusive language.