Program alumni are the best resources for students interested in going abroad, and they are available to answer your questions. If you would like to talk to a recent student about their experience in France, get in touch with the advisor, Susan Parsons.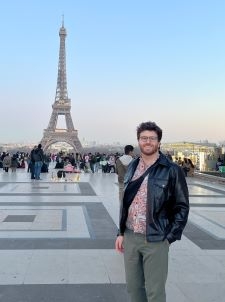 Dominic DeMichele, University of Michigan, Paris
My semester in Paris was one of the most transformative periods in college. Living with a host family was arguably the best decision I made abroad. That, along with classes at le Centre Madeleine and the Sorbonne, allowed me to immerse myself fully in French language and culture, growing not only academically but in profound personal ways. Living in Paris was beyond magical, yet it would not have been the same if it were not for the amazing friendships that I made through the Middlebury School in France. From picnics on the Seine to exploring all the wonderful restaurants and museums Paris has to offer, my time at the School in France is something that I am going to deeply cherish forever.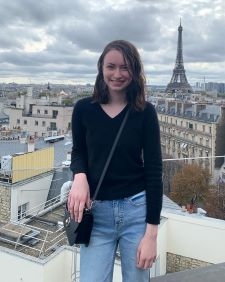 Cadi Klepis, Middlebury College, Paris
I adored living in Paris. Through living in a foyer, I met French girls who quickly became some of my best friends. Together we explored everything the city has to offer. We visited museums from A to Z, saw the musical Cabaret at the Théâtre des Champs-Élysées, strolled through the Christmas markets at the Jardin des Tuileries, and watched the New Year's fireworks in front of the Arc de Triomphe. We also soaked up a thousand smaller moments, like our regular apéro featuring local wines and cheeses or movie nights spent watching Les Pirates des Caraïbes.
Middlebury's program offers its students the perfect balance between support and independence. Many weeks, I only crossed paths with the other American students from the program during our weekly classes, letting me maximize time spent with local friends. On the other hand, the Middlebury staff members were always ready to help solve problems big and small, from registering for classes to recommending a hairdresser. Middlebury-subsidized cultural programming was another highlight, including visits to cultural sights like the Bastille opera, the American cemetery in Normandy, and Mont Saint-Michel. Additionally, I was able to complete an internship with the local organization Theatre in Paris, allowing me to develop professional skills and discover what a French work environment is like.
I'm so grateful to the Middlebury program for helping me have my dream semester in Paris. Although I was sad to leave, I know the city, the language, and the people I came to love there will welcome me back with open arms when I return.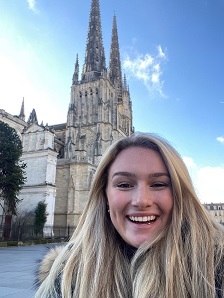 Lily Richter, Wofford College, Bordeaux
My name is Lily Richter, a French and Francophone Studies major from Wofford College in South Carolina. I studied abroad with the Middlebury Schools in France program in Bordeaux for the 2021-2022 school year! For me, Bordeaux was the perfect place to study abroad. The location was perfect, a 2 hour train ride to Paris, 1 hour from the beach, and 3 hours from the Pyrenees! 
Studying abroad for the year was the best decision for me. At first I was hesitant about committing to a full year abroad, but the experiences that I have had with 9 months in Bordeaux have been so valuable. Now, I know Bordeaux like the back of my hand, am a regular at the breakfast café down the street, and have made more progress in my French language than I ever could have imagined. 
Living in Bordeaux for 9 months meant more Friday mornings spent drinking coffee with the Middlebury language tutor, Valerie, a deeper immersion experience, and more opportunities to make international friends and connections. Thanks to the time I had in Bordeaux to build upon these relationships, I will be staying for the summer to intern at a Chateau in St. Emilion!
 Spending my junior year in Bordeaux helped me reach my French language and academic goals, gave me friends for life, and experiences I will never forget!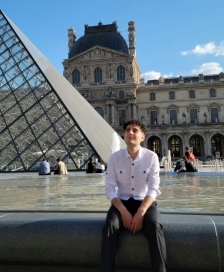 Peter Matarweh, University of Michigan, Paris
I'm a student at the University of Michigan—Ann Arbor double majoring in Comparative Literature and International Studies with a minor in Translation Studies. To end off my junior year, I studied abroad in Paris through the Middlebury School in France. I had always told myself I wanted to live in a big city, but having never lived in a city with more than 140,000 people, I wasn't sure if that was right. After living in Paris for five months, I now know there's no place else I'd have rather been!
I was extremely nervous about going to Paris. When I first got there, everything was so different: from anticipated differences like the language and culture, to less thought-about differences like food and transportation. Paris is such a big city with centuries of history; while I had been there once before, I was going in almost completely blind. The language barrier also complicated things: during my first few weeks there, it was even hard to order a pain au chocolat at a boulangerie.
By the end of my time in Paris, I had greatly improved my language skills, gotten to know the city so well as to have labeled not one, but two metro lines as "mine," and made so many new, lifelong friends both in and out of the program. I had an absolutely amazing time that I would not have had without the help of my host family and Middlebury's wonderful staff au Centre Madeleine. But most importantly, I discovered so many things about myself that will help me decide how I want to live the rest of my life. Studying abroad was a life-changing opportunity, and I would do it again so many times if I could.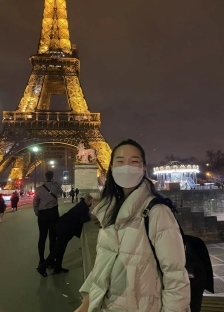 Gina Zhang, Middlebury College, Paris
Having lived in Paris for a semester through the Middlebury Study Abroad, I realized how transformative and fulfilling a study abroad experience can be. I remember when I first got to Paris everything looked so new and so intimidating to me: the streets, the buildings, the noise, the people. I still remember my heart pounding so fast when I finally got to the door of my host family, about to meet them for the first time. The experience was enriching in ways I could not have imaged, and was always full of surprises. During these five months, I got to know my lovely host family, and my fellow classmates at the Centre Madeleine, as well as friends I made at the local university. Gradually, everything became familiar to me— I got to know where the closest metro station was, which metro line was the cleanest, where to go if I needed to buy personal necessities, and found that Paris is actually small enough that you can get to so many places just by walking. As always, time passed so fast, and before I even realized, I was already on my flight back to the States. The only regret that I'd say I had about Paris is that I didn't plan to stay for another semester!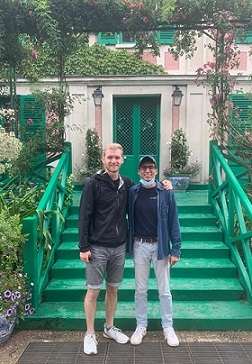 Adam Fisher, Middlebury College, Paris
It's been three years since I was a student at the Middlebury School in Paris, yet it was only a few weeks ago that I was sitting in the office of Amy Tondu (the program's wonderful directrice) where we talked about our present lives and reminisced about our past ones. I have found myself back in Paris a few times since graduating, proving that I am yet another American vulnerable to the city's magnetic quality. But it hasn't been the days spent at Le Jardin des Plantes, or the nights spent at Grands Boulevards that create this sense of magnetism — it is the friends I made in the banal and everyday moments of speaking a language that isn't my own.
The foyer on Rue Blomet remains one of my favorite places. While 100 people living and sharing one kitchen, one washer and dryer, and a small gym might not appeal to everyone, I found it to be the highlight of my time in Paris. It was an opportunity to meet people from all over France and the world. Late night walks to the Eiffel Tower, cooking massive pots of Mac 'n' Cheese, and spontaneous concerts at the community piano are all experiences that made living in this space special. 
After graduating from Middlebury, I became a French teacher. In an Anglo-dominated world, I'm excited by the idea of empowering the next generation to equip themselves with the linguistic tools to build organic relationships with those from other cultures. In my opinion, it is these experiences that forge the qualities of a "global citizen" we claim to need and value from our next generation of leaders, and the Middlebury School in Paris was a major step in helping me realize I wanted to be a part of that revolution.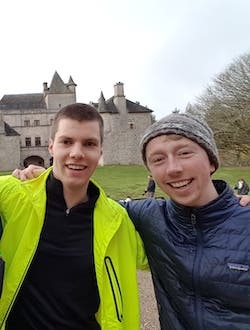 Will Gleason, Carleton College, Poitiers 
For all my years of French, I had never been in a "be understood or miss the train" situation. But there I stood in Charles de Gaulle airport, about to miss the train and acutely aware of the moment's gravity. Luckily, French figures of authority are exceedingly obvious: my first inquiry got me "you…red sign… elevator". Resigned to my fate, I went to the red sign, then the elevator and then, amazed, onto the train.
My experience in France revolved around these moments of "good enough" comprehension and awkward situations. But "good enough" is one of the best things about living in a foreign language: as soon as I realized that my ability to communicate was based less on quality than on quantity, I relaxed. Who cares if I say "Dordogne" wrong the first time if they understand me the 5th time? And if I get to say it every day for four months? That's the learning highway, baby. With quantity on my mind, I looked for as many communal opportunities as I could and rarely said no. Ping-Pong class? Sure. Working as a cashier in a Co-op? Why not? Running around in the woods with a map? Yup.
I didn't say yes to everything, and pacing is just as important in France as it is at home. The difference is that at college, I spend most of my time studying history or computer science. In France, I was a student of the French Universe. I adjusted my course load appropriately. Watching French movies? Like doing homework! Walking a couple miles to class because public transit was on strike? Experiential learning! Talking with a stranger in the cafeteria about Cyprus? Just studying the book. Were the classes I took at the University of Poitiers valuable? Exceptionally so. But French culture and French people are a class unto themselves, to gain a sliver of belonging demands the same time commitment as any college class. And so: pace yourself, but be brave.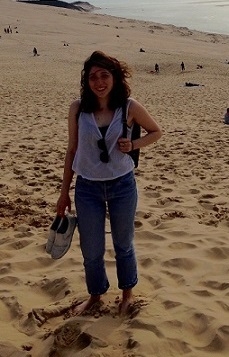 Rosa Shipley, Kenyon College, Bordeaux
Throughout my time in Bordeaux, what continued to pop into my head was how joyful I felt to have been so deeply immersed. I found that all aspects of my life, facilitated by the language pledge and its implicit intentions, touched the traditional structure of the life of a French student.
It is impossible not to be charmed by Bordeaux. Immediately, I was struck by the romantic architectural blend of gothic and Roman, in conjunction with the low lights of the South-Western French city. There is history everywhere you look.. As a place to live, Bordeaux is ideal for the possibility of mastering it: by the end of two months, I knew Centre Ville like the back of my hand. As there is not a high population of Americans in Bordeaux, finding the extremely pleasant rhythm of the city gives a sense of belonging in a new place, which further facilitated the immersion.
The absolute highlight was living with a host family. Being embraced with true patience and warmth created an environment wherein I could let go of my inhibitions of making language mistakes, and truly learn. I was inspired culturally by my family, who were experts on French music, films, and art—so we would spend our time after dinner discussing what records we liked and the way that popular culture is represented across different countries. My host dad was a wonderful cook, and we made it a project to teach me a little in the ways of French cooking; one night we made magret de canard—I was always honored he let me be his sous-chef.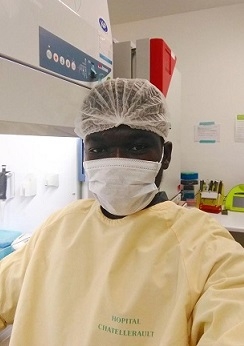 Laurent Asiama, Middlebury College, Poitiers (STEM track)
I interned in the IRTOMIT lab (Ischémie Reperfusion en Transplantation d'Organes Mécanismes et Innovations Thérapeutiques) under the supervision of Dr. Patrick Hannaert, and Dr. Clara Steichen.
My lab experience has indeed been fun, engaging and challenging at the same time. This experience gave me the opportunity to work closely with a professional clinical team which investigates ischemia/reperfusion injuries relating to organ transplantation. Here, I was able to not only assist but directly familiarize myself with various lab protocols. Some of the analysis I was fortunate to perform includes, culturing human renal cells, determining renal cell proliferation with chemical and enzyme-based assays, extracting and measuring ATP from porcine kidney samples, and many more. Moreover, I was able to improve my proficiency in French since this experience compelled me to find efficient ways to communicate with my supervisors and other laboratory personnel.  I can therefore say without a doubt that I gleaned a lot from the team and this has even amplified my interest for medicine and research.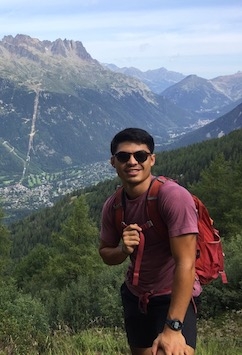 Xander Bartone, Pomona College, Paris 
On the first day of orientation, Amy Tondu asked if I knew what the word "grève" meant. I shook my head and she chuckled a little, then said that I'd soon find out. She was spectacularly right. The word refers to the famous French strikes—the nation's second favorite sport, as my host mom would say—and it was one of the quirks of French life that I became intimately acquainted with during my time in Paris. Along with studying for hours at the BNF, shopping at the tiny Franprix below my apartment, and watching Un si grand soleil with my host mom, the grèves are truthfully among my fondest memories of Paris. It is these quotidian moments that I cherish the most, because they underscore how lucky I was to fully immerse myself in the French language and culture. 
Choosing to study abroad in Paris was the best decision that I've made in college. I mean that sincerely. Yet I was very nervous at first—nervous about immersing myself in the language, about studying at SciencesPo, about living with a host family. I won't sugarcoat and say that it wasn't challenging, but living abroad truly helped me to grow in a way that would otherwise have been impossible.  I made friends entirely in a foreign language, studied international relations alongside francophone students, and most importantly learned to laugh at my own shortcomings. It is perhaps clichéd to say that abroad was a transformative experience, but it is true: my adaptability, my confidence in my own abilities, and my independence were completely changed by this time in France. Before leaving Paris, we were asked to write three words that summed up our takeaways from our time abroad. I chose Je vais revenir.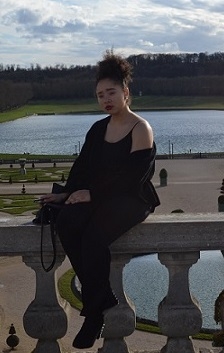 Genesis De Los Santos, Harvard University, Paris
My time in France was incredibly transformative. It feels like just yesterday that I was getting off of line 8 at Madeleine to get to the center every morning. When I first got to Paris I was afraid. I had never been away from home, had lived and went to school in Boston my entire life, and for the first time I was taking a giant leap of faith. I left everything that I knew behind and it truly was the best decision I could have made for myself. I often describe my experience as the feeling of having a once empty glass replenished and overflowing. 
I found myself growing academically, getting outside of my comfort zone, and going to places that I had only dreamed of. Whether I was spending the afternoon with friends at the BNF, eating dinner with my lovely host mother, or exploring new neighborhoods in Paris, there was always something to do. I was starting to feel empty and it was not until I arrived in Paris that I started to feel just how empty I had been. My glass is now full and it is thanks to the various experiences that I had that I am able to feel like this.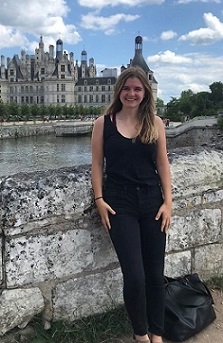 Caroline Godard, Miami University, Paris
Before my arrival in Paris, I had always thought of French as the language that I studied—the language of Montaigne and Rousseau and Racine, the language that I loved because it was slightly exotic, distanced and abstracted from my American life. I associated French with grammar, with words that I must think about and analyze, and with literature, which I loved and still do. But because I learned French in a classroom, I felt that my French self was consequently defined by my academics: I knew how to talk about books in French, but I couldn't express the nuances of my personality or explain the ups and downs of my quotidian life. Before my arrival, I didn't know that the lave-linge was the washing machine, that the vacuum was l'aspirateur, or that a carte bleue was a credit card. French was a language I could read, not yet one in which I could live.
Because of my semester in Paris, however, French is now about more than just words on paper to me. Learning how to speak in French first felt awkward, artificial and confusing, but this challenge—enforced by the Middlebury Language Pledge—is what I most appreciated about my time abroad. My host mother, Claude, helped me correct my pronunciation; I discussed the differences between French and American universities with my language partner, Juliette; and my professors at Middlebury's Centre Madeleine and the Sorbonne Nouvelle helped deepen my interest in French literature. Thanks to everyone I met, I can say that the Paris I grew to know is a city I discovered entirely in French.
Now I can speak French more confidently, I can read French more fluidly, and I know my way around many art museums, bookstores, boulevards and cafés. However, I intend to return to Paris one day because there is still—and always will be—so much more to learn.