Program alumni are the best resources for students interested in going abroad, and they are available to answer your questions. If you would like to talk to a recent student about their experience in France, get in touch with the advisor, Susan Parsons.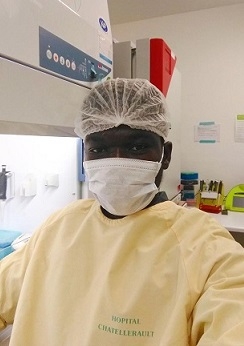 Laurent Asiama, Middlebury College, Poitiers (
STEM

track)

I interned in the IRTOMIT lab (Ischémie Reperfusion en Transplantation d'Organes Mécanismes et Innovations Thérapeutiques) under the supervision of Dr. Patrick Hannaert, and Dr. Clara Steichen.

My lab experience has indeed been fun, engaging and challenging at the same time. This experience gave me the opportunity to work closely with a professional clinical team which investigates ischemia/reperfusion injuries relating to organ transplantation. Here, I was able to not only assist but directly familiarize myself with various lab protocols. Some of the analysis I was fortunate to perform includes, culturing human renal cells, determining renal cell proliferation with chemical and enzyme-based assays, extracting and measuring ATP from porcine kidney samples, and many more. Moreover, I was able to improve my proficiency in French since this experience compelled me to find efficient ways to communicate with my supervisors and other laboratory personnel.  I can therefore say without a doubt that I gleaned a lot from the team and this has even amplified my interest for medicine and research.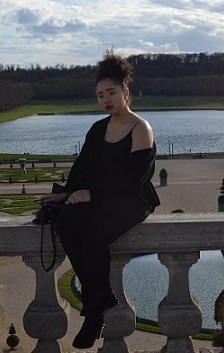 Genesis De Los Santos, Harvard University, Paris
My time in France was incredibly transformative. It feels like just yesterday that I was getting off of line 8 at Madeleine to get to the center every morning. When I first got to Paris I was afraid. I had never been away from home, had lived and went to school in Boston my entire life, and for the first time I was taking a giant leap of faith. I left everything that I knew behind and it truly was the best decision I could have made for myself. I often describe my experience as the feeling of having a once empty glass replenished and overflowing. 
I found myself growing academically, getting outside of my comfort zone, and going to places that I had only dreamed of. Whether I was spending the afternoon with friends at the BNF, eating dinner with my lovely host mother, or exploring new neighborhoods in Paris, there was always something to do. I was starting to feel empty and it was not until I arrived in Paris that I started to feel just how empty I had been. My glass is now full and it is thanks to the various experiences that I had that I am able to feel like this.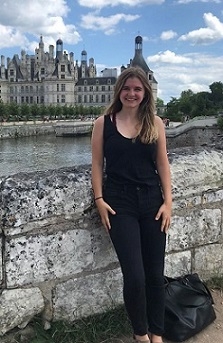 Caroline Godard, Miami University, Paris
Before my arrival in Paris, I had always thought of French as the language that I studied—the language of Montaigne and Rousseau and Racine, the language that I loved because it was slightly exotic, distanced and abstracted from my American life. I associated French with grammar, with words that I must think about and analyze, and with literature, which I loved and still do. But because I learned French in a classroom, I felt that my French self was consequently defined by my academics: I knew how to talk about books in French, but I couldn't express the nuances of my personality or explain the ups and downs of my quotidian life. Before my arrival, I didn't know that the lave-linge was the washing machine, that the vacuum was l'aspirateur, or that a carte bleue was a credit card. French was a language I could read, not yet one in which I could live.
Because of my semester in Paris, however, French is now about more than just words on paper to me. Learning how to speak in French first felt awkward, artificial and confusing, but this challenge—enforced by the Middlebury Language Pledge—is what I most appreciated about my time abroad. My host mother, Claude, helped me correct my pronunciation; I discussed the differences between French and American universities with my language partner, Juliette; and my professors at Middlebury's Centre Madeleine and the Sorbonne Nouvelle helped deepen my interest in French literature. Thanks to everyone I met, I can say that the Paris I grew to know is a city I discovered entirely in French.
Now I can speak French more confidently, I can read French more fluidly, and I know my way around many art museums, bookstores, boulevards and cafés. However, I intend to return to Paris one day because there is still—and always will be—so much more to learn.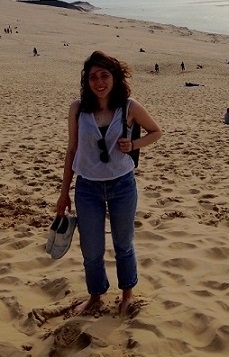 Rosa Shipley, Kenyon College, Bordeaux
Throughout my time in Bordeaux, what continued to pop into my head was how joyful I felt to have been so deeply immersed. I found that all aspects of my life, facilitated by the language pledge and its implicit intentions, touched the traditional structure of the life of a French student.
It is impossible not to be charmed by Bordeaux. Immediately, I was struck by the romantic architectural blend of gothic and Roman, in conjunction with the low lights of the South-Western French city. There is history everywhere you look.. As a place to live, Bordeaux is ideal for the possibility of mastering it: by the end of two months, I knew Centre Ville like the back of my hand. As there is not a high population of Americans in Bordeaux, finding the extremely pleasant rhythm of the city gives a sense of belonging in a new place, which further facilitated the immersion.
The absolute highlight was living with a host family. Being embraced with true patience and warmth created an environment wherein I could let go of my inhibitions of making language mistakes, and truly learn. I was inspired culturally by my family, who were experts on French music, films, and art—so we would spend our time after dinner discussing what records we liked and the way that popular culture is represented across different countries. My host dad was a wonderful cook, and we made it a project to teach me a little in the ways of French cooking; one night we made magret de canard—I was always honored he let me be his sous-chef.