Program alumni are the best resources for students interested in going abroad, and they are available to answer your questions. If you would like to talk to a recent student about their experience in Oxford, please feel free to contact us.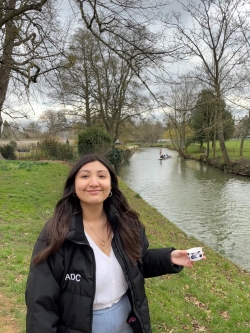 Alyssa Cruz, University of San Francisco, Spring 2022
Imagine waking up every day and making an important decision: which library should I visit today?
Oxford is not a big city. It's crammed with libraries, colleges, coffee shops, and small stores. It's full of aspiring academics, high achievers, and dreamers. It's a world of its own. My time at Oxford was marked by days spent at the library- hearing the collective sighs of students-, day trips to nearby cities, and rehearsals. I played the roles of model and tourist in a production by the Oxford University Light Entertainment Societies (OULES). I attended several college dining halls and met students from all over the UK. Occasionally, we would venture out to cake shops, Port Meadow, or late-night McDonalds runs. For anyone planning on applying to the program or awaiting their arrival date, I highly recommend researching and joining one or two societies (clubs) early on in the term. It is an excellent opportunity to meet students and hear their recommendations for the best kebab food truck in town. 
While the city and university have a lot to offer, there were times when I felt lonely. Oxford is an academically challenging institution, but it is definitely not known for its diversity. Finding your group can be difficult. Ninety-nine percent of the time I was the only Hispanic in the room. This should not be a deterrence. In fact, I became more introspective and culturally aware of the country and city I was in. In more ways than one, Oxford was a once-in-a-lifetime experience. It truly was a wonderful program and a privilege to walk those streets, enrich my knowledge, and grow as a person.
Ben Beese
Middlebury College, Academic Year 2019-2020
From the city (consisting almost entirely of cafes, gardens, and bookstores), to the people (as friendly and encouraging as anyone I've met), Oxford is the perfect place to embrace your inner intellectual. Read more…
Rebecca Leppert
George Washington University, Academic Year 2019-2020
There is something inexplicably magical about studying in Oxford. I grew to love the city and the University's inspiring spirit of academic curiosity during my time at CMRS –– so much, in fact, that I decided to return to the program for a second term. Read more…
Bennett Pienkowski
Middlebury College, Academic Year 2018-2019
Oxford is a city and a university filled with professional academics and brilliant students all deeply committed to every possible field of study. Most mornings, afternoons, and evenings offer the chance to attend lectures by some of the world's most influential thinkers, business leaders, and politicians. In terms of pedagogy, Oxford's hallmark is the tutorial system whereby students engage with instructors in weekly one-on-one meetings. Read more…
Amanda Westcott
St. Olaf College, Spring 2018
My time studying in the city of "dreaming spires" is difficult to summarize in just a few hundred words. I was amazed by Oxford's wonderful assortment of people and buildings, young and old, both modern and ancient – like a large outdoor museum! Moreover, my experiences with peers and tutors were very memorable. Read more…
Jacqueline Moruzzi
Washington & Lee University, Spring 2017
I am so grateful for the opportunity to partake in a very different academic structure and culture from that which students are used to in American universities. My home institution doesn't offer courses in Celtic studies, so the opportunity to have 'Celtic Middle Ages' as one of my tutorials was wonderful! Read more…
Mia Guild
Wellesley College, Academic Year 2014-15
As I reflect on my time at Oxford, I write this with nostalgia but also with a tremendous sense of accomplishment. At Oxford I became more confident. I grew as a student. I met new people, friends, and mentors. My time at Oxford helped me realize what my strengths were. My time was full of growth, adventure, and experiences. Read more…
Natalie Kopp
St. Olaf College, Spring 2015
As a long-time reader of British literature, I'd always dreamed of coming to Oxford and seeing where many of my favorite poets and writers—Auden, C.S. Lewis, T.S. Eliot—lived, studied, and wrote. My semester at M-CMRS has been my best college semester for many of the reasons I'd dreamed about. Read more…
Sarah Kate Lane-Reticker
Colby College, Spring 2015
My spring at M-CMRS flew by. What stands out as I sort through the hundreds of photos that my friends and I took around the city and on weekend excursions in the UK and Europe…Read more…
Mrig Mehra
Middlebury College, Spring 2012
After only one semester at CMRS I found I hadn't had nearly enough.  The academic experience itself was incredibly engaging and I felt like my writing and critical skills improved greatly from my time studying in the program.  Apart from my academic growth, however, I feel like the program fostered personal growth and experience that I could not have found anywhere else.  The city of Oxford is an engaging and dynamic place and the staff and tutors of CMRS provide a strong and safe place from which to explore it, always providing support and help, as well as challenging the students to meet their greatest potential.  It is an experience that has left a lasting impression on my growth as a student and individual, and left me with some of the closest friends I have.
Gabrielle Linnell
Wellesley College, Spring 2012
One afternoon, I left St. Michael's Hall with the desire for a cookie and thought I'd pick one up before heading back to the Bodleian. The shop around the corner was sadly out of cookies, but I wasn't giving up. I passed a building where John Wesley had preached, poked my nose into a French bakery on George Street, walked by the Oxford Playhouse and down the crowds of Cornmarket Street and into Starbucks. There, staring at a rather disappointing array of pastries I could have purchased in the U.S., I paused. I was in Oxford. I should really try something new. So I kept on walking and found the Covered Market, a gourmet's paradise on a student budget. Hidden in the back, I discovered Ben's Cookies and the best cookie I had ever eaten in my life. But that's the CMRS experience for you: once you start looking, you never know what you'll find or where you'll find it. I look forward to returning to Oxford — and Ben's cookies — as soon as possible. 
Jason Martin
Albion College, Spring 2011
My semester at CMRS was a life-changing experience. With the backdrop of the beautiful and historically-relevant Oxford, I read, wrote, and learned more than I thought possible in a semester. And I loved every minute of it. CMRS helped me confirm that a career in academia was not just a dream, but an attainable goal.
Katherine Ciesla
Elmhurst College, Fall 2010
The academic reasons for studying with Oxford professors stands by itself as the number one reason someone should want to engage in this program, but CMRS provides so much more than that challenge.  In my life I've learned that people make an experience, and the people at CMRS are some of the best, by design.  St. Michael's Hall becomes a new family every term and the staff are there to provide the extended support structure that keeps everything working naturally.  What is unique and wonderful about this experience cannot be contained by words - except to say that is is one you will always treasure.  If you think you can't do it - do it anyway. I'm so glad I did.
Jessica-Rae Asbury
University of Nebraska-Lincoln, Spring & Fall 2010
Admittedly, writing this testimonial has been more than a bit difficult. It's impossible to convey what my time at CMRS meant for me in just a few words. Though CMRS gave me wonderful opportunities to grow academically through their gifted and knowledgeable professors, it's the opportunities to grow as a person that truly made my time at CMRS. There are multiple opportunities to get involved not only within the program, but also in the Oxford community as a whole. During my time at CMRS, I joined both the Oxford Sirens, the University's competitive cheerleading squad, and OULES, a 'light entertainment' theatre group. The staff and faculty at CMRS were incredibly encouraging and accommodating in regards to my extracurricular involvement, and the opportunities I had and friends I made through my extracurricular activities were some of the best of my life. At CMRS, you have so many amazing opportunities that many study abroad programs do not offer — of my friends who have studied abroad elsewhere, I am the only one I know of that had the kind of academic and extracurricular opportunities I had at CMRS. Studying abroad at CMRS is such a fulfilling, unique experience — I wish everyone had the opportunity to spend a semester in St. Michael's Hall.
Barney Dujua
Elmhurst College, Spring 2009
Down the cobbled streets of Shoe Lane stood a tall red building that I was told was once a shirt factory. This place that once was for the purpose of clothing men and women now 'clothes' some of the greatest young minds this world has ever known with an experience and knowledge that is incomparable. The studying was invigorating and the lectures were as if I was taking lessons from Shakespeare, Erasmus and learning architecture from Wren. The support of the faculty and staff is encouraging. This became 'home.' I found myself in this place.
Veronica Popp
Elmhurst College, Spring 2009
Waking up surrounded by Gothic architecture
Studying in the Radcliffe Camera­
Strutting in high heels across cobblestones
Shopping at the Covered Market
Bargaining with the Greek chip man for extra garlic mayonnaise
Jogging at the University Parks
Reveling in the places I imagined King Charles' artillery
Shooing disrespectful pigeons away from the Martyrs Memorial
Buying books at Blackwell's I can't afford
Eating chicken curry and drinking Katy Cider at Far from the Madding Crowd's pub quiz:
A semester abroad
A more detailed account of Veronica's time at CMRS is available at http://ecabroad.blogspot.com/2009/03/veronica-spring-2009-oxford-england.html
Ross McIntire
Carleton College, Fall 2009
CMRS was one of the most challenging options I could have chosen for my study abroad experience, but was also without a doubt the most rewarding. It certainly involved a great deal of reading and writing, but as an aspiring medievalist the experience I gained in researching large collections of resources and organizing arguments was invaluable. The staff was brilliant, and there was still a great deal of opportunity for travelling and downtime. It was some of the best fun I'd had in my life.
Megan Roper
St Mary's College of Maryland, Fall 2008 & 2009
I arrived in Oxford in September 2008 and, exactly one year later, found myself on the bus to Oxford for my second CMRS term. Another year later, I was on the same bus, to the same beloved city—this time, however, as a new postgraduate reading for an M.St in Medieval Studies! CMRS allowed me to realize my passion and potential in the richest of intellectual settings, and I will forever be grateful for having had the privilege of being a part of it.
Garrett Fehner
St Mary's College of Maryland, Fall 2008
Located in the heart of Oxford, CMRS was the perfect environment for the pursuit of erudite learning and personal improvement.  When I was not studying in the Bodleian, meeting with a tutor, or furiously writing a paper, I would find myself exploring the town's medieval alleyways or quietly walking along the Thames path, often developing philosophical insights along the way. CMRS provided me not only the skills to flourish as an enquiring scholar, but with the desire to spend a lifetime in the pursuit of knowledge.
Mark Marshall
Cranmer House, Fall 2007
CMRS provides a genuine Oxford experience complete with access to wonderful libraries and excellent tutors. At the same time, the CMRS program flexes to the needs and inclinations of each student. It is not an easy program. But it is greatly rewarding to the proactive student who wants to explore and learn.
Michael D. McCartney
Moravian College, Fall 2003 & Summer 2005
Although I attended the CMRS for a short time, my relationship with the people that I met there has only deepened over the years. My experience with the CMRS has made Oxford my second home and Medieval Studies a lifelong love. I first came to the delightful tower in Shoe Lane in the Fall of 2003 and I have been back at least every two years since then, visiting with former tutors and classmates. I think all of my classmates agree that we will never forget learning about English Cathedrals and English Pub Life from Mr Alun Thornton Jones. I still impress my students by talking about all the Medieval Magic that I learned from Mr Richard Ramsay - which formed the basis for my first conference talk, too. I still impress myself when I remember learning about chivalry from Mr Maurice Keen, the man who literally wrote the book on the subject. Most importantly, though, the CMRS has allowed me to endow my own students with a love of things medieval and the confidence to believe that Oxford might be attainable for them, too.
Brenna Kearney
William Jewell College, Fall 2003 & Spring 2004
My diploma might not say CMRS but I consider it my alma mater as much as my actual alma mater. I did some of my best university work at CMRS and I managed to make some of my very best friends there too. I consider it an honor that I was able to call St Michael's Hall my home for almost a year.
Mike Rectenwald
Geneva College, Summer 2000
I devoured the integral lectures, the seminars, the tea and biscuits, and the charming streets of Oxford. Aided by my tutors, my passion for the humanities became more academic and focused while at CMRS, and the field trips brought the materials to life in a sublime way. I am thankful for every moment I spent amongst the faculty and staff at CMRS in the summer of 2000.
P.S. I am thankful for Dr Mark Philpott for being the ONLY teacher/instructor/professor/tutor to pronounce my name correctly the first time. I knew I was in a special place the moment my name was called! 
Greg Castanias
Wabash College, Fall 1985
I attended CMRS over 25 years ago; now I live outside Washington, DC, where I practice law before the federal appeals courts and the U.S. Supreme Court. To this day, I can remember almost everything from my semester at CMRS, and some of my best friends in the world in 2011 are the people I shared a few months with back in the Fall of 1985. It was such a transformative life experience that it is no wonder we want to hold on to the friendships and relationships we first nurtured there long ago.