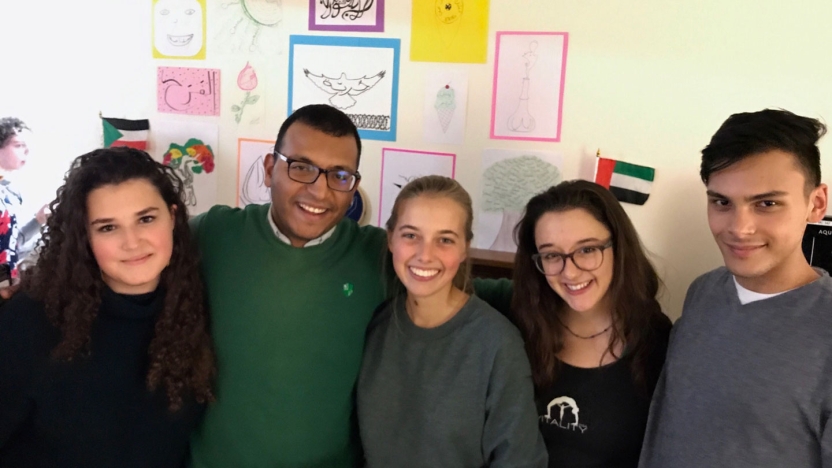 Arabic House
The Arabic House is where Arabic students can live to improve their language skills. Living at the house entails signing a language pledge similar to that of Middlebury's summer Language Schools. This pledge obliges the student to speak only Arabic while in the house. Residents regularly host events like meals and cultural activities.
Arabic Language Tables
The Arabic language table is in the Proctor Redfield Lounge of Proctor Dining Hall. Language tables are a great opportunity to increase language skills over a delicious lunch. Students of all skill levels will benefit greatly from sharing a meal and conversing with the department faculty, Arabic teaching assistant, and other Arabic speakers in this restaurant-style environment. Upper-level Arabic students act as waiters, paying their skills forward, while allowing students at the table to practice their culinary vocabularies. Students at the table have the unique opprotunity to hear stories from students who have studied abroad at the schools in Rabat, Morocco, and Amman, Jordan. 
Student Advisory Council
The current Student Advisory Council (SAC) for the Arabic Department:
Hannah Abdelaal '21
Ellise Johnson '20 (SAC chair)
Andrew Willis '21
The primary functions of the Arabic SAC are to
advise the Arabic chair and faculty regarding new faculty appointments.
advise the Arabic chair and faculty regarding external reviews of the department.
give Arabic majors a voice in their department regarding any student concerns that arise.
serve as a resource for current and prospective majors.
See the Handbook language for a more detailed description.
Forms
Resources on Arabic Language, Culture, and Literature
Arabic News Channels and Newspapers
Professional Organizations
Library and Technology