The Department of Arabic at Middlebury focuses on the study of Arabic language, culture, and literature. We offer four years of Arabic language and culture courses as well as a wide variety of content courses on the Arab world.
Study Arabic from the beginning level to advanced levels of proficiency in speaking, listening, reading, and writing, and gain a strong command of the lexical and grammatical aspects of the language. You can also choose from a distinctive array of courses on Arabic literature (both classical and modern), Arabic linguistics and sociolinguistics, Arab cinema, gender studies, issues of the environment in the Arab world, and other aspects of Arab culture.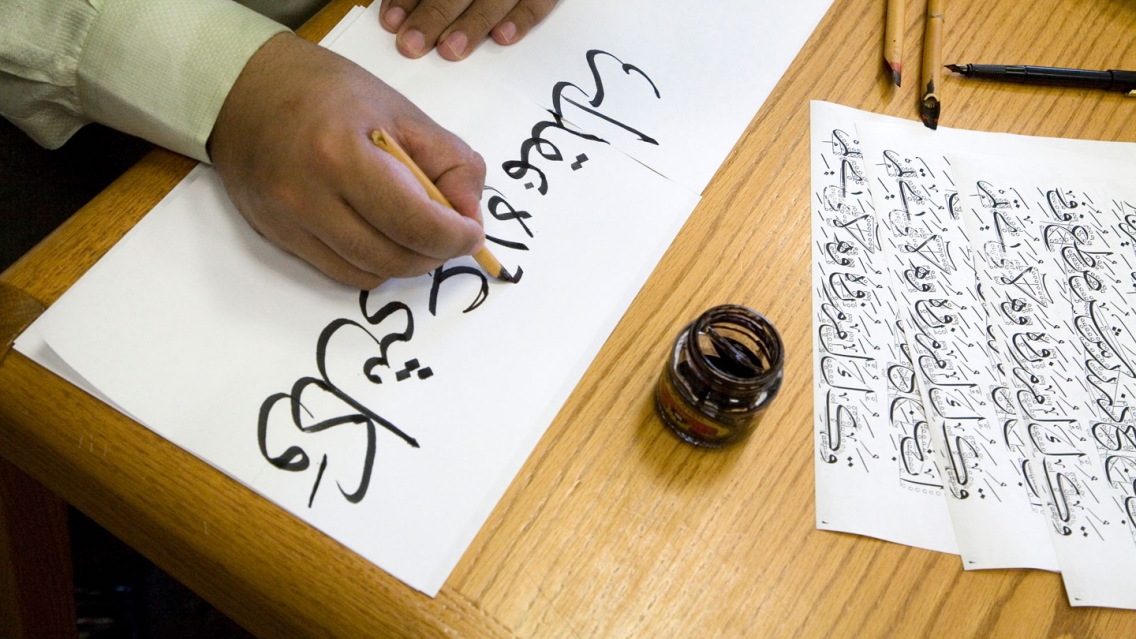 Our Curriculum
We firmly believe in the bond between language and culture and introduce students to the cultural aspects of the Arab world through language classes, cocurricular activities, talks, and other organized events.
Our content courses are offered both in English at the 200 level and in Arabic at the 400 level, and they cover a wide variety of topics and disciplines:
Literature
Linguistics
Cinema
Gender studies
Issues of the environment in the Arab world
These courses are typically cross-listed as electives for programs such as Comparative Literature, Linguistics, and Gender, Sexuality, and Feminist Studies, as well as Environmental Studies. 
In the first two years of their Arabic studies, our students focus on learning the variety of Arabic known as Modern Standard Arabic—the language typically used in the media, education, literature, religious texts, science, and other formal contexts. We also introduce our students to the basics of some vernacular Arabic dialects (typically Egyptian, Levantine, and Moroccan), so they are aware of the linguistic diversity in the Arab world, prior to their junior-year immersive experience with vernacular Arabic at the Middlebury study abroad sites in Amman (Jordan) and Rabat (Morocco).
For our Arabic language and culture curriculum, we adopt the widely used Al-Kitaab textbook series, supplemented by a wide range of additional authentic materials and activities created by the Arabic faculty, thereby providing our students with regular exposure to the language as it is used in the Arabic-speaking world.
Many of the students interested in the Middle East and North Africa Studies track of international and global studies choose Arabic to satisfy the language requirement of the MES major.
Study Abroad
In addition to taking Arabic during the academic year on the Vermont campus, our students also take advantage of three more Middlebury sites for Arabic study:
Get Involved
While our language and culture classes are formal settings, Arabic faculty make sure to create a congenial atmosphere where all students get to use the language with their peers in a way that is conducive to collaborative learning. In addition, our students have the opportunity to attend weekly language lunch tables to chat in Arabic with one another and with their professors in an informal setting. The Arabic House, where the Arabic teaching assistant and five other students live while adhering to the Language Pledge, is another venue on campus that provides a great opportunity for our students to improve their Arabic proficiency and take part in a wide range of cocurricular activities. We also organize a wide range of guest lectures and music concerts, examples of which you can see in News and Events.
Our Alumni
Students who studied Arabic at Middlebury have gone on to be involved in a variety of careers where their knowledge of Arabic language and culture, as well as the deep intellectual aspects and general learning skills acquired through the liberal arts curriculum, have proven to be of great value. Such careers include journalism, graduate studies, teaching, translation, and the nonprofit sector. See our recent alumni.