Alumni Careers
These are just some of the many interesting ways our graduates have applied their liberal arts learning to engage the world.
Slate Magazine, Political and Foreign Affairs Editor
National Wildlife Refuge Association, Vice President, Strategic Programs and Development
Global Rescue, CEO and Founder
The News Hour with Jim Lehrer, Senior Correspondent
Timberland, Senior Vice President, Human Resources
CIA, Analyst
U.S. Department of Education, Attorney, Office for Civil Rights
New York Historical Society, Project Historian
The World Bank, Senior Country Officer
The Herald Group, Vice President, Public Affairs
FSG Social Impact Advisors, Managing Director
Congressman Kevin McCarthy, Chief of Staff
Center for American Progress, Director, East and Southeast Asia
Greater New York Hospital Association, Senior Vice President, Health Finance
Independent Petroleum Association of America, Vice President, Economics and International Affairs
Lightsource BP, Director of Project Acquisitions
St. Boniface Haiti Foundation, President, CEO
Jed Root, Inc., Director of Exhibitions and Publications
Walt Disney Studios Home Entertainment, Executive Director, Business Development and Digital Product
Accenture, Health & Public Service, Management Consulting
NFL, Assistant Labor Relations Counsel
Alumni Profiles
Allison Ortega '07
"The skills and aptitudes you gain from a history degree prepare you for any field you want to pursue."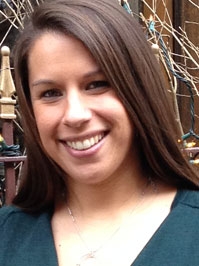 What have you done since graduating from Middlebury?
I served as a Peace Corps volunteer in Mozambique, teaching English and computer skills. This experience transformed the way I saw the world and my place in it. I also worked at World Education Services, helping immigrants and foreign students gain access to education and employment opportunities. Having seen hundreds of students contract illnesses or conditions that are so easily prevented and don't even get treated—scoliosis, lazy eye, or even HIV/AIDS—I wanted to help them more directly. I started taking prerequisite science courses and then applied to occupational therapy school.
How has your major influenced your life since graduation?
Studying diverse geographic areas broadened my worldview and sparked my desire to make international travel and work a priority. Even now I am preparing for a service-learning trip to do pediatric rehabilitation in Cuba. I have found that having a historical grounding is so important to understanding contemporary issues and the current political and geographic dynamics. The skills I learned writing my thesis have benefited me so much; although I research seemingly different things now, I am able to take a lot of information, condense it, and present it in a cogent manner.
How did your major prepare you for your work and career?
The skills I learned as a history major have made transitioning to different fields possible. I have worked in several distinct fields, from education to the nonprofit sector, and now I am preparing for a career in rehabilitative health sciences. Critical thinking, analytical writing, and strong communication and research abilities are positive attributes for all fields.
When did you know you wanted to major in history?
Professor Tropp's course History of Africa to 1800 cemented my desire to declare a history major. I was captivated. I knew that other history courses would have the same effect on me. I also had the freedom to explore my personal interests through independent research in history, which was very appealing.