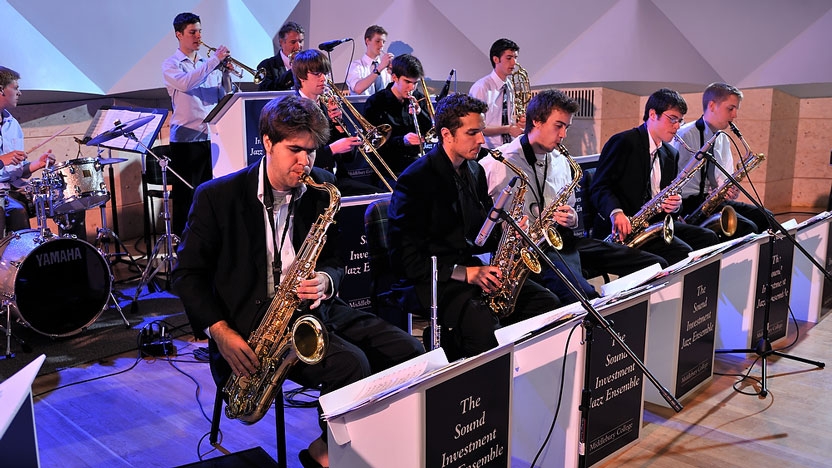 Jazz has been part of the Middlebury experience since the early 1930s, when a group of students formed a band to play the music that's come to be called America's National Treasure.
The Music Department supports a vibrant jazz scene with two organized activities for jazz players—the Sound Investment Jazz Ensemble and the Jazz Workshop—periodic courses in jazz and other popular music genres, and jazz-specific private lessons in piano, voice, guitar, sax, trumpet, trombone, bass and drums.
Sound Investment Jazz Ensemble
The Sound Investment Jazz Ensemble is the department's 17-piece big band that builds on the 80-year history of swingin' music at Middlebury. The band plays the best of contemporary jazz arrangements in addition to celebrating the great tunes of the swing- and jazz band repertoire. The ensemble uses the traditional mix of saxes, trombones, trumpets, piano, guitar, bass and drums, supplemented on occasion by other instruments and vocalists. 
Membership in the ensemble is by audition and is open to both music majors and non-majors; experienced players are especially encouraged to apply. There are openings in all sections.
Academic credit for playing in the band is available. (See course listing for MUSC 0205D.)  Band members are strongly urged to take private lessons with one of the Department's Affiliate Artists.  A significant discount is offered to encourage doing this.  Playing with The SIJE meets the Music Department's performance ensemble requirement for music majors.
Singers: Please Note! We're planning on performing a couple of arrangements for SATB vocal quartet and big band. 
Jazz Workshop
The Jazz Workshop provides a weekly opportunity for jazz students to work on repertoire development, jazz idiom and theory, improvisation and playing in small groups.  Previous jazz experience is not necessary, but competency on your instrument is required. Beginning jazz players are welcome; advanced students are encouraged to participate. Auditions are not required. Combo performances are encouraged and supported in spaces around campus, and in presentations in the Mahaney Arts Center.
The workshop meets on Fridays, from 3:00 to 5:00 p.m. in the MAC, room 221.  
Recent Recordings
We're happy to feature several recordings of our current and former students. The recordings were made at performances in the MCA Concert Hall, using two fixed microphones mounted over the stage. The recording results are, unfortunately, not studio-quality, but the samples will give you an idea of the material we play and the great music we make together.