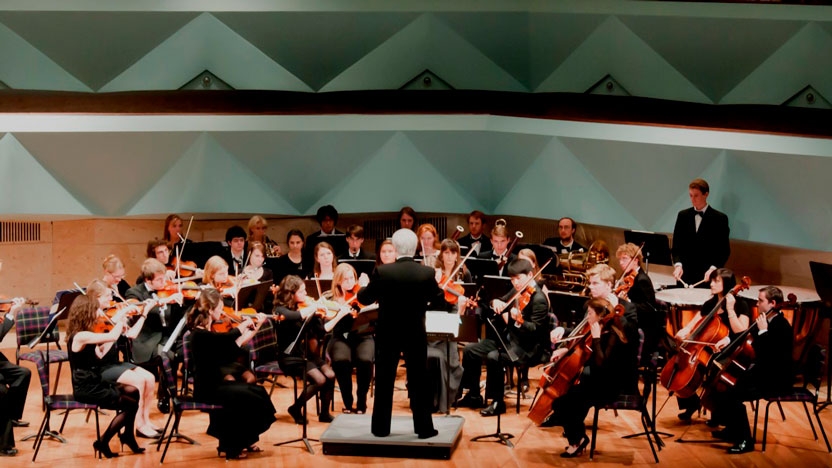 The MCO is a full symphony orchestra that explores the exciting, dynamic repertoire for orchestra of the last two and a half centuries, from Bach and Mozart to Adams and Lutoslawski.
We welcome students from all disciplines and concentration from across campus—you do not need to be a music major to participate. Faculty and staff, community members, and professional players are also included when possible.  
The orchestra presents two concerts a year of major repertoire and is involved in special events. Over the last two decades, the orchestra has performed with professional soloists from the Metropolitan Opera, as well as the College Choir, Concerto Competition winners, in Theater Department productions, radio performances, and in festivals and symposia.
Rehearsals - Fall 2023
Sunday and Thursday, 7:00-9:00 p.m.
Mahaney Arts Center, room 221
Our first meeting will be Thursday, Sept. 14 at 7:00 p.m.  Please come! There will be general information about the group and what we're looking forward to this semester, followed by auditions. Auditions are required this fall for all new and returning members. Please see below for audition guidelines.
Audition Guidelines
Auditions will be in-person at MAC 221 on September 14 and September 17.
Music for auditions
Please prepare two brief contrasting excerpts from your instrument's solo literature that demonstrate your expressive and technical capabilities. For example, this may consist of a fast, technical excerpt and a slow, expressive one. While ideally they are from different pieces, excerpts may be from the same piece—just make sure they are as contrasting as possible.
There may be some sight-reading, but no scales.
Orchestra for Course Credit
Orchestra is also a class (MUSC 0205A) that students register for during their second semester of full participation (one credit). 
Recent Repetoire
Herrmann Vertigo Suite
Mozart  Magic Flute Overture
Franck Symphony
Copland Billy the Kid Suite
Dvorak Symphony No. 9 (From the New World)
Beethoven Symphony No. 6, "Pastoral"
Berlioz Romeo and Juliette: Scene d'amour
Borodin Symphony No. 2
Chabrier Espana
Copland An Outdoor Overture
DeBouter Piano Concerto (premiere)
Dvorak Symphony No. 8
Mendelssohn Symphony No. 5, "Reformation" (revised 1830 version)
Weber Der Freischutz Overture
Wagner Siegfried Idyll
Contact
Music Director, Evan Bennett, bennett@middlebury.edu 
President, Amelia Grosskopf, orchestra@middlebury.edu
About the Music Director
Conductor Evan Bennett Is Music Director of the Middlebury College Orchestra and the Northeastern University Symphony Orchestra. He trained also as a composer, oboist, and pianist, winning awards for both composition and as a solo oboist. At nineteen he began playing professionally with the Utah Symphony Orchestra. He has conducted the Juventas Ensemble, Magnitude6, Meridian Arts Ensemble, Da Capo Chamber Players, Burlington Chamber Orchestra, Middlebury Chamber Soloists, Lowell Opera, and other ensembles at venues such as Carnegie Hall and Alice Tully Hall at Lincoln Center. His passion for contemporary music has led to conducting the premieres of over 15 new works. His compositions have been premiered by the Brodsky String Quartet, Gemini, Cardinal Brass Quintet, Royal Academy Symphony Orchestra, and a broadcast over BBC Radio.
Awards include the Yehudi Menuhin Prize and a Naumburg fellowship. In addition to his musical activities, he has been a guest lecturer and panelist on music education in the US and internationally, including for the Korean government as part of its national KIGA program and at Tufts University. A former faculty member of New England Conservatory and Middlebury College, he was also Executive Director of the NEC at Walnut Hill conservatory program. He currently is a faculty member at Northeastern University where in addition to directing the orchestra he teaches chamber music, and a faculty member at the Longy School of Music at Bard College in the Composition and Theory Department. He holds degrees from Harvard, the Juilliard School, and Princeton University.