Check your application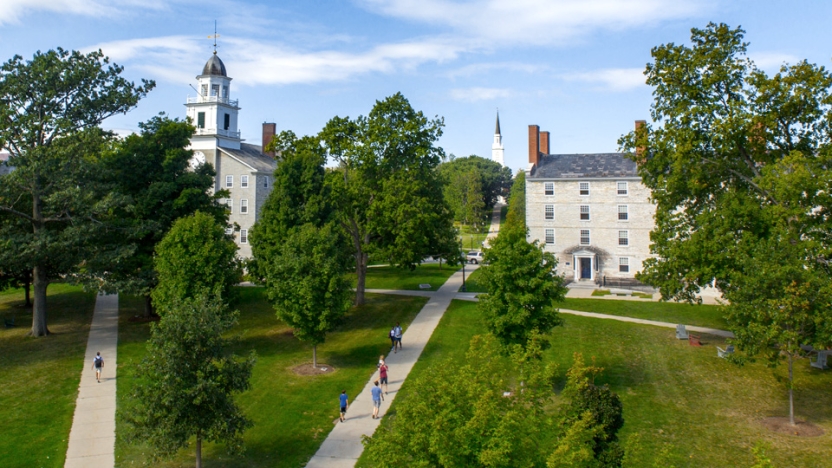 Middlebury College requires applicants to submit standardized testing, but there is some flexibility in our testing policy.
While standardized test scores are used in evaluating applicants' academic profiles, they are not the defining element in our decisions. Middlebury's Admissions Office is aware that a range of factors can affect test scores, including socioeconomic background, test preparation, schooling, and financial and educational resources. We also recognize that many students will not be in a position to take multiple tests.
Students must submit either the SAT, the ACT, or three SAT Subject Tests in different academic disciplines (Math I and Math II, for example, do not qualify as two distinct Subject Tests). We do not require the SAT Essay or the ACT Writing tests.
Middlebury will "super score" standardized test results—meaning we will accept the highest score from each section of the SAT, the ACT or SAT Subject Tests, regardless of sitting, and sum the best scores across sittings of the same test. We do not combine results from different forms of testing—i.e. results from the SAT and SAT Subject Tests.
Students applying to Middlebury may use the College Board's Score Choice option, but we encourage applicants to submit all sittings of their standardized tests since our policy uses a student's highest individual section scores regardless of sitting.
Submitting Scores
Middlebury College will accept either self-reported or official test scores for first-year and transfer applications for admission.
Students may submit self-reported test scores in one of the following ways:
Enter your test scores in the testing section of the Common Application or the Coalition Application.
Upload scores directly to your Middlebury Application Status Portal.
Submit screenshots or scanned copies of the score report from the College Board or ACT to admissions@middlebury.edu.
Official test scores may be submitted in one of the following ways:
Sent directly by the student's high school or CBO counselor to the admissions office by email to admissions@middlebury.edu.
As noted on the official high school transcript.
Sent directly from the College Board or the ACT.
Verification of Self-Reported Test Scores
Enrolling students must send official test scores within two weeks of the submission of their enrollment deposit. The Admissions Office will verify that the self-reported scores match the official test scores, and will address any discrepancies directly with the student.
Deadlines
| Admission Option | Latest Test Date for SAT and ACT |
| --- | --- |
| Early Decision I | October |
| Early Decision II | December |
| Regular Decision | December |
How Important Are Test Scores?
Our admissions process is a holistic one in which all factors are weighed. So, a student's essay, teacher recommendations, co-curricular activities, personal background and story, and unique individual characteristics are all important to us; ours is not exclusively a numbers-driven process.