Universidad Autónoma Course Offerings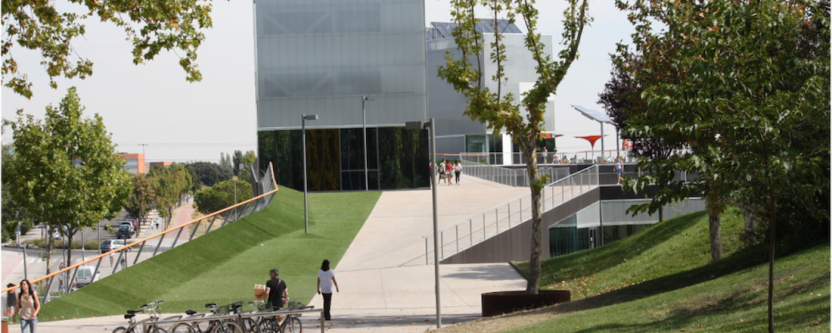 Universidad Autónoma de Madrid
The Universidad Autónoma de Madrid is ranked second in Spain according to the 2021 QS World Unversity Rankings. This public university enrolls over 30,000 undergraduate and graduate Students. It offers over 150 academic programs on the Cantoblanco campus across its seven schools. Numerous cultural and sports activities are available to students. In the past, our students have participated in the university orchestra, theater group, and played rugby.
Middlebury students may select courses from the Facultad de Filosofía y Letras, the Facultad de Ciencias, and the Facultad de Psicología. Students may not register for first-year courses and must choose classes at the 2nd, 3rd or 4th year level.
A list of courses offered at the UAM in recent years can be seen below. While we cannot guarantee that each of these courses will be available to students on a regular basis, they serve as a representative sample of the kinds of offerings students might expect. By no means is the list of courses below exhaustive.
Facultad de Filosofía y Letras
Arte de la primera mitad del siglo XX
Arte desde 1945
Arte e identidad en América
Ciudades, urbanismos y patrimonio en la edad moderna
Historia del arte del renacimiento y del barroco
Historia del cine
Teoría del museo y comisariado de exposiciones
Al-Ándalus y el mundo islámico

América Latina actual

Arqueología de la península ibérica: paisajes, ciudades y cultura

Democracia y dictaduras en la España del siglo XX

Historia medieval de España

Nación y nacionalismo en la Europa contemporánea

Prehistoria y arqueología de la península ibérica

Religión y cultura en la España moderna

Revolución y liberalismo en España
Biogeografía

Cambio climático e impacto ambiental

Ciudades españolas
: Madrid

Espacios rurales y urbanos

Geografía de España

Geografía regional de España

Mundo rural español: caracterización y desarrollo
El español en el mundo
Lenguas y pueblos indoeuropeos
Literatura, cine y medios de comunicación
Multilingüismo y lenguas en contacto
Origen y evolución del lenguaje y de las lenguas
Políticas lingüísticas y de la comunicación
Pragmática intercultural
Psicolingüística y lingüística clínica
Bioética
Filosofía de la ciencia
Filosofía del lenguaje
Historia del pensamiento español e iberoamericano
Historia de las religiones
Pensamiento islámico
Teoría del conocimiento
Antropología del género
Antropología lingüística
Antropología de las migraciones
Antropología urbana
Pueblos indígenas y mestizaje: actores, cultura y política en la historia
Simbolismo, cognición y estructura social
Sistema mundial: colonialismo y postcolonialismo
Desarrollo cognitivo y lingüístico
Género y psicología
Neuropsicología clínica
Psicología clínica
Psicología comunitaria
Psicología de la adolescencia y de la juventud
Psicología de la personalidad
Psicología política
Psicopatología
The Facultad de Ciencias at the UAM offers degrees in the following:
Biology
Chemistry
Environmental Science
Food Science
Mathematics
Physics
Students interested in courses in STEM fields should consult their advisors and the Director of the School in Spain.