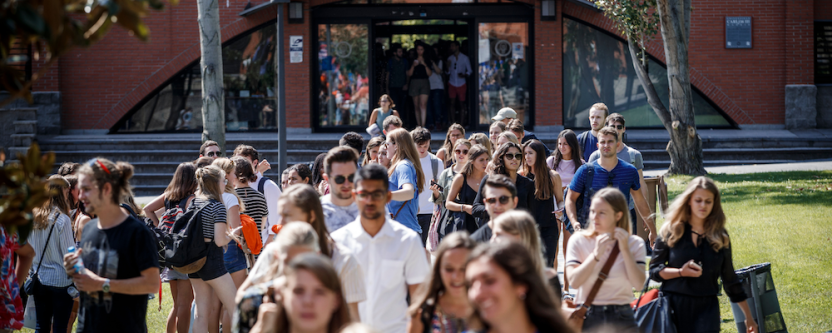 University Information
The public Universidad Carlos III de Madrid enrolls over 22,000 undergraduate and graduate students across its four campuses. Getafe, 40 minutes away from Madrid by train, is home to the university's main campus and its School of Law & Social Sciences and School of Humanities, Communication, and Library Science. A broad range of liberal arts coursework is offered with a special emphasis on the Social Sciences. UC3M's program in Economics is ranked number one in Spain by the 2021 QS World University Rankings by Subject. Students interested in STEM fields can register for courses at the university's School of Engineering in Leganés, a 30-minute bus ride from Getafe and 40 minutes from Madrid.
Program Information
Students take a required language course at Middlebury's Sede Prim and can enroll in two or three courses at UC3M. Students who choose to take two courses at the university will also take one content course at the Sede Prim. While students can take courses on both the Getafe and Leganés campuses, we recommend that students choose to take all of their courses on one campus.
Course Offerings
The following courses are a selection of those offered in recent years. By no means is the list below exhaustive.
Getafe Campus
Análisis de problemas sociales I: desigualdad y exclusión
Cine y televisión en España
Comercio internacional
Economía política
El progreso económico en España 1850-2000
Estudios de género
Filosofía moral
Historia del teatro
Historia contemporánea de España
Historia económica
Mercados y medio ambiente
Movimientos literarios contemporáneos
Movimientos artísticos contemporáneos
Principios de economía
Política española
Política social y estado del bienestar
Psicología social
Sociedad y medio ambiente
Sociología de España
Leganés Campus
Álgebra lineal
Estructuras de computadores
Ficheros y bases de datos
Inteligencia artificial
Interfaces de usuarios
Matemática discreta
 
Additional Offerings
To see other courses offerings, consult the UC3M website. First select your campus (Getafe or Leganés). Select the major you're interested in from the list to view the general information page for that major. To see course listings and descriptions, select Programa. You will see a grid of courses. The courses on the left are offered in the fall; the courses on the right are offered in the spring. You may select courses for any year, though first-year courses in your own major may be beneath your level and fourth-year courses may be above it.
Please note that while some majors offer courses in English, you may normally only take courses in Spanish.