Over the decades we have established many traditions that help build community and forge connections between generations of students.
Here is a sampling:
Friday Theatre Lunches
Every other week students, faculty, and staff gather to eat lunch, discuss a recent production, chat with a visiting alum, hear short excerpts of plays, or just spend time together.
NYC Trip
Early each spring, a busload of 60 students, faculty, and staff make a lightning round-trip to NYC to see two shows. A 7 a.m. departure, quick lunch in New York before a matinee, post-show discussions with artists involved in the production, dinner on the fly, evening show, then back on the bus home. This year's trip featured The Jungle at St. Ann's Warehouse and Keen Company's Crumbs from the Table of Joy at Theatre Row.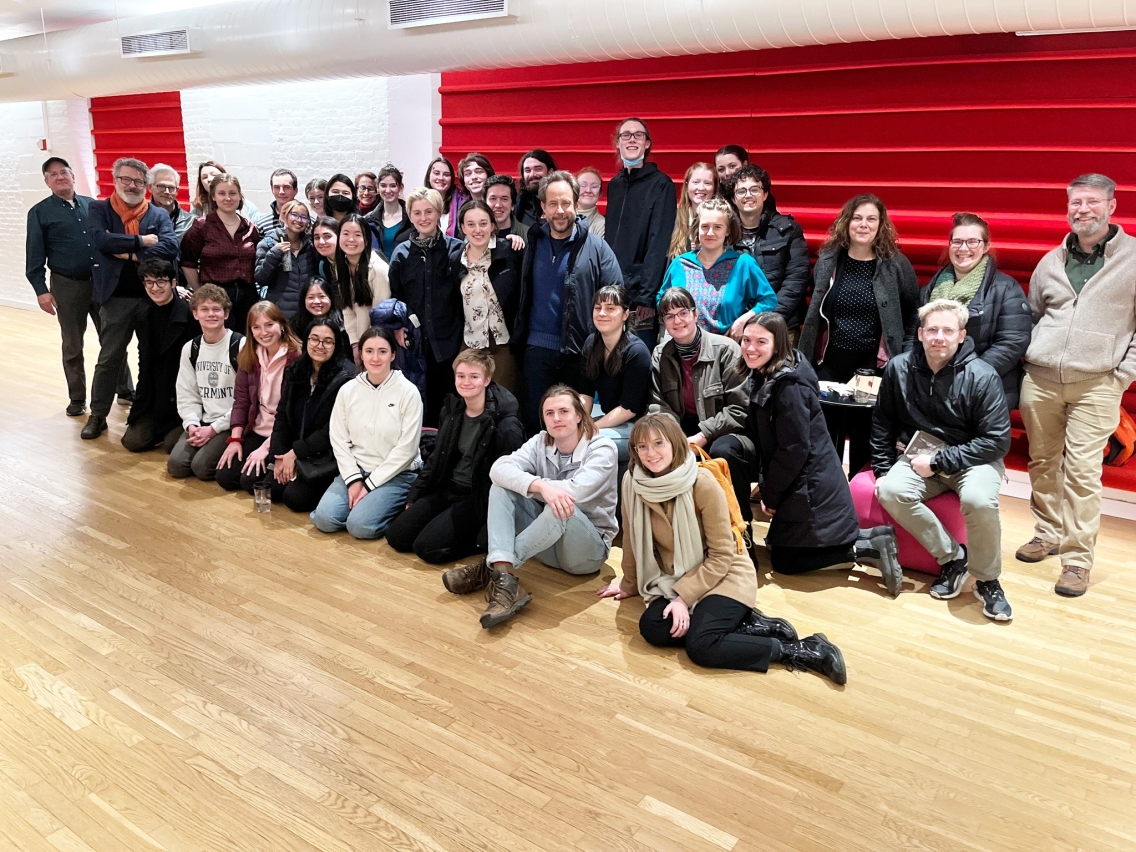 Running Charades
Once a semester, in the spirit of friendly competition and stress release, majors, minors, and students in the various sections of Acting 1 meet during finals for a game of running charades. The tradition began as a challenge between sections of Acting 1 and has evolved from there. The game involves running* and yes, playing charades, and no previous experience is needed to excel. (*pinch runners provided if needed).
Bad Play Festival
We end the first week of classes with a performance of truly terrible 5-minute scripts. But that's the point, and the fun of it: Intro to Playwriting students are challenged to "write a play illustrating something you hate to see on stage," then cast friends, acting students, new recruits, etc., to perform it as a staged reading. 
First-Year Show
For 28 years and counting, we've welcomed incoming students by inviting them to be part of the First-Year Show. This faculty-directed ensemble production comes together quickly—just in time for Fall Family Weekend. It's supported by a team of student designers and crew, making the show a great introduction to the department.
24-Hour Plays
It's an overnight miracle. Once or twice a year, student actors, directors, and playwrights gather on a Friday night to launch a theatrical experiment. Casting, props, writing prompts, who directs what—everything—is decided by lottery. By 8 a.m. Saturday, the playwrights submit their scripts and by 8 p.m. that night, presto—a brand-new, student-written show premieres! Participation is open to all.
Senior Toasts
At the final lunch of the semester, each graduating senior is given a farewell toast by a younger student in the department. Past toasts have included singing, dancing, skits, and a poem comparing the graduate to various kinds of soup.
Senior Brunch
On the Wednesday before graduation, faculty and staff host a brunch for the seniors at one of the faculty members' homes.
Senior Slideshow
After the brunch we all gather in our main rehearsal/classroom, MAC 232, to see a slideshow of the graduating seniors as they moved through their time with us. The slideshow is reprised at the Commencement reception and shared with the graduates' families.