Program alumni are the best resources for students interested in going abroad, and they are available to answer your questions. If you would like to talk to a recent student about their experience in Cameroon, get in touch with the advisor, Nicole Chance.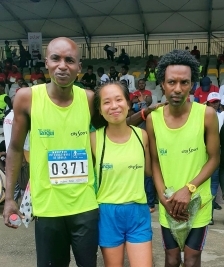 Mai Thuong, Middlebury College
It took me until the last moment at Yaoundé's airport with a lot of tears to realize that I was leaving Cameroon, and that my life would no longer be there. I feel grateful for how Cameroon and its people have opened their hearts to me. Every moment in Yaoundé was accompanied by conversations, discussions, jokes, and laughs with friends and strangers.
In Cameroon, the community way of living is what I appreciated the most. Everyone says hi to each other: there's the beignet haricot street vendor who says "coucou" to me each time I pass her on my way home, the school's guard who gives me mangos he got from the trees at school, and the moto drivers who recognize me at the crossroad leading up to the university's hill. This warmth and openness distinguishes Cameroon from the many Western countries I've lived in. Every moment of my time in Cameroon was filled with curiosity and wonder, which inspired me everyday to just throw myself out there and experience something new.
Living with my host family and getting to know friends at l'Université d'Afrique Centrale, I came to learn about a country, its people, and its reality in the most authentic way. I discovered that many perceptions that I had had about Cameroon and about Africa in general were false. Being in Cameroon for a year gave me the humbleness to put myself in the shoes of Cameroonians to understand their context and stories. I left Cameroon knowing already that I will come back! 
Alice Rogers, Amherst College
Six weeks into my stay in Yaoundé, I visited my classmate and his host mom for lunch. Everyone's host parents became our mamans and papas, and each family treated all of us as if we were their own children. Consequently, Maman Geneviève always welcomed us to come eat her delicious couscous, the same way that my own mom loved cooking her famous beignets for many of my hungry American and Cameroonian friends. As I was savoring her chicken, Maman Geneviève happily exclaimed that the water was working again. The water had been cut off for weeks, so naturally they immediately rushed to take showers and wash dishes. Amidst the chaos, Maman turned to me and said something that stayed with me for the rest of the program: "You must profit while the water runs."
Every day, my Cameroonian friends, teachers, and family taught me the importance of appreciation, for loved ones, comforts like a homemade meal and a neighborhood stroll, and resources that I had once taken for granted. At home, I allow myself to be bogged down by classes, graduate school applications, and stressful social situations. In Cameroon, I learned to appreciate the joys of watering my host mom's garden, adventures in Marché Mokolo with my Middlebury friends, or plucking mangoes off trees with my friends at the Université Catholique. In short, Cameroon's culture of appreciation and generosity taught me a valuable lesson.
I am immensely grateful to Ariane, Basile, Professor Fofack, my host family, my Middlebury friends, and UCAC for welcoming me into the Middlebury in Cameroon community. Life in Yaoundé is sometimes difficult, but I knew that no matter what, a support network of caring people was only a message away. I would strongly recommend this program to anyone looking for extensive cultural immersion, and to experience a new way of life and new mentalities.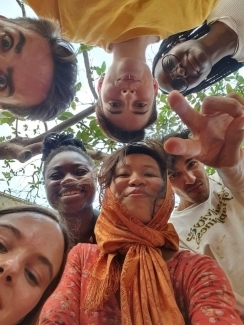 Zane Irwin, Swarthmore College
One week into my study-abroad experience in Cameroon, I wasn't sure if I would make it through the semester. The signal dipped in and out, the water rarely ran, and after eight years of French classes I still felt lost. That first Sunday, I sat outside my homestay and cried.
When my host dad spotted me there, at my most spoiled and vulnerable, he pulled up a chair. With a still-unfamiliar accent and a comforting hand on my shoulder, he told me what I needed to hear: "Life is a constant battle. Every day brings new challenges, and you have no choice but to keep fighting." I found his words harsh and unhelpful at first, until I read the subtext: "You are never fighting those battles alone."
I had met this man six days ago, and I already called him "Papa." In the following months, I would meet friends, professors, taxi drivers, and street vendors who radiated the same warmth and wisdom. The Middlebury students learned to overcome, and often enjoy, the quotidian struggles of breaking large bills, navigating foreign school systems, and finding taxis. Together, we found adventure in the unknown and security in one another.
Studying in Yaoundé was equal parts humbling and liberating; seemingly every hour I would reconsider my ideas about the French language, the world, and myself. The connections between real life and academics became clearer than ever. I would leave Literature, History, or Medumba classes and come face-to-face with the curriculum, suddenly understanding why soccer championships were de facto national holidays and why strangers liked to call me "Atangana." Curiosities like these turned each day into a new wonder, far from the doldrums of American campus life. As I write this on my last Sunday in Yaoundé (for now), it's hard to imagine leaving it behind.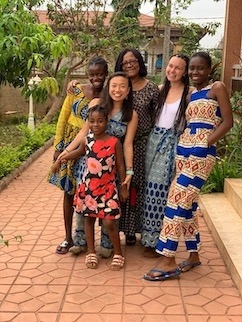 Brinkley Brown, Harvard University
Most mornings, I woke up to the sound of crickets, roosters, and taxi drivers. At 5am, like clockwork, the crickets and roosters would begin their morning song and the taxi drivers their daily routes around the city. Most afternoons, I walked to the marché, scouring and bartering for the ripest papaya and the softest avocado for that day's lunch. And in the evenings, always after sunset, I helped draw up the table in the kitchen for dinner with my family.
For nearly three months, this was my routine. Cameroon was my home away from home. In early January, I traded my college dorm with a view of the Boston skyline for a much larger home with a sprawling veranda overlooking the city of Yaoundé. In Yaoundé, I gained a second family, university friends, and three incredible Middlebury mentors: Professors Basile, Fofack, and Ngabeu. I learned to speak French with confidence, to sleep beneath a mosquito net, to squeeze seven people into a taxi, and to dance at midnight jazz clubs.
A semester in Cameroon is not for the fainthearted. The cultural and linguistic newness, the climate and the dusty Cameroonian air, the constant sensory and social stimulation—all are overwhelming, especially in a country so different from the United States. A semester in Cameroon is, however, for the fullhearted. It's for those with a sense of adventure, with a strong head on their shoulders, with a curious mind, and a humble heart. If this is you, I can't urge you strongly enough to board that plane to Yaoundé and experience this wonderful place that will become your home away from home in no time.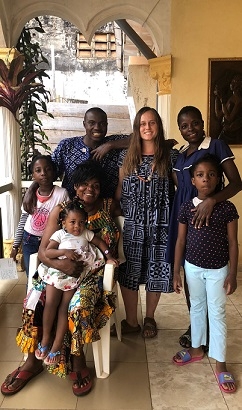 Julia Dickson, Johns Hopkins University
My semester abroad in Yaoundé, Cameroon, was an extremely transformative and defining experience that helped me gain confidence in my language skills, become more culturally sensitive, and understand my own American culture. There is no other program in francophone Africa that pushes students to immerse themselves quite like Middlebury's School in Cameroon. While intimidating at first, I was able to take courses at l'Université catholique d'afrique centrale where I was the only foreign student. Studying in this environment allowed me to understand the education system in Cameroon, and hearing other students' ideas challenged me to view certain issues from a different cultural perspective. Additionally, living with a host family was likely the best part of my experience. I developed a particularly strong bond with my host brother who became like my real brother. He invited me to attend traditional weddings and to spend time with his friends, and I taught him about Halloween and Thanksgiving and convinced him to walk across Yaoundé with me.
Furthermore, Middlebury's amazing staff encouraged me to try new things. During my first week in Yaoundé, the director of the program invited us to hike Mont Febe, which motivated me to discover more hikes around the city and find seven beautiful hikes that many locals didn't know about! Not only did this increase my confidence in my spoken French as I asked locals for information, but it also allowed me to experience a different side of Yaoundé. Additionally, my Medumba professor encouraged me to ask questions about things that I did not understand, and he planned lessons and excursions based on my inquires.
While adjusting to life in Cameroon's chaotic capital city was not necessarily easy, it was extremely rewarding. Yaoundé is an amazingly beautiful city, and there is always something to see or do. Whether it be wandering the crazy marché Mokolo or simply cooking with my host family, I was never bored and found each day to be different and exciting. Moreover, my French improved immensely, and I became more confident in my abilities. I absolutely cannot say enough good things about this program and would recommend it to anyone.
Olivia Lucas, Mount Holyoke College
When I first decided to study abroad in Cameroon, I did not know what to expect. I had no idea that I would feel at home in a country so far from my own. What sets Middlebury School in Cameroon apart from other language-immersion programs is the value it places on ensuring that students not only learn French, but are also immersed in a culture. Throughout the program, I grew much more confident in my French speaking and writing abilities because I was constantly surrounded by individuals that challenged me to practice and improve these skills. At the same time, I gained a new appreciation for Cameroonian food, dance, music, culture, politics, and traditions, thanks to engaging discussions in Middlebury courses and spending quality time with my host family. My favorite experiences in Cameroon were daily taxi rides with locals because they allowed me to encounter Cameroonians from all walks of life eager to share about their background and their country. My experience in Cameroon empowered me in my identity as a black woman and helped me grow more capable of connecting with people similar to and different from me. Overall, my experience abroad enhanced my academic learning, global understanding, cultural competency, and personal growth.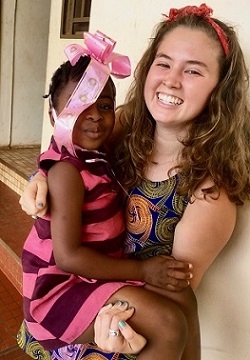 Asa Waterworth, Connecticut College
I always knew I wanted to study abroad in Francophone Africa…but never thought I'd be able to find a program like Middlebury Cameroon, one which is culturally immersive, language intensive, and academically rigorous. I arrived in Yaoundé on the eve of les Lyons Indomitables winning the Africa Cup of Nations, and we were even at the airport to wave and welcome the champion footballers home. What ensued was a hectic, crowded, loud, patriotic, flag filled weeklong welcome that served as a perfect introduction to my 4 months in Yaoundé. What amazed me the most about my time in Cameroon was that no matter where I was or what I was doing, I was constantly learning. Every day was full of challenges, but with every challenge came the opportunity to learn something, and with knowledge came confidence and great comfort. For example, at the beginning of the semester the idea of waiting on the side of the road, yelling out my desired destination to taxi drivers, and squeezing into a taxi from the 1980's to travel across a city I didn't know scared me. By the end of the semester, I was hailing taxis no problem, knew exactly where I was and where I was going, and could even joke around with my fellow passengers, or win an argument with the driver if he tried to overcharge me. My director, professors, internship colleagues, host family, and fellow students on the program pushed me to explore, to express myself even if I made mistakes, and to try new things (though I should add that when it came to Cameroonian cuisine I was always eager to eat absolutely anything and everything). I'm grateful to and for the Yaoundé program, and I hope that it continues to grow so that more individuals can live by the popular Cameroonian motto/order of "il faut profiter!" or "you must make the most of it!" just as I did.