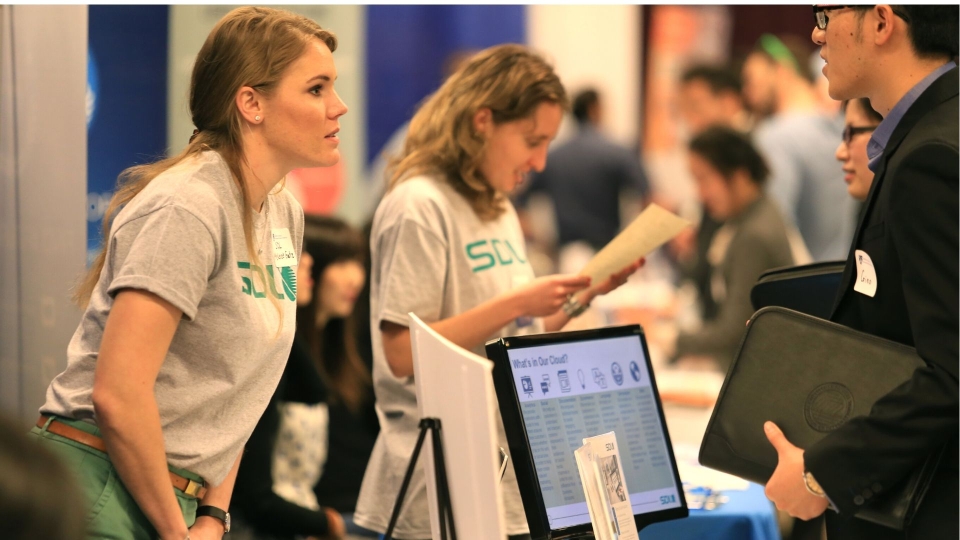 The Center for Advising and Career Services hosts a series of events that can connect you with future employers.
For the full listing of our current events, including workshops and employer information sessions, see our Events Calendar.
MIIS Community Career Fair
At the beginning of the Fall semester, the Center hosts a Community Career Fair that represents a cross-section of our local employers and community partners who are interested in hiring or who have consistently hired MIIS students and graduates for internships and full-time positions. This is an opportunity for our local partner employers to meet with incoming students, current students, and alumni for the purpose of presenting career opportunities and building their brand with the MIIS community.
Translation, Interpretation, and Localization Management (TILM) Career Fair
Each year, the Center hosts a TILM Career Fair that attracts a wide range of the top translation, interpretation, and localization management employers in both the public and private sectors. This is the premier recruiting event of the year for the language industry.
Save the date! Our next TILM Career Fair will be held on March 3, 2022. For more information, please contact Director of Employer Relations, Bryce Craft, at bcraft@middlebury.edu.
D.C. Career Exploration Week
Students who are interested in careers in Washington, D.C., can take part in the annual D.C. Career Exploration Week. The program consists of on-site employer information sessions, organization visits, and a dynamic networking reception with alumni and employers.