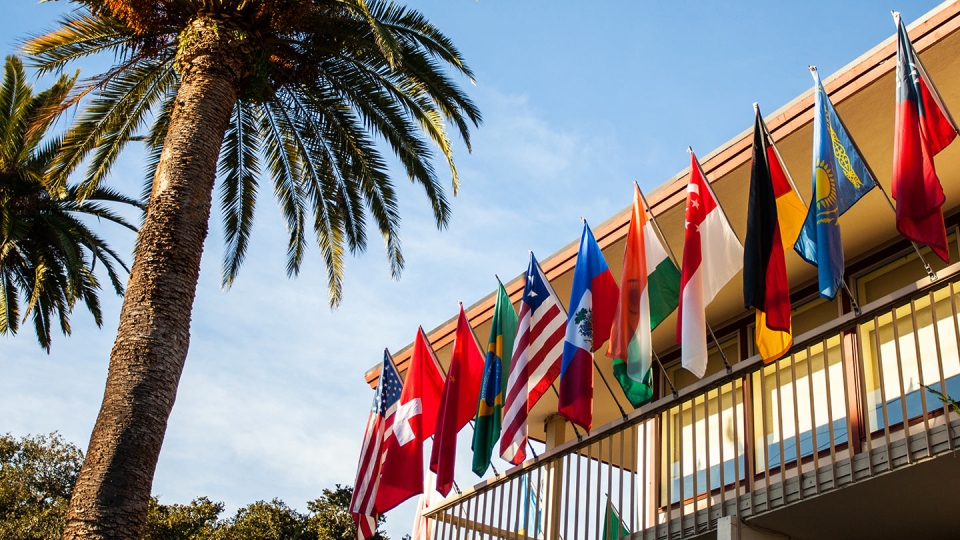 The Middlebury Institute of International Studies at Monterey provides international and professional education in areas of critical importance to a rapidly changing world.
The Institute was founded in 1955 as the Monterey Institute of Foreign Studies by Gaspard Weiss, in collaboration with his wife, Louise Weiss, and cofounders Frank Elton and Sybil Fearnley. Weiss and his foreign language colleagues envisioned a graduate school that would promote international understanding through the study of language and culture. While the Institute's name and programs have evolved, its core identity as an innovator and leader in international professional education has remained constant.
In 1961, the school acquired its first building at 425 Van Buren Street, just up the hill from downtown Monterey. The structure, known today as the Segal Building, was built in 1911 as the Monterey Public Library. Commemorated on the shield in the Institute's logo, the Segal Building has housed the office of every leader of the Institute since 1961.
In 1979, the Institute's name was changed to the Monterey Institute of International Studies.
In 2010, Middlebury formally acquired the Institute following a five-year affiliation agreement. Middlebury is known worldwide for its leadership in language instruction, environmental studies, international programs, and innovations in experiential learning. In addition to its undergraduate college, founded in 1800, Middlebury operates the Middlebury C.V. Starr Schools Abroad, the Middlebury Language Schools, and the Middlebury Bread Loaf School of English.
In 2015, the Institute was renamed as the Middlebury Institute of International Studies at Monterey. Our rich heritage as a leading international professional graduate school continues to inform our mission and curriculum as we move forward as part of a global network of programs for future leaders.
Our Mission
The Middlebury Institute of International Studies educates professionals to advance understanding, promote peace, and drive change in pursuit of a more just world.