Tuition and Fees 2023–2024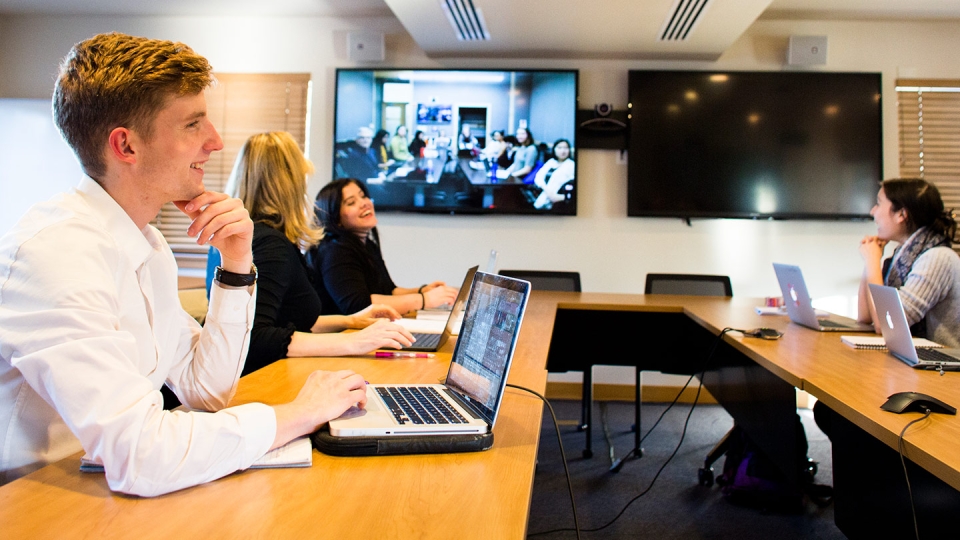 Your graduate program is an important investment in your future career. The Middlebury Institute offers generous scholarships and grants to make your degree more affordable.
The information below covers our 2023–2024 academic year (summer 2023, fall 2023, and spring 2024). 
For information on the next year, visit our 2024–2025 academic year tuition page.
Scholarships
More than 95 percent of admitted students receive scholarships.
Both U.S. and international students are eligible.
Scholarships are available for in-person programs 
Scholarships are only available for online programs until spring 2024. Visit our 2024–25 tuition page for information on online program tuition after this semester.
The sooner you apply, the more likely you are to receive our largest awards.
If you plan to study part-time and continue working, we encourage you to contact your Human Resources department to take advantage of tuition benefits available to you from your employer or from your state.
You will only be able to calculate the actual cost of your program after you know your scholarship and financial aid decisions (another reason to apply at your earliest opportunity).
Learn more about scholarships.
Tuition: $13K to $19K After Scholarships
Most students who request scholarship funding from Middlebury Institute pay between $13K and $19K in tuition per semester after scholarships
Tuition Before Scholarships
The tuition costs below are for both in-person and online degree programs (unless noted in the program-specific tuition section).
Academic Year
Per Credit
Semester
Year
(two semesters: fall and spring)
2023–24
$1,664
$23,278
$46,556
Tuition rates are subject to change in future academic years.
Part-time students pay the per-credit rate.
Full-time students pay the semester/year comprehensive tuition.
Program-Specific Tuition
Advanced-Entry for Nonproliferation and Terrorism Students and Advanced-Entry for Environmental and Policy Management who are required to take more than 32 credits:
You will be given a personalized degree map based on your professional and academic background.
If your degree map requires more than 32 credits, you will pay the advanced-entry full-time rate below. Otherwise, you will pay the regular tuition rate above.
2023–24 academic year: the advanced-entry full-time rate for these programs is $24,939 per semester ($49,878 per year)
TESOL and Teaching Foreign Language
Online TESOL
Online MPA in Sustainability
Estimated Living Expenses
2023–24 Academic Year
| Estimated Living Expenses | Per Semester | Per Year |
| --- | --- | --- |
| Books and Supplies | $150 | $300 |
| Housing and Food | $9,068 | $18,136 |
| Local Transportation | $735 | $1,470 |
| Personal Expenses | $900 | $1,800 |
| Health Insurance*  |  -  |  -  |
*Students are required to have health insurance during the entirety of their program. Visit our health insurance guide for more health insurance options and resources.
Full-Time vs. Part-Time
Students taking 12 or more credits will be charged the full-time rate (see above).
Students who take 11 or fewer credits per semester will be charged at the per credit rate (see above).
Courses taken in the January term are billed as part of spring.
If you move to part-time, your scholarships and grants will be prorated.
If you take fewer than six credits, you will no longer be eligible for federal financial aid.
Please be sure to contact your academic advisor if you are considering taking courses part-time.
Please note that if you take more than 16 credits in any semester, you may have to pay for overload credits in your final semester. Learn more about overload credits.
Student Fees
Please note that student fees are only charged during the fall and spring semesters. No student fees are charged during the summer or J-term.
Student Activity Fee
This fee is used to provide a number of resources, services, and activities for students, including the following:
New student orientation and welcome week activities and programming
Workshops on topics related to stress management, mindfulness, time management, team building, and more
MIcommunity, our digital community platform
Student life activities and programming including health and wellness education, free fitness and yoga classes,  support for in-person and online community building, and engagement programming
Funding to help support master's program-specific events, resources, and more.
Veteran support services, community building, and professional development funds.
The student activity fee for the 2023–24 academic year:
If you're taking five or more credits, the student activity fee is $85 per semester.
If you are taking one to four credits, there is no student activity fee.
Student Resources Fee
This fee is used to cover the costs associated with the TimelyCare service.
The student resources fee is $150 per semester (starting in 2023–24 academic year).
Student Tuition Recovery Fund
California law requires that, upon your enrollment, a fee be assessed relative to the cost of tuition (Education Code Section 94342). These fees support the Student Tuition Recovery Fund (STRF), established by the California Legislature to reimburse students who might otherwise experience a financial loss as a result of untimely school closure. Institutional participation is mandatory.
Personal Expenses
This student budget does not include all of the expenses you may have, such as credit card or other consumer debt and living expenses for a spouse and/or dependents. The category of personal expenses includes clothing, laundry, household supplies, and entertainment. You should prepare a personal budget to anticipate your total financial needs.
2024–2025 Academic Year
For information on the next year, visit our 2024–2025 academic year tuition page.