The Institute is home to a number of innovative and forward-thinking centers and initiatives whose faculty, staff, and graduate students research and develop original approaches to pressing international issues.
Devoted to curbing the spread of weapons of mass destruction, and dedicated exclusively to graduate education and research.
Researching terrorism and other forms of extremism to inform private, government, and multilateral understanding.
Promoting a sustainable ocean and coastal economy (the "Blue Economy") through leadership in research, education, and analysis. 
Developing programs and publications that contribute to the field of conflict studies.
Enabling students with advanced Russian language skills to professionalize their interest in Russia and Eurasia.
The Cyber Collaborative is a focal point for activities at the Middlebury Institute that explore the implications of the cyber domain for national and international security and other policy concerns.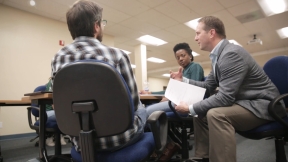 The META Lab offers expertise in program evaluation and a range of data analysis tools and applications, meeting the growing need for evidence-based evaluation. Our team provides support, advice, and opportunities for collaboration.
CoLab cultivates relationships between neighboring universities and communities to collaboratively address complex local problems through research, professional development, resource mobilization, and joint action.