Our mission at the Center for the Blue Economy is to promote a sustainable, resilient ocean and coastal economy (the "Blue Economy") through leadership in research, analysis, and education. 
What is the "Blue Economy"?
The "Blue Economy" comprises the economic activities that create sustainable wealth from the world's oceans and coasts. The center examines ways that ocean and coastal resources can support economic development and enhance healthy, resilient oceans and well-managed coastlines.
Our Research
Our research focuses on two areas—helping organizations understand how to measure the size and changing nature of economic relationships with the oceans and coasts in order to guide choices and monitor progress, and the economics of climate change adaptation in coastal regions. 
---
Press Release--Ocean Climate Action Plan--Blue New Deal Final Report
July 13, 2020   
Ocean Climate Action Plan offers Cure for Post-Pandemic Economy with Solutions for Climate Emergency
Adds Missing Pieces to House Climate Change Framework
The Center for the Blue Economy and Blue Frontier just issued a unique, comprehensive, Ocean Climate Action Plan (OCAP)—the Blue New Deal—offering a cure for the battered post-pandemic economy and solutions for the climate emergency. Many of these recommendations appear in the new Democratic climate plan, however, OCAP adds additional and practical solution-oriented proposals that go beyond the current Democratic thinking.  If the recommendations become federal ocean-climate legislation, it will be a first for the nation, as well as for MIIS and Middlebury.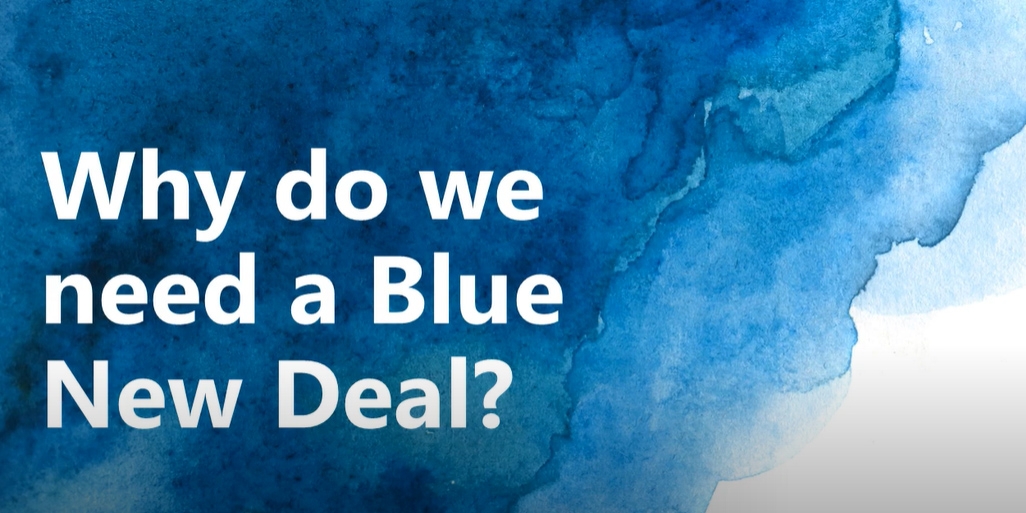 Two speaker series converge in the fall term:  On Tuesdays at 6:00pm Pacific Time, the Center for the Blue Economy speakers focus on ocean and coastal issues, while Tuesdays and Thursdays at 12:30pm Pacific Time, the Environmental Justice and Sustainability speakers include issues ranging from systemic racism to climate change to sustainable food systems.   The public is welcome to attend all lectures, held online via Zoom.  Learn more about the topics, speakers, and how to join by clicking the links below. 
CBE Speaker Series & Environmental Justice/Sustainability Speaker Series
Follow us on Social Media & Sign Up for our Newsletter
#OceanClimateAction #BlueNewDeal, #ClimateCrisis, #ClimateReality #VoteOcean
Follow the Center for the Blue Economy on Twitter @CBE_MIIS or Facebook @CenterForTheBlueEconomy for related news stories on the Ocean Climate Action Plan.
U.S. Officially Measures Blue Economy in GDP
June 2, 2020
America's Blue Economy Worth Nearly $373 Billion
For the first time, the U.S. Dept. of Commerce will officially measure the economic contributions of the oceans, coasts, and Great Lakes in national income accounts. The Center for the Blue Economy, Dr. Charles Colgan (CBE Director of Research) and the National Ocean Economics Program team (precursor and foundation of the CBE) have been innovating and advocating for 21 years to make this happen.  The link above has more detail, and slides below show the first set of official statistics.  
Center for the Blue Economy News