Introduction to the Blue Economy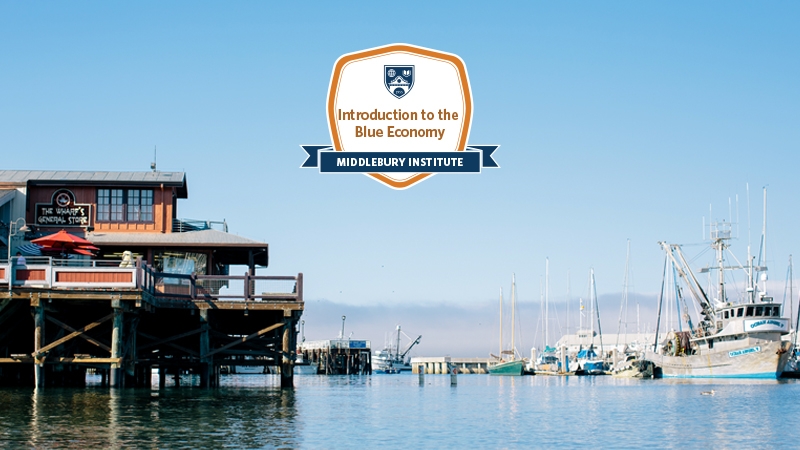 Develop a deeper understanding of the blue economy, and what it means to our world.
Overview
The blue economy describes a way of thinking about sustainably generating wealth from the ocean. Whether you are a policy maker, fisher, scientist, or technologist, this introductory course is designed to teach a shared understanding of what comprises the blue economy, and how we might manage it, measure its output, and finance it. This three- to five-hour self-paced course will expand your knowledge of the blue economy and lay a foundation for deeper learning in more specialized topics.
This noncredit course is taught by Dr. Charles Colgan, the director of research for the Center for the Blue Economy (CBE) and editor-in-chief of the Journal of Ocean and Coastal Economics (JOCE).
Register Now
Learn Online on Your Schedule
The Introduction to the Blue Economy course is completely online, asynchronous, and self-paced. You'll enjoy the flexibility to learn on your own time, from anywhere in the world.
Curriculum
In this course you will learn:
The diverse components that define the blue economy.
The challenges of managing complex social and economic systems as they work together.
The fundamentals of ocean accounting and how this evolving field can keep track of the contributions of the blue economy.
The basics of the rapidly evolving field of blue economy finance that brings together public and private finance to provide the resources needed. 
This Course Is for You If …
You are a professional in any field with interest in or responsibility for ocean and coastal policy.
You are interested in learning about current important ideas about the ocean.
You want to learn the fundamentals of ocean accounting.
You are looking for a basic understanding of financial resources for ocean environmental conservation.
You want an overview of the blue economy before exploring more detailed subjects.
Course Specifics
Type / Modality: Online
Estimated completion time: 3–5 hours
Number of modules: 4
Language of instruction: English
Activities and content: Video lessons, readings, short knowledge checks, case studies, and self-reflection activities.
Technical prerequisites: A networked computer or mobile device is required, as is the capability to stream multimedia audio and video.
Completion rewards: After you successfully complete this course, you'll earn a certificate of completion and a badge to share on your social media profiles and with current and potential employers.
Cost
Registration price: $99
Limited time discounted price: $59
Middlebury Institute admitted students: students admitted to our master's degree programs can register for free; check your MIcommunity admitted students group for more info!
Middlebury Institute current students, faculty, staff: register for free.
Contact Us
If you have any questions about the course, please contact proed@middlebury.edu. For more on the blue economy, visit the Center for the Blue Economy.
Register Now