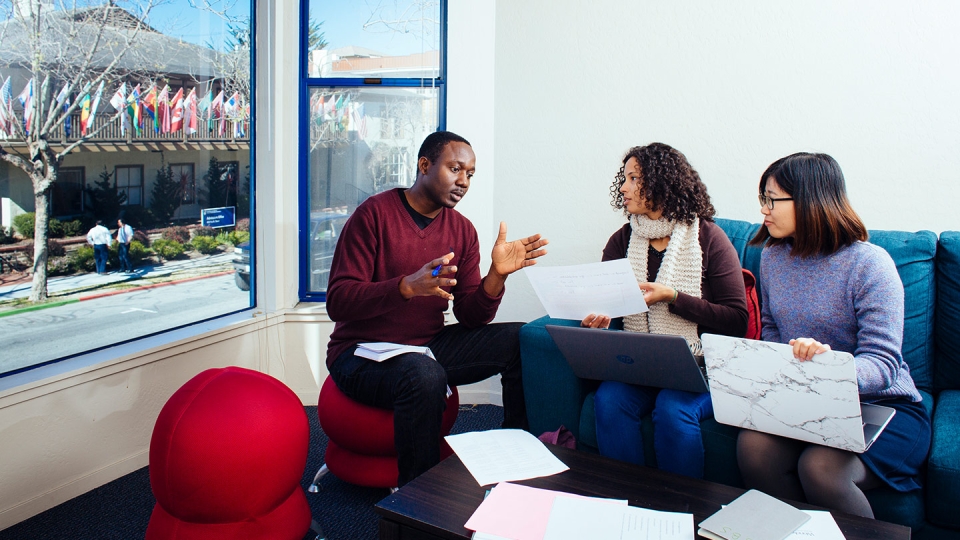 The Office of Student Financial Services can help you understand, manage, and finance the costs associated with your Middlebury Institute education.
Financial Aid Options
Loans
Education loans can help you cover your tuition and living expenses. U.S. citizens, U.S. permanent residents, and eligible non-citizens may apply for U.S. federal loans and/or private education loans.
International students are eligible for U.S. private education loans and should also explore private loans from their home countries. Many private loans in the U.S. require international students to have a U.S. co-signer but some do not.
Work-Study
Work-study positions at the Institute can help cover living expenses such as rent, food, and entertainment.
U.S. Veterans' Benefits
Each year we offer up to 100 percent tuition coverage for 75 qualifying U.S. veterans through the Yellow Ribbon Program.
Managing Your Account
Make a Payment
Pay your tuition deposit, tuition, and other fees. For a breakdown of costs, see Tuition and Fees Details.
Refund Schedule
If you withdraw from your courses by the appropriate date, you may be eligible for a tuition refund.
Auditing Courses
Full-time Institute students can audit up to four credits per semester at no additional cost.
Overload Credits
Credits beyond 16 per semester are overload credits and must be paid for at the per-credit rate.
Casa Fuente 435
(831) 647-4119
Fax (831) 647-6685
Monday–Friday
9:00 a.m.–4:00 p.m.
Director of Student Financial Services
Email:

Tel:

Office:

Casa Fuente Building CF435
Associate Director of Student Financial Services
Email:

Tel:

Office:

Casa Fuente Building CF435
Associate Bursar, MIIS
Email:

Tel:

Office:

Casa Fuente Building CF449D