Scholarships and Fellowships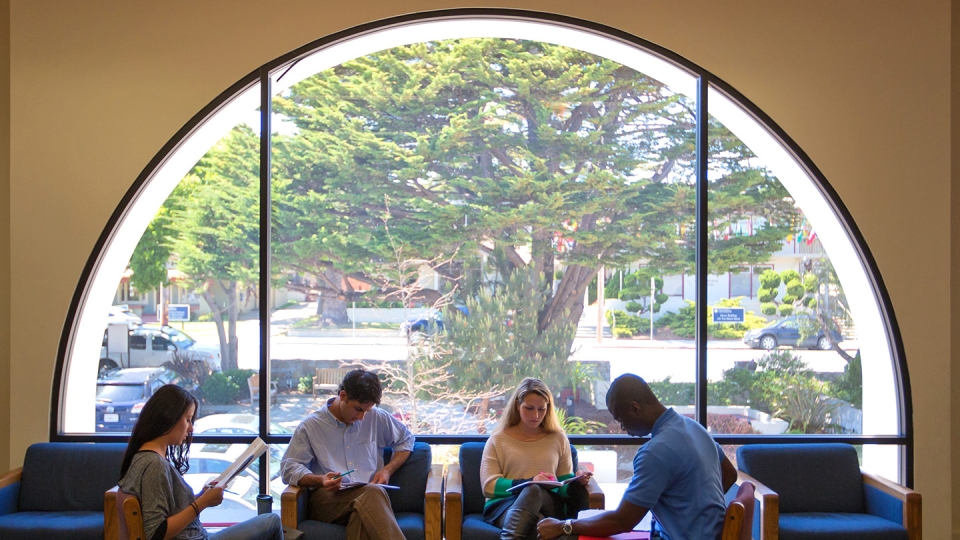 The Middlebury Institute offers a variety of generous scholarships toward our master's programs for both U.S. and international students.
Middlebury Institute Scholarships
We offer merit and need-based scholarships. To apply, submit your application for admission by the next deadline and upload personal scholarship statements as part of your online application.
Conflict Transformation Graduate Fellows
Funded by the Kathryn Wasserman Davis Collaborative in Conflict Transformation, this select group of Middlebury Institute students receive up to $10,000 annual scholarship and focus on the ways that conflict transformation manifests in diverse contexts around the globe. These fellowships and related benefits are available to both in-person and online degree-seeking students. Learn more.
HBCU, HSI, and TCU Scholarships
As part of our efforts to be a more diverse and inclusive community, the Middlebury Institute has established a scholarship for alumni of U.S. Historically Black Colleges and Universities (HBCUs), Hispanic-Serving Institutions (HSI), and Tribal Colleges and Universities (TCUs). Alumni of these institutions are guaranteed a $10,000 annual scholarship (prorated by program length) toward a master's degree at the Middlebury Institute. You will also be eligible for additional merit and need-based scholarships. Please fill out this form to confirm your scholarship interest.
Endowed and Named Scholarships
Thanks to the generosity of alumni and friends of the Institute, we offer a number of endowed and named scholarships. You will be automatically considered for these scholarships after you submit your application for admission; no other steps are required.
Partner Scholarships
Alumni and members of our partner organizations and schools receive application fee waivers and, in many cases, guaranteed scholarships for our master's programs. Your experience is valuable to our diverse community, and we look forward to having you join us.
Summer Language Scholarships
Do you need to boost your language skills or learn a new language before starting your master's degree program? Admitted students may qualify for a summer language scholarship at the world-renowned Middlebury Language Schools.
Students admitted to our MA in Nonproliferation and Terrorism Studies are guaranteed a full scholarship (covering tuition, housing, and food) for a summer language program.
Middlebury Affiliation Scholarships
Middlebury offers guaranteed $10,000 Affiliation Scholarships to degree holders of any Middlebury school and their extended family members for our master's programs.
Participants in eligible nondegree programs are guaranteed a $5,000 Affiliation Scholarship for our master's programs.
You may also receive need-based and/or merit scholarship awards in addition to these affiliation scholarships.
External Scholarships
Many organizations offer funding for graduate school and this list of resources has been helpful to students in the past. Please note that we do not work directly with these organizations and cannot guarantee their services. We encourage you to look for other resources as well.
| by Stephen Diehl

MIIS was one of just 18 California institutions to receive one of the competitive grants.

| by Jason Warburg

The U.S. Department of State has awarded one current Middlebury Institute student and two recent graduates Critical Language Scholarships for the study of languages considered vital to national security and economic prosperity.

| by Jason Warburg

The Institute has established a new scholarship fund in honor of Professor Edgard Coly to support African students and students planning to pursue careers in Africa. Professor Coly, who passed away in March, was from Senegal and taught courses in French language and African issues for nearly 20 years at MIIS.