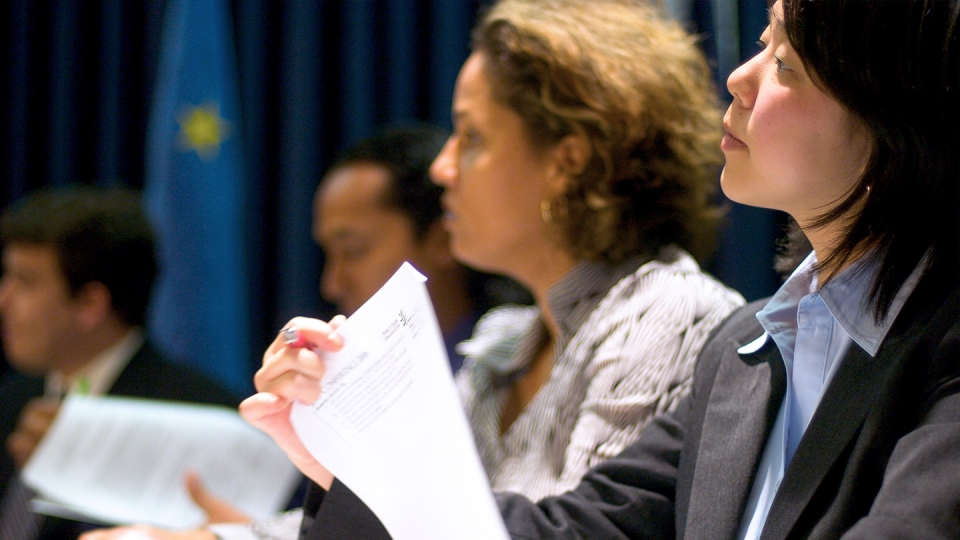 Intercultural competence is essential for professionals seeking internationally focused careers.
Rather than focus solely on communication skills, we emphasize overall intercultural competence—helping you to actively understand and possess qualities that contribute to effective communication among people of different linguistic and cultural backgrounds.
Cultures are structured aspects of human behavior in social life, in national and local contexts (e.g., political, linguistic, economic, institutional, professional). They are composed of ideologies and worldviews, practices and actions, participation, and communication. Intercultural competence involves a meta-level ability to recognize and analyze patterns and relationships.
Intercultural competence has three primary attributes—knowledge, skills, and attitudes. The development of intercultural competence is an ever-changing dynamic process.
Intercultural Competence Committee
The Intercultural Competence (ICC) committee is made up of current faculty, staff, and students. With an emphasis on intercultural knowledge, skills, and attitudes, they focus on curriculum and assessment, preparing students for domestic and international immersive learning experiences, and cultivating partnerships across campus and beyond.
Since 2016, the ICC committee provides an Interculturality Pre-Departure Training for all students participating in January term (J-term) immersive learning experiences abroad. The training includes discussions of case studies, storytelling, translating and interpreting, key intercultural concepts, and ethics in relation to interculturality during the students' immersive learning experiences. After students return from their immersive learning experiences the committee surveys students about their intercultural interactions and takeaways from the experiences.
2018–2019 Committee Members
Netta Avineri, Associate Professor,

TESOL

and Teaching Foreign Language,

ICC

Committee Chair
Chetna Aggarwal, Student, Translation and Localization Management
Jason Blazakis, Professor of Practice, Nonproliferation and Terrorism Studies
Lisa Donohoe, Curriculum Specialist, Custom Language Services
Alexandro Gonzalez-Calvillo, Student, Joint 

MPA

/International Education Management
Michel Gueldry, Professor, Language Studies
Jacolyn Harmer, Professor, Translation and Interpretation
Sabino Morera, Associate Professor, Language Studies
Jennifer Peck, Academic Coordinator, Custom Language Services
Noraya Razzaque, Student, International Education Management
Lyuba Zarsky, Professor, International Environmental Policy
Intercultural Competence Course Work
Improving intercultural competence is central to all degree programs at the Institute, and students take courses taught in their chosen language of study and courses in intercultural studies. Each year, a distinguished group of faculty teach these courses.
Sample courses:
Introduction to Intercultural Competence
Trust across Cultures
Intercultural Group Dynamics
Persuasion in Politics
Intro to Conflict Resolution
Intercultural Competence Specialization
Students who want to build on their intercultural studies can choose to add the Intercultural Competence Specialization to any degree. The curriculum is designed for those interested in leadership careers in diverse international contexts.
New Student Orientation
Dr. Netta Avineri provides a "Language and Interculturality" session for all new students. Students can share where they are "local" and discuss their approaches to issues around empathy, community engagement, and ethics. We explore the tensions and dilemmas that can arise during multilingual and intercultural interactions—between participation, observation, and documentation; between being an insider and an outsider; or between being humble and being an expert. We also discuss intercultural and multilingual scenarios and our approaches to them as a way to prepare for intercultural interactions at the Middlebury Institute and beyond.
Contact Us
Contact Associate Professor Netta Avineri, chair of the Intercultural Competence Committee, with any questions.