Director of Immersive Professional Learning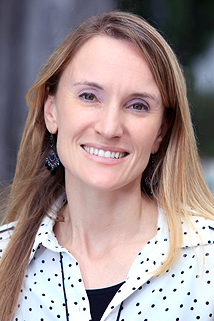 Office

McCone Building M219

Tel

Email

Office Hours

Appointments available through Handshake

Elsewhere
Carolyn (Taylor) Meyer is Director of Professional Immersive Learning at the Middlebury Institute of International Studies at Monterey. She works with faculty, students, and partners on experiential learning programs including semester-long practica, international onsite courses, and community-engaged research projects.
She served as the main staff member for the Frontier Market Scouts (FMS) impact investing and social enterprise fellowship during its first three years of development. In addition to semester-long immersive learning programs, Carolyn works with MIIS international faculty-led courses. These courses are on-site courses offered in January, over Spring Break, and during the summer with partners and at locations around the world (ex: AUC in Egypt, PIH in Rwanda, Aga Khan in Kenya, and CTU in the Czech Republic). 
She advises MIIS graduate students interested in participating in a semester-long immersive learning program/fellowship/co-op while also building a network of international and domestic internship opportunities at field and headquarter locations within the security, environmental policy, conflict resolution, social enterprise, and development sectors. She sits on the Middlebury Global Operations Committee and works with students, faculty, and staff on security and safety planning. She also sits on the Immersive Professional Learning Funding Committee and Institute Committee for Art in Public Places. 
Carolyn has extensive experience working with academic communities, both as a faculty and staff member. She worked on staff at Butler University's Office of International Student Services and in the creation of the Monterey College of Law's Mandell-Gisnett Center for Conflict Management. Prior to joining the Institute in 2006, she served as a public relations consultant for educational institutions in Monterey County, worked as a legislative analyst for the Mexican American Legal Defense and Educational Fund in Washington, DC, edited online content at the Indianapolis Star, and worked in publishing at the American College of Sports Medicine. She has also served as a regular adjunct instructor in International Relations and Politics of Developing Countries at the Monterey Peninsula College for nine years and taught US Foreign Relations at California State Monterey Bay. 
Carolyn has traveled to over 50 countries and has spent time studying in Spain and working in Mexico. Recent international projects include participation in a human capacity-building project with the Rumicocha Foundation in Quito, Ecuador, coordination of a project management training at Partners in Health in Rwanda, co-design of a social entrepreneurship certificate program in India, and coordination of a Peace and Reconciliation onsite course in the Balkans.
Areas of Interest
Student Immersive Professional Learning Planning, Experiential Learning, International Affairs and Government, International Development, Social Entrepreneurship, International Education, Organizational and Human Development, Evidence-based Coaching, Nonprofits and Community-Engaged Research, Conflict Resolution and Social Justice, Journalism and Public Relations, and Organizational Change in Higher Education 
She has volunteered locally with Global Majority, Monterey County Red Cross, and as a trained mediator with the Juvenile Victim-Offender and Reconciliation Program (VORP). She was a founding member of the Seaside Walking Action Group.
Academic Degrees
BA

, Journalism, International Relations, and Spanish, Butler University

MA

, International Policy Studies with a specialization in international negotiation and conflict resolution, Middlebury Institute of International Studies

MA

, Organizational Development and Change with a focus on experiential and transformative education, adult development, and higher education management, Fielding Graduate University
PhD, Organizational Development and Change, Fielding Graduate University
Publications
Megatrends and the Future of Work for Public Sector Leaders and Educators, International Journal of Public Leadership (2020)
Perceptions of Experiential Learning in a Graduate Practicum Internship, ProQuest Dissertations (2021)