Today's global marketplace demands skilled professionals who can work with international businesses, government, IGOs, and NGOs on rapidly changing trade, investment, and diplomacy issues.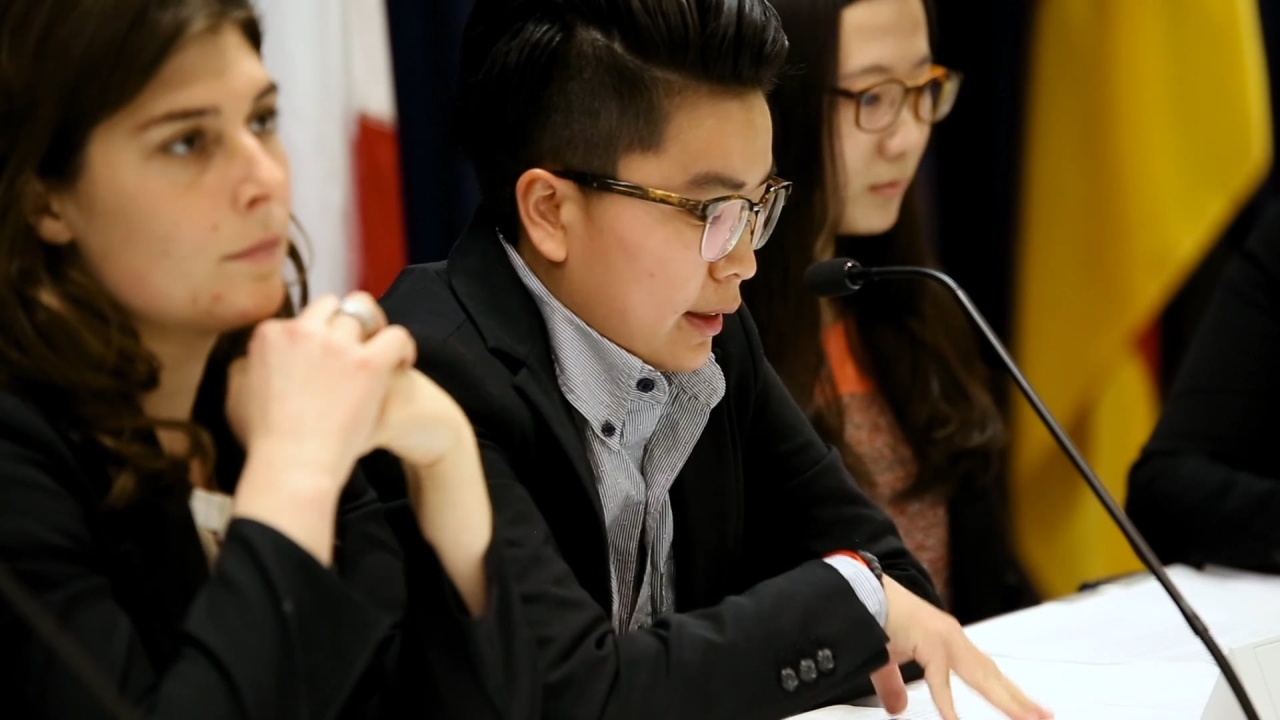 The Middlebury Institute Master of Arts in International Trade and Economic Diplomacy (ITED) helps you develop policy analysis and trade negotiation skills for careers in businesses, government, and civil society. Economic interdependence between countries and across production chains continues to grow, despite the recent pushback against globalization. International trade creates opportunities that can stimulate innovation, promote growth, and reduce poverty. This is a three-semester, 48-credit program.
From NAFTA to the U.S.-China trade war, trade is at the forefront of many public policy discussions today. It is crucial to understand trade from diplomatic and practical standpoints. This is truly a pivotal time to launch a career in this critical area.
Find out if ITED is right for you
Career-Oriented Course Work
Our comprehensive curriculum exposes students to the business, economic, legal, and political forces dominating the burgeoning international marketplace. It includes relevant skills and hands-on course work, options for specialization (such as economic diplomacy, trade compliance, and economic development), and a final immersion semester for internships and other professional experience.
Bridging cultural and linguistic barriers opens up global career opportunities, so ITED students take several content courses in their chosen language of study and intercultural competence. See the curriculum for more details.
Faculty: Professors and Practitioners
Our faculty combine academic expertise with years of professional experience, and include the former chief economist of U.S. International Trade Commission, a former deputy director-general of the World Trade Organization, and a current deputy director-general of the World Trade Organization. Together with career advisors, they mentor each student to ensure that they receive the academic and professional experience that will help them realize their career goals. Meet our faculty.
Advisory Council
The ITED Advisory Council is a group of highly successful professionals, many alums of the program, who work with faculty, providing counsel and advice to keep the program on the cutting edge of the dynamic world of trade and diplomacy. In addition, advisors often work directly with students as they prepare to begin their careers. The group includes leaders from the WTO, IBM, Visa, Cisco, Dell, the American Chemistry Council, and the International Working Group on Export Credits. Meet the advisory council. 
Working Paper Series
The Working Paper Series showcases research by students in the ITED program ranging from China's digital trade to NAFTA. Check out the working paper series.
Customize Your Degree
The Bicoastal Advantage
ITED students enter in the fall and form a cohort team that works together throughout the program. You'll spend your first two semesters in Monterey, California, and have several options for hands-on professional experiences in your third semester. While some students choose to stay in the Monterey area or find opportunities elsewhere in the U.S. or abroad, many take advantage of our Washington, D.C., location.
In Monterey
ITED students enter in the fall and form a cohort team that works together throughout the program. During the first two semesters, you'll take intensive academic courses covering trade policy, theory, and practice; quantitative methods for trade policy; economic diplomacy and negotiation simulations; and trade laws and institutions, as well as advanced foreign language.
Central California is the dominant import/export region in the United States, home to major agricultural firms, the international economic hub in San Francisco, and Silicon Valley. There is ample opportunity for real-world connection to your academic studies.
In Washington, D.C.
During the final semester, students focus on practical training and hands-on experiences to sharpen their knowledge, skills, and capabilities. You'll attend congressional hearings, administrative and regulatory meetings, and sessions at think tanks, as well as conferences, courses, and workshops with professionals and experts in U.S. and international trade policy.
The Washington experience provides an extraordinary opportunity for you to work on projects with professionals in the field. You can connect with high-level officials and professionals from major trading nations and regions, as well as multilateral institutions such as the World Bank, the International Finance Corporation, the International Monetary Fund, and the Inter-American Development Bank. Finishing in Washington gives you a competitive edge in the marketplace, and our highly influential Middlebury alumni network is ready to help.
Financial Crime Management
The Financial Crime Management specialization gives you the skills and confidence to pursue a career in private-sector compliance and investigations, government intelligence, training and research with multilateral organizations, and anticorruption compliance for NGOs.
Joint Degree Options
Earn two degrees in five semesters.