Next Application Deadline December 5
Program Details: International Trade
Customize your master's degree based on your interests and career goals.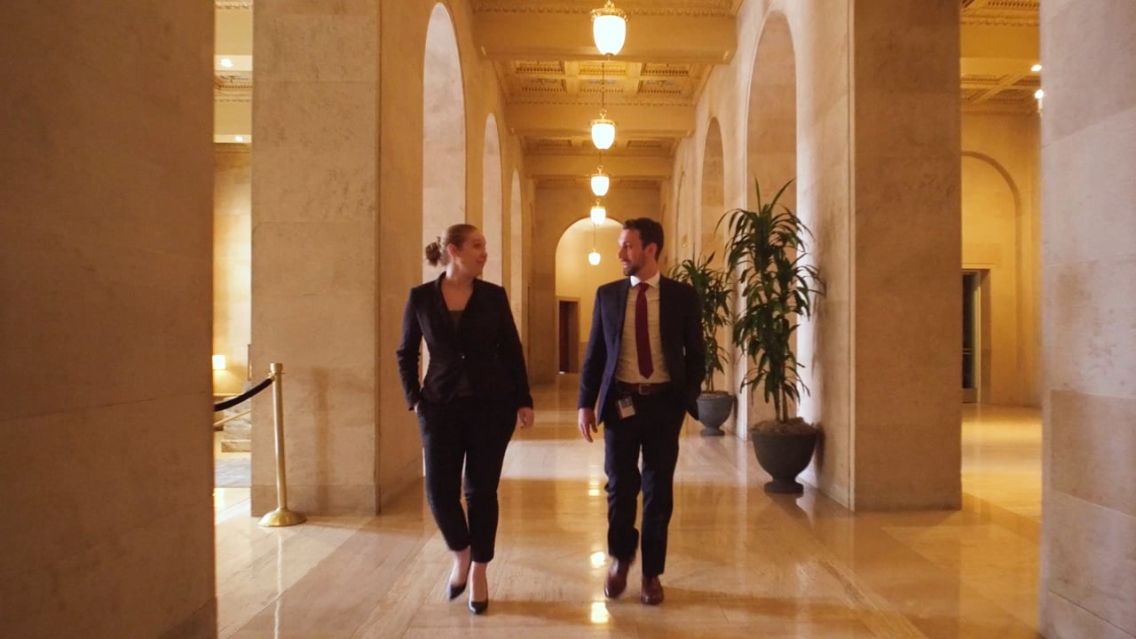 Connect with Your Advisor
Your personal enrollment advisor is ready to help you navigate the application process, understand admission requirements, customize your program (see options below) to meet your career goals, explore options for financing your education, and connect with current students, alumni, career advisors, and faculty.
Connect with your enrollment advisor.
Program Duration
You can earn your degree in 12 consecutive months, 16 months (three semesters with a summer break), or over four semesters:
If you are starting the program in the spring, the shortest option available to you is 16 months.
If you are starting the program in the fall and want to accelerate your return to the workforce and you have professional experience (relevant to your field of interest), consider the 12-month option, which includes a January term and summer semester.
If you need to gain work experience while you earn your degree, consider the 16-month option, which takes longer but leaves the January term and/or summer open for internships or other experiential learning opportunities.
If you want to craft a niche career, you can add a specialization or a second master's degree in our carefully designed joint master's degrees. This will take up to four semesters for you to complete.
If you would prefer or need to spend more time in your program for any reason, we encourage you to add a specialization or pursue a joint master's degree program for a four-semester program.  
You only need to finalize a decision on which path to pursue after you have enrolled—your career and academic advisor will help you make this choice.
Practicum Options
Your final semester practicum can be completed remotely allowing you to transition to your preferred location before you graduate and gain professional experience in a context that closely aligns with your career goals.
A number of students complete the practicum semester in Washington, D.C., taking advantage of the Middlebury in DC office and our influential alumni network in the nation's capital. You can attend congressional hearings, administrative and regulatory meetings, and sessions at think tanks, as well as conferences, courses, and workshops with experts in U.S. and international trade policy. You will have opportunities to connect with high-level officials and professionals from major trading nations and regions, as well as multilateral institutions such as the World Bank, the International Finance Corporation, the International Monetary Fund, and the Inter-American Development Bank.
Language Study and Intercultural Competence
Bridging cultural and linguistic barriers is key to a successful career in international trade, so you will take several content-based courses in a second language and/or courses in intercultural competence (ICC).
In language classes, you will have the opportunity to develop specialized vocabulary and content knowledge for your field of interest, give presentations, and improve your professional writing skills. ICC courses give you the opportunity to learn about managing global and cross-cultural teams, addressing issues of power and identity, and improving communications.
We will work with you to align your courses with your evolving career goals.
Career-Related Modules
Through electives, you can deepen your expertise in particular areas where our faculty have unique strengths. This flexibility allows us to offer modules of courses grouped around specific, high-demand, and transferable career competencies including commercial diplomacy and trade compliance.
Specializations
You may pursue an optional career-oriented specialization, which you can start using electives during your degree program and complete before or after your master's degree program. Your options include:
Joint Degrees
Earn two degrees in four semesters and 60 credits for careers at the intersection of development and international trade:
Working Paper Series
The working paper series showcases research by students in the International Trade program ranging from China's digital trade to NAFTA. Check out the working paper series.
Peace Corps Connections
Returned Peace Corps Volunteers (RPCVs) are encouraged to apply for the Paul D. Coverdell Fellows Program, earning yourself a guaranteed scholarship.

You can integrate Peace Corps service into your degree through our Options for Peace Corps Service, earning yourself a 50 percent tuition scholarship for your final semester.