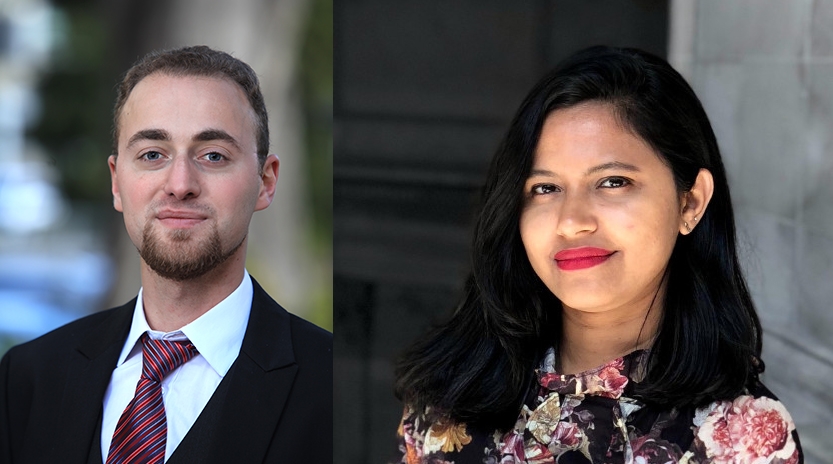 Two students in the International Environmental Policy program will talk about their summer fellowships covering two topics:  growing the number of certified CA Green Businesses, and helping the maritime industry to move toward a sustainable future. 
Growing Green Businesses and Decarbonizing Freight
Mr. Farid Kayali and Ms. Preethi Poola
Tuesday, September 17
6:00pm to 7:30pm
McGowan Building, Room 102
411 Pacific Street, Monterey, CA 93940
Free, open to the public.  No registration required.
Video Available
Growing Green Businesses and Decarbonizing Freight
About the Speakers
Mohammad Farid Kayali spent his summer researching the best approach to get more businesses to apply for a Green Business Certification.  Working with the City of Monterey, Farid explored two avenues of social behavioral change—monetary incentives and social pressure.  Using social pressure technique, he approached local restaurants talking about the unique marine features of Monterey bay and how we should protect our ocean and local beach. Also, He explains to local restaurants how by joining Green Businesses they can take a leadership role in their community to make businesses better stewards of the ocean and protect our greatest natural assets.  Using monetary incentives technique, he explains how local restaurants can save, energy, water, and money.  In his portion of the talk, he'll let us know the results of his study, covering over 50 selected businesses in Monterey County. 
Preethi Poola spent her summer at BSR (Business for Social Responsibility) in San Francisco, engaging stakeholders, sustainability experts, and corporation representatives to identify how to create and prioritize solutions to international maritime shipping decarbonization. In her portion of the talk, she will update us with the latest in sustainable maritime practices, innovation in maritime industry and how business is collaborating to improve environmental performance of maritime shipping. While at BSR she also worked on Sustainable Air Freight Alliance - a working group aiming to decarbonize air freight.  
Lecture Location:  McGowan 102
The McGowan Building is located at 411 Pacific Street, Monterey, CA  93940, on the corner of Franklin and Pacific. Enter from Pacific street through a set of glass double-doors (use set of doors on the right), MG102 is straight ahead across a small seating atrium.   View the campus map.
Parking
Parking is available in any Middlebury Institute campus lot after 5 p.m., or on the street (time limits on surrounding streets end at 6 p.m.)
Questions
Contact Rachel Christopherson at the Center for the Blue Economy at cbe@miis.edu or (831) 647-4183.