MIMUG - Know Your Character Traits!
–
McCone Irvine Auditorium
McCone Building
499 Pierce St
Monterey, CA 93940
View in Campus Map
Open to the Public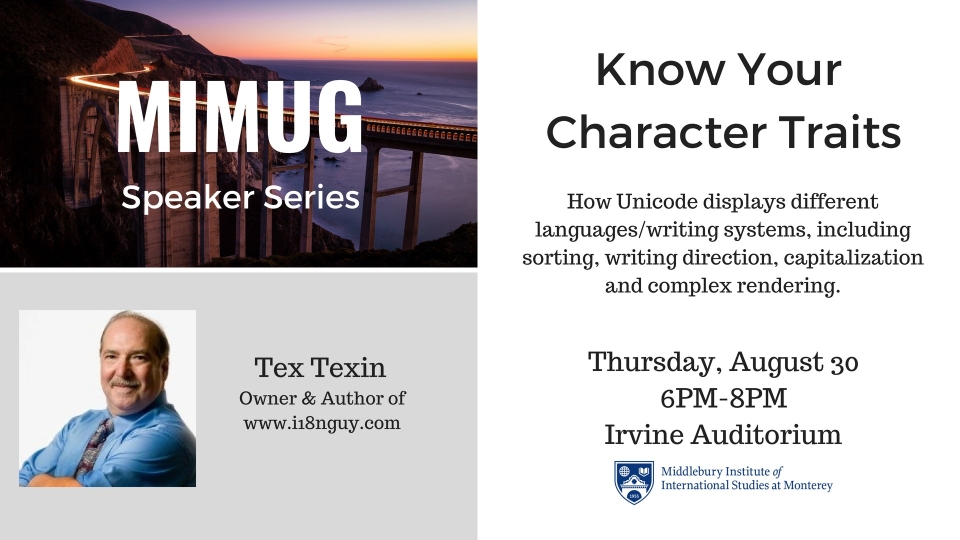 How text is displaced in a computer, a survey of the characteristics of different languages/writing systems, touching on sorting, writing direction, different rules for capitalization, complex rendering, and will give attendees a view into why Unicode has numerous character properties.
Tex Texin is an industry thought leader specializing in business and software globalization services. His consulting company, XenCraft, provides global product strategy, Unicode and internationalization architecture, implementation and testing. Tex has created numerous global products, led internationalization development teams, and guided both startup and enterprise-level companies in taking business to new regional markets. Tex is a contributor to several internationalization standards for software and on the Web. Tex is a popular speaker at conferences around the world and provides on-site training on internationalization, localization and globalization QA worldwide. Tex is the owner/author of the popular, instructional www.I18nGuy.com site.
Contact Organizer
Max Troyer