–
McCone Irvine Auditorium
McCone Building
499 Pierce St
Monterey, CA 93940
View in Campus Map
Open to the Public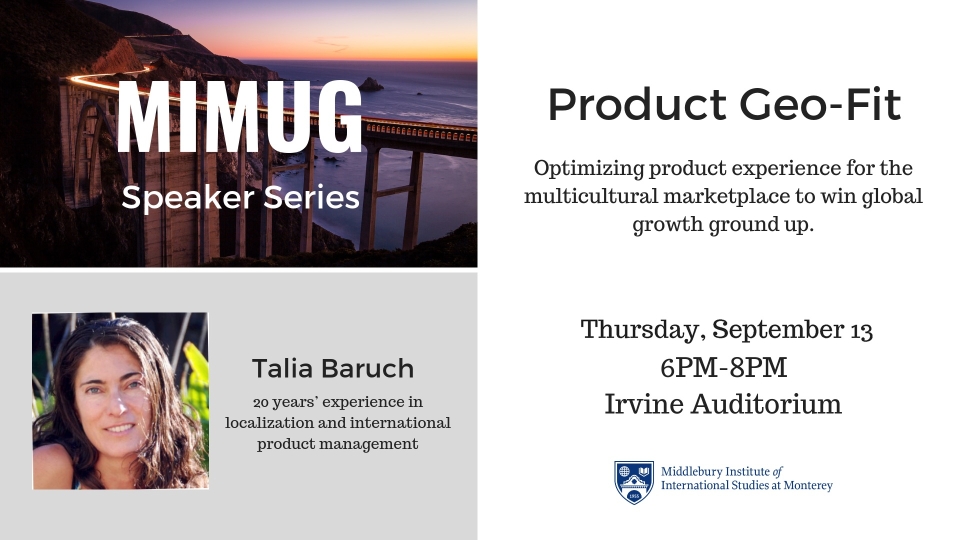 Global product strategy is local product strategy, on a global scale. In this presentation, Talia will cover the big picture global from geo-go product strategy for geo-fit and will deep-dive into what makes products make sense in international markets, adding the country/culture factors in product behaviorism.
Talia will share some of the AB test results she ran at LinkedIn and SurveyMonkey to drive discoverability and lift quality customer acquisition, with downstream impact on engagement, conversion to paid, retention, and brand bond. Talia's orientation is User-first vs US-first product dev/design. In her words: "It's not just about your international customers understanding your product (=translation); it's about your product understanding your international customers within the context of their geo ecosystem (=international product experience)."
Talia is a San Francisco-based executive, making products make sense in the multicultural marketplace. She has 20 years' experience heading internationalization, localization, international product management, and Global Growth strategy at Google, LinkedIn, and SurveyMonkey. Prior, Talia managed Starbuck's brand entry in MENA, and optimized VMware's product localization in LATAM. In 2017, Talia founded Yewser, helping companies accelerate global growth ground up, optimizing geo-fit performance on key funnels, winning local markets on a global scale. Talia and her in-country teams deliver the user-centered product strategy, roadmap, and implementation to maximize market adoption. Talia is also Anchor Mentor at the Google Accelerator for Applied Machine Learning innovation technologies in Emerging Markets, and Co-Founder of GlobalSaké, a non-profit organization, creating a collective cross-border, cross-culture community of leaders for knowledge share. Talia is a regular speaker at international conferences (LocWorld in Berlin, Dublin, Silicon Valley, TAUS, Product Tank), a guest lecturer at the MA program at Middlebury Institute of International Studies in Monterey, and trains Google portfolio startups at the Google Accelerator international campuses.
Contact Organizer
Max Troyer