Queers in Careers with Out in National Security
–
Virtual MIIS
Open to the Public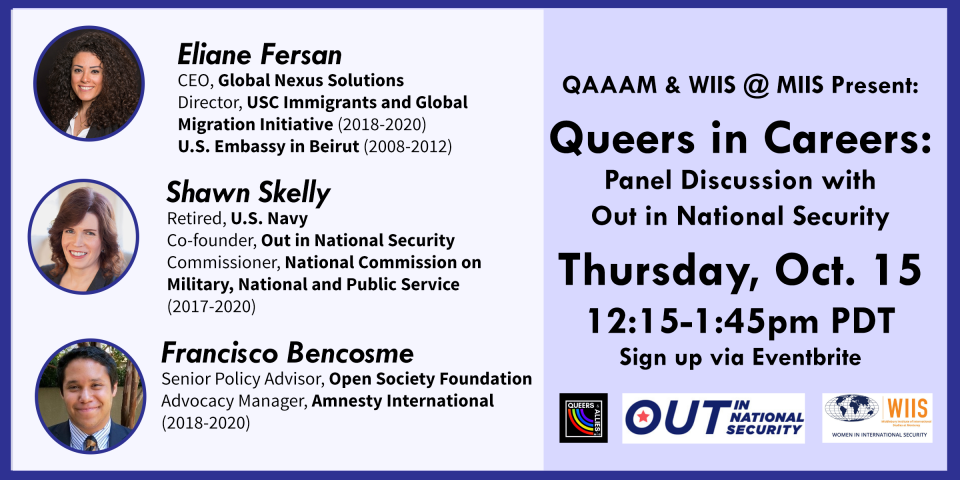 QAAAM and WIISMIIS are coming together to welcome Out in National Security co-founder Shawn Skelly and members of ONS's Out Leadership List to the MIIS community for a panel, where we will discuss their experiences in their fields, the increase of LGBTQIA+ representation in various security-related areas, and its significance for future generations of professionals in their prospective fields. This panel will be on October 15th from 12:15-1:45 PM PST, and all students, faculty, and alumni, and greater Monterey community are all welcome to participate.
Francisco Bencosme joined Open Society Foundations as the Senior Policy Advisor for Asia and Latin America. Previously, he served as the Asia Pacific Advocacy Manager at Amnesty International USA where he testified multiple times before Congress and provided expert media commentary on multiple issues including East Asia, Southeast Asia and South Asia human rights issues. In 2018, Francisco was named one of The Hill's Top 2018 Lobbyist for their campaign on Myanmar Rohingya issues. Before joining AIUSA, he served as a Professional Staff Member on the U.S. Senate Foreign Relations Committee for five years, where he assisted Democratic Senators on issues related to East Asia/Pacific, South Asia, and State Department/USAID oversight. Francisco also served as the President of the Congressional Hispanic Staff Association and as a board member of the Foreign Affairs Congressional Staff Association. Francisco is also a Truman Security Fellow, a Penn-Kemble Fellow, and an International Career Advancement Program alum. Francisco received his Master of Science in Foreign Service from Georgetown University, a graduate certificate from the USAF Air University, and his B.A. from Wake Forest University.
Eliane (Elle) Fersan is a first generation Arab-American thought leader, policy analyst, international development practitioner and Human Rights advocate. Elle is the CEO of Global Nexus Solutions, a public affairs firm invested in social impact and change. She directed the University of Southern California's Immigrants and Global Migration Initiative (2018-2020), and served 3 Ambassadors at the U.S. Department of State, Embassy Beirut (2009-2014). She was an Adjunct Professor of History at the American University of Science and Technology (2008-2012) and she continues to lecture and research on history and migration. Elle won numerous international awards for her work on the advancement of the human rights of women and LGBTQIA. She is a Truman 2020 National Security Fellow, 2020 LGBTQIA+ national security and foreign policy leader, Board Member of the National Women's Political Caucus - Los Angeles Metro, an Eisenhower Fellow 2015 and a Member of the Biden Campaign LGBTQ+ Policy Committee. She is trilingual in English, Arabic and French and has a working knowledge in Spanish.
Shawn Skelly is the Vice President and Co-Founder of Out in National Security. Shawn served on active duty in the U.S. Navy for 20 years as a Naval Flight Officer, retiring with the rank of Commander. She joined the Obama Administration in 2013, as the first transgender veteran to be appointed by a President of the United States. She served as Special Assistant to the Under Secretary of Defense for Acquisition, Technology and Logistics at the U.S. Department of Defense, and ultimately as the Director of the Office of the Executive Secretariat at the U.S. Department of Transportation. In 2017, President Obama appointed Shawn to serve as a Commissioner on the National Commission on Military, National, and Public Service, which delivered its final report in March 2020, making recommendations to strengthen all forms of service to address the nation's domestic and security needs, invigorate civil society, and strengthen our democracy. She was recognized as one of a group of transgender veterans in the 2017 OUT100. In 2019 Shawn helped found Out in National Security, a non-profit advocacy organization dedicated to raising the profile of LGBTQ Americans serving in national security, connecting them, and helping to build a pipeline to ensure current and future generations of patriotic LGBTQ Americans can serve with the dignity and respect due to all who help protect our nation.  
Eventbrite registration link: https://www.eventbrite.com/e/queers-in-careers-a-panel-discussion-with-out-in-national-security-tickets-124623248491