Talking Transport: How Corporate Collaboration, Reporting, and Innovation Enable a Cleaner Blue Economy, Mr. Nico De Golia
–
McGowan MG102
McGowan Building
411 Pacific St
Monterey, CA 93940
View in Campus Map
Free
Open to the Public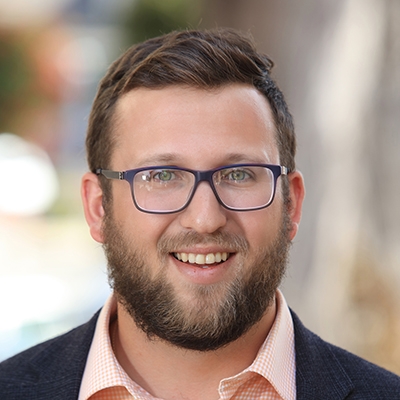 Transportation is just beginning a clean transition. 
As part of this, the global freight system that powers economies and jobs also creates an estimated 8 percent of annual climate impacts from greenhouse gas emissions, and various other biodiversity and air quality impacts to oceans, port communities, and inland corridors. While freight is expected to grow exponentially, and along with that growth, freight's potential ecological impacts, a clean-tech revolution is underway powered in no small part by global corporate buyers. Nico De Golia, Sustainable Transport Lead for North America at Business for Social Responsibility (BSR), will highlight many of the trends underway and the potential future of green freight with an emphasis on the ocean and its links with other modes of transport. He will draw from experiences of the Clean Cargo Working Group that include participation by 80 percent of ocean container transport carriers and over 35 of their customers, as well as experience with the BSR's Future of Fuels and Sustainable Air Freight Alliance.
Talking Transport: How Corporate Collaboration, Reporting, and Innovation Enable a Cleaner Blue Economy
Mr. Nico De Golia
Tuesday, October 15, 2019
6:00pm to 7:30pm
McGowan Building, Room 102
411 Pacific Street, Monterey, CA 93940
About the Speaker
Nico De Golia, Sustainable Transport Lead, North America, Business for Social Responsibility (BSR)
Nico works with the transport and logistics industry to advance more sustainable, climate-resilient, and inclusive operations through collaborative initiatives and research. At BSR, he helps to lead the transport collaboration portfolio including the Clean Cargo Working Group, the Sustainable Air Freight Alliance and the Future of Fuels Initiative. In this role, Nico brings together diverse stakeholders from across the global value chains for air, sea, and road freight to collectively innovate on technologies and strategies aimed at reducing the roughly 8% of greenhouse gas emissions caused by transportation globally.
Nico attended the Middlebury Institute for International Studies at Monterey, where he was awarded an M.B.A. with a focus in Resilient Business Management and an M.A. in International Environmental Policy with dual-foci in Ocean and Coastal Resource Management and Sustainable Business and Development. Additionally, Nico obtained professional certificates in Impact Investing and Social Enterprise Management from the award-winning Frontier Market Scouts program. He also holds joint B.A. degrees in Geography and Political Science from Middlebury College in Vermont and speaks English, French, Spanish, and Italian.
Suggested Reading
Lecture Location:  McGowan 102
The McGowan Building is located at 411 Pacific Street, Monterey, CA  93940, on the corner of Franklin and Pacific. Enter from Pacific street through a set of glass double-doors (use set of doors on the right), MG102 is straight ahead across a small seating atrium.   View the campus map.
Parking
Parking is available in any Middlebury Institute campus lot after 5 p.m., or on the street (time limits on surrounding streets end at 6 p.m.)
Questions
Contact Rachel Christopherson at the Center for the Blue Economy at cbe@miis.edu or (831) 647-4183.