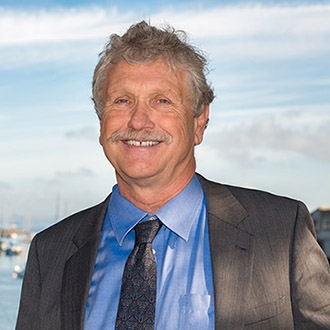 What does an engaged person need to know about the science of climate?
Responding to an out of control climate is too important to leave to scientists--or political leaders, the media, or your uncle. Rather, we all have to be part of the conversation and the responses. So what does an engaged person need to know about the science of climate? Dr. Kelly--who never saw a windmill not worth a joust--will attempt a guide to asking the right questions of scientists and finding the right balance of detail and overarching perspectives.
Understanding Climate: Be Careful What You Ask a Scientist
Dr. Brendan Kelly
Tuesday, October 22, 2019
6:00pm to 7:30pm
McGowan Building, Room 102
411 Pacific Street, Monterey, CA 93940
Free, open to the public.  No registration required.
About the Speaker
Brendan P. Kelly is a senior fellow with the Center for the Blue Economy at MIIS. He also serves as executive director of the Study of Environmental Arctic Change and professor of Marine Biology at the International Arctic Research Center, University of Alaska Fairbanks. A marine ecologist with a focus on sea ice environments, he has participated in and led collaborative research in the North Pacific Ocean, Arctic Ocean, Sea of Okhotsk, Baltic Sea, and Antarctica. He has served as Deputy Director for Arctic Sciences, National Science Foundation; Assistant Director for Polar Science in the White House Office of Science and Technology Policy; Chief Scientist for the Monterey Bay Aquarium; and as a science adviser to indigenous organizations in Alaska. Currently, he serves on the National Academy of Sciences' Polar Research Board and as a member of the Position Statement Committee of the American Geophysical Union. Dr. Kelly received degrees in Biology from the University of California Santa Cruz (BA), the University of Alaska Fairbanks (MS), and Purdue University (PhD).
Dr. Kelly's comment on his work trajectory:  "My current work brings together threads from a career that included a head-down phase, a head-up phase, and a head-forward phase. The head-down period involved a few decades studying Arctic marine ecosystems. A convergence of events (e.g., the unbidden appearance of a climate signal in my data sets) led to the head-up phase including leadership positions at the National Science Foundation and working in the White House Office of Science and Technology Policy. Now, the head-forward phase seems right: facilitating the work of a community of smart colleagues, a few research projects, and working with students at the science/policy interface."
Lecture Location:  McGowan 102
The McGowan Building is located at 411 Pacific Street, Monterey, CA  93940, on the corner of Franklin and Pacific. Enter from Pacific street through a set of glass double-doors (use set of doors on the right), MG102 is straight ahead across a small seating atrium.   View the campus map.
Parking
Parking is available in any Middlebury Institute campus lot after 5 p.m., or on the street (time limits on surrounding streets end at 6 p.m.)
Questions
Contact Rachel Christopherson at the Center for the Blue Economy at cbe@miis.edu or (831) 647-4183.